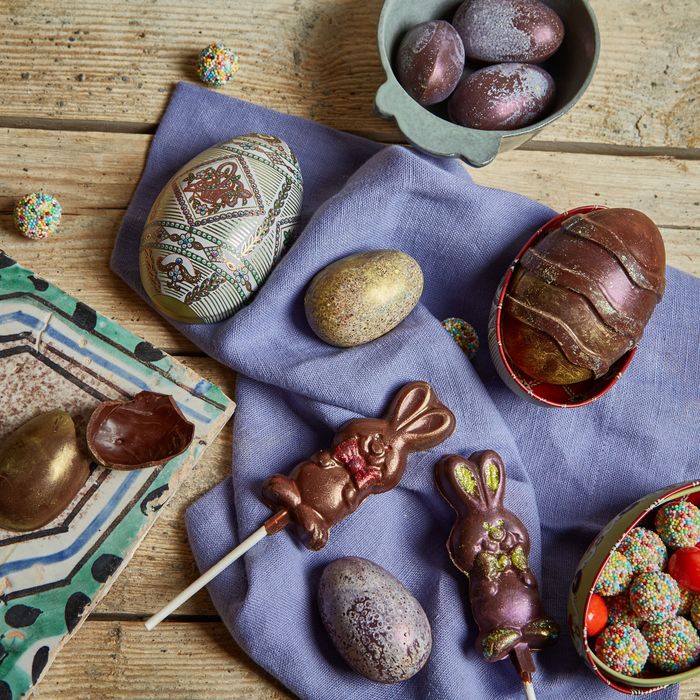 No, you are not too old for Il Buco Alimentari's chocolate pops, eggs, or bunnies.
Photo: Giada Paoloni
Easter. A time to celebrate Jesus saying, "psych!" and disappearing from his tomb; a mischievous rabbit that hides painted eggs around your house; and roast lamb. In New York, it's also another occasion for restaurants to get in on the action with special dishes and celebratory menus. And while prix fixe holiday meals aren't always the jam (or a great deal), there are plenty of top-flight restaurants where you'd be happy to eat before binging on Cadbury eggs. Here, the ones you should be eating at.
Barano
Price: À la carte or $60 for four courses
Out in Williamsburg, Easter specials will be offered for a late lunch or dinner, either à la carte or as part of a four-course, family-style menu. Dishes include Pecorino-stuffed artichokes, spit-roasted spring lamb, whole-roasted Romanesco, and pastiera.
Cookshop
Price: À la carte
Over in Chelsea, you can eat a special carrot-cake "snowball" dessert with marshmallow fluff, carrot curd, candied walnuts, and salty carrot crispies.
Gramercy Tavern
Price: À la carte
The charming New American restaurant is excellent for any special occasion on its own, but acclaimed pastry chef Miro Uskokovic will give you another reason to head there with his hot cross buns.
Gotham Bar and Grill
Price: $75 for three courses
At the Union Square classic, there will be a three-course brunch with dishes including Muscovy duck and foie gras terrine, spring pea soup, Belgian lobster, and Gotham chocolate cake.
Harold's Meat + Three
Price: $35–$45
The Tribeca restaurant, loosely inspired by Nashville's Meat & Three spots, will have two family-style menus available for dining in or takeout. There's a $35 option with ham, mac 'n' cheese, red-eye gravy, braised greens, and three-bean salad; and a $45 meal of leg of lamb, roasted fingerling potatoes, braised white beans, a greens-and-herb salad, and asparagus. Both come with biscuits.
Il Buco Alimentari
Price: $45–$65
The Italian restaurant will serve a $45 prix fixe brunch ($30 for kids) with cured-salmon pizza and lamb leg with cardamom yogurt; and a $65 prix fixe dinner ($35 for kids) featuring dishes like sweet pea soup, that same lamb, and coconut-lime meringue. For those on the hunt for treats, the restaurant will also sell bunny-shaped chocolate pops ($5), Easter eggs ($5–$10), and rabbits to go ($15).
Maysville
Price: À la carte
During brunch, the southern restaurant in midtown will serve specials like crispy grits with ham Mornay, crab cakes with butter beans, and charcoal-grilled flatbread with porchetta.
The Modern
Price: $85–$178, à la carte in the barroom
The museum restaurant will offer three different menus, while staying à la carte in its barroom. There will be a foie gras tart and carrot cake on the three-course prix fixe ($148); with a foie gras tart and carrot cake, a six-course dinner ($178) at its new kitchen table; and a family-style meal ($85) for parties of eight or more with leg of lamb and coconut-and-carrot tart.
North End Grill
Price: À la carte
In addition to its regular brunch and dinner menus, the Battery Park City spot will offer a dinner special of Colorado lamb belly grilled over a wood-fire, two sunny-side-up eggs, and a spring salad.
Ops
Price: À la carte
The Bushwick pizzeria will serve a savory cake called torta pasqualina, lamb-belly pizza, stuff some of the city's tastiest calzones with ham, and offer chocolate crème with ricotta-filled pastries.
Paowalla
Price: À la carte
If you're more in the mood for modern Indian dishes — like glazed pork ribs vindaloo, ramp kulcha, and polenta upma with asparagus — head to Floyd Cardoz's Indian restaurant. Those specials and others will be offered all day long.
Lot 2
Price: $35 or $17 for kids
The South Slope neighborhood restaurant will serve a little gem lettuce wedge salad, smoked country ham, buttered snap peas with mint, mashed red potatoes, plus to be determined dessert.
Pig Bleecker
Price: À la carte
The barbecue-ish restaurant will put a smoked spin on Italy's pizza rustica, enhancing it with barbecue pork, for brunch — while dinner will mean smoked and grilled lamb chops with chimichurri sauce, spring peas, and red onions.
Reynard
Price: À la carte
Andrew Tarlow's hotel restaurant will offer both brunch specials like Pizzagaina (a.k.a. pizza rustica), the Italian ham pie traditionally made for the holiday; lobster salad; and a lamb roast. There will be a leg of lamb at dinner, too, in this case roasted over a wood fire.
Roman's
Price: $85 for four courses
The Fort Greene trattoria will offer a special with a prix fixe first course (options include stuffed egg and carciofi alla giuda); brodetto pasquale; roasted lamb, naturally; and pastiera, the Neapolitan ricotta-and-orange-flower-water tart.
Rôtisserie Georgette
Price: À la carte
The chicken-crazed restaurant will launch its "Celebration of Spring Asparagus" menu on Easter, with dishes like chilled asparagus salad with pickled shrimp, warm asparagus with morel fricassée, and poached white asparagus with hollandaise or lemon vinaigrette. Additionally, the restaurant will serve family-style meals, (must be preordered) like leg of Colorado lamb with rosemary and niçoise olives, for six to eight.
White Gold Butchers
Price: À la carte lunch, $60 prix fixe dinner, plus limited à la carte
On the Upper West Spot, April Bloomfield's crew will serve a lunch plate of leg of lamb with layered potato; and a $60 prix fixe dinner with lamb broth, pane cotto, and lamb with artichoke and potato.