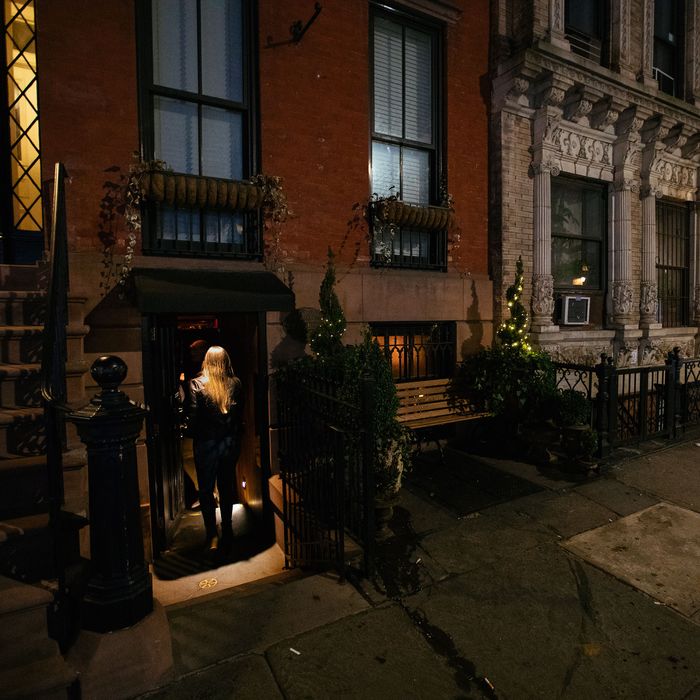 4 Charles Prime Rib.
Photo: Benjamin Norman
Dude Cave is the not-altogether-flattering term an acquaintance of mine uses to describe a certain style of small, male-oriented dining establishment that has been blooming up around town lately, during the Age of Trump. These carefully curated, hothouse boutique restaurants tend to foster a kind of clubby, anonymous style. The entrances are discreetly marked, if you can find them at all. The dark rooms inside tend to be submarine size and are appointed with oil paintings and sportsman's sketches, like the drinking dens of ye olde private gentlemen's clubs. Ironically, several chefs at notable Dude Caves are women (Victoria Blamey at Chumley's, Angie Mar at the newly revamped Beatrice Inn), but the menus tend to feature the sort of delicacies (brown-liquor drinks, chef burgers, tomahawk rib chops for two) that upwardly mobile dudes with plenty of cash tend to enjoy.
In terms of access (good luck getting a table before 11 p.m.) and clubbiness ("an intimate supper club" is the pithy website description), the most notorious Dude Cave of the moment is a ten-table operation called 4 Charles Prime Rib, which the Chicago restaurant group Hogsalt opened several months back in a narrow submariner's space in the Village. The entrance to the dimly lit room is obscured by a thick velvet curtain. The walls inside are sheathed with lacquered beam board, as in the stateroom of an antique yacht, and covered with all sorts of tasteful, retro bric-a-brac (watercolors, oil paintings, tiny chandeliers). You can get four styles of Martini from the bow-tied (and, of course, bewhiskered) barkeep at the tiny stand-up bar, and five styles of Old Fashioned — and as the name indicates, large, gently bleeding hunks of beef are the specialty of the house.
Hogsalt is run by a talented young restaurateur named Brendan Sodikoff, and he seems to have designed this stagy little establishment as a kind of calling card, a way to announce his presence as a player on the national dining scene, while dipping a toe into the fickle New York market at the same time. The lavishly scripted, one-page steakhouse menu is relatively tiny by the standards of his more boisterous (and generally dude-centric) Chicago restaurants, but it contains conspicuous elements of several of them. Like at the French-accented Chicago chophouse Bavette's, there are crab cakes, shrimp cocktails, and thick cuts of prime rib available, along with a slightly tweaked iteration of the famous double-patty burger from Hogsalt's great bar restaurant Au Cheval, which is called the "American Cheeseburger" here and served, like at Au Cheval, with a large steak knife stuck into its top.
The fabled Au Cheval burger is good, but as I proclaimed after my first visit to Charles Street, this version is possibly better. The weight of the bun and two patties ("hand feel" in burger parlance) is ideal, and the different elements of that special burger alchemy (the umami char of the griddled beef; the crunchy tang of pickles and onions; the smooth, creamy mingling of mayo, Dijon, and melted cheese) get better with every bite, just like a great burger should. I was tempted to order this beauty a second time (a burger loon of my acquaintance has ordered it 11 times), but after a taste of the generic $25 crab cake, and a couple of fat slabs of very nice maple-sweetened bacon, we called for the French-dip-style shaved-beef sandwich, which is drenched in its cooking juices, topped with a wad of melted Swiss cheese, and squeezed into a fresh-baked hoagie bun from Parisi Bakery down on Mott Street.
Like the burger, this elegant little calorie bomb is almost worth the hassle of procuring a table at 4 Charles, but only a limited number are made each evening, which means you'll probably have to make do with other familiar favorites from the Dude Cave canon. These include rashers of shrimp scampi served with great knuckles of garlic bread; a giant, two-pound "Royale Weight" Dover sole with brown butter; and a leaden pasta mash-up called "Cacio Pepe Carbonara," which was so overwhelmed with smoky chunks of bacon that I put my fork down after two bites. The dreary "Crispy Brick Chicken" lacks both crisp and flavor, so if you have the cash on hand, the red-meat items are your best bet — in particular, the "Chicago Cut" prime rib, and the well-aged rib-eye steak, which at $69.50 for 22 ounces is a relative bargain compared to the ridiculously pricey off-the-menu New York strip ($89 on the evening I ordered it).
The smaller the size, the more amplified the essence of a restaurant tends to be, so if you have an aversion to this kind of traditional red-meat, expense-account dining, and tables filled with animated gentlemen (and their escorts) braying at the top of their lungs about last night's Rangers game or the latest drama on the trading desk, this niche establishment is probably not for you. In the time-honored steakhouse (and Dude Cave) tradition, the whale-size cuts of beef are accompanied, like schools of pilot fish, by the usual jumble of side dishes, the best of which (garlic mashed potatoes, creamed spinach touched with tangy blue cheese) tend to be the simplest. There are 60 varieties of after-dinner whiskeys to choose from, and only three desserts, the best of which is a tall, decorative slab of lemon-meringue pie that is almost more pleasing to look at than it is to eat.
4 Charles Prime Rib
4 Charles St., nr. Greenwich Ave.; 212-561-5992; nycprimerib.com
Ideal Meal: Oysters or shrimp scampi, "Chicago Cut" prime rib and/or cheeseburger, lemon-meringue pie.
Note: For an extra fee, you can add a fried egg and bacon to your cheeseburger, but we wouldn't recommend it.
Open: Dinner daily.
Prices: Appetizers, $17 to $29.45, with Alaskan king crab, $75 per pound; entrées, $19 to $86.
Scratchpad: Three stars for the burger, the French dip, and the best of the prime rib. Minus a star for accessibility and (except for the $18.95 burger) the exorbitant prices.
*This article appears in the April 17, 2017, issue of New York Magazine.