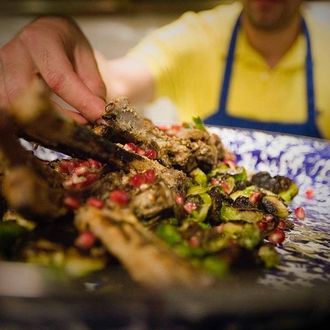 Just within With Love's neighborhood, people supposedly speak 30 different languages.
Photo: Chuck Wainwright
A little-known factoid about Syracuse is that it has one of America's biggest concentrations of refugees, but also one of its poorest populations. This makes it the perfect spot for a restaurant concept like With Love — a pop-up and culinary-training program that started (coincidentally) just days after the November election, and now offers immigrant chefs a residency where they can come cook their region's cuisine. The project is run by Adam Sudmann — the driving force behind My Lucky Tummy, another pop-up dinner series that showcases foods eaten by the city's refugee population — and its goal is to give aspiring restaurateurs a spot to launch and fine-tune their own food businesses. Somebody new gets full control of the kitchen every six months, and when their time ends, it cycles to a new chef.
The project's name is a play on the classic postcard signature line, and for each pop-up, they add the region's name. The first is "With Love, Pakistan," and its chef is Sarah Robin, a woman who fled Pakistan with her husband four years ago; the two have made a living bagging groceries ever since. "These are people who have been dealt a lot of blows," Sudmann explains to Saveur. "Who might have been out of work for a while or might not have jobs that are as respected as what they had back in their native countries." The magazine adds that on the first night of Robin's residency, the line stretched out the door, and that in addition to offering Syracuse's only Pakistani cuisine right now, she might actually be churning out "some of the most exciting food in the city."

The community college's involvement also allows organizers to run a second track, in conjunction with business training, that trains line cooks and servers and teaches English, if need be. It's a little early to know the success for sure, but as Saveur notes, the hope is that Syracuse "will, in effect, gain two new restaurants" every time a chef departs — the next iteration at With Love, plus a new, permanent spot the outgoing chef opens up on their own.