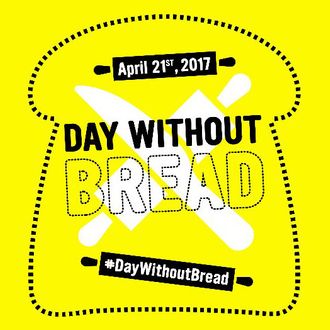 Organizers hope it brings more attention to Tom Cat Bakery workers' plight.
Add a day of no bread to previous 24-hour stints without immigrants, women, and bodegas that protesters hope will somehow help frustrate President Trump's xenophobic policies. It's set for tomorrow, and the plan, according to labor advocacy group Brandworkers, is for New York's bakeries, restaurants, and cafés to stop selling baked goods for the day, to support dozens of immigrant workers who could lose their jobs at a Queens bakery. A rally is being held from 6 to 8 a.m., and the group is asking businesses and workers to sign an online petition, but since bread is ubiquitous in this city, the campaign is also asking people to refrain from buying any.
This all started when the Department of Homeland Security learned last month, via an audit, that 31 of Tom Cat Bakery's workers didn't have proper legal documentation. Tom Cat, as New York's oldest artisanal bakery, does lots of business around town and has made overtures about helping these employees however it can, including by potentially sponsoring some of them. (And in fairness, the company could face fines or even an ICE raid if it failed to comply with the DHS order.) Also, the agency did extend the deadline shortly after workers held a big protest, but the revised deadline is tomorrow, and reports say that immigration lawyers were only able to help 11 workers produce valid paperwork, so far. Tom Cat has agreed to give the remaining workers six months' unpaid leave, during which they can continue trying to rectify their situation. Whoever's left at that point, though, will be fired, although it at least appears with a full severance package.
This would suggest the bakery is cooperating, but Brandworkers is painting a somewhat less-hospitable picture: In a Facebook post yesterday evening, the group announced that Oscar Ramirez, one of the more outspoken workers leading the protests, has already been shown the door. He'd worked at Tom Cat for the last 12 years. Brandworkers says its legal team has filed a lawsuit, but adds that the "real response" will occur tomorrow in the streets.