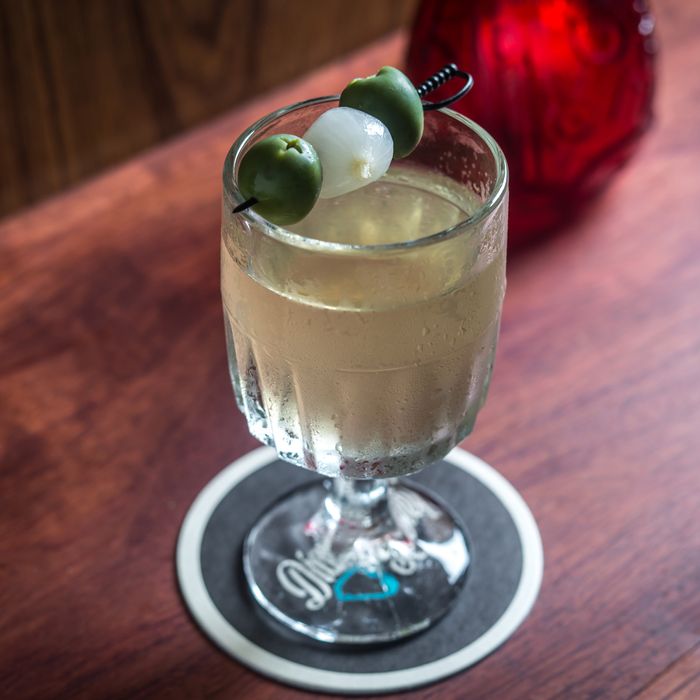 Several Martinis today will make the tax woes go away.
Photo: Paul Wagtouicz
It is Tax Day. Possibly, you're lucky, got some money back, and want to go spend your newfound wealth on a celebratory drink or three. Maybe you had to fork over a few more bucks to Uncle Sam, and would like to soften the blow a bit. Whatever camp you're in, there are plenty of new bars — and established great ones with new menus — for you to celebrate or mourn Tax Day at. Here, a dozen drinks for a day like today.
The Cohan Sour
Where: The Rum House
Price: $15
Those who work in midtown and can't wait to drink should head to the Rum House, where the spring menu includes this sour, made with two Plantation-brand rums (the dark and O.F.T.D.), plus pineapple, lemon, and a floater of Cabernet.
Steakhouse Martini
Where: Diamond Reef
Price: $12
Then again, you can just drown your tax sorrows in Martinis, like Diamond Reef's double-extra-dirty version, made with apple-cider vinegar, caper, onion, olive, and pepperoncini brine.
Overproof Martini
Where: Atla
Price: $14
Or if you're more of the margarita type, Enrique Olvera's new spot is making this extra-strong version with overproof Tapatio Blanco 110.
The Orchid Room
Where: Gloria
Price: $14
The team behind this new pescatarian restaurant used to work at Contra and Wildair, so you know it's a solid place to drink wine. But along with grape juice, they're making cocktails like the fizzy Orchid Room, with Diplomatico Anejo, Demerara, Campari, tangelo citrus, and soda.
The Moga
Where: Bar Moga
Price: $14
Double up on your booze with this new Japanese bar's namesake cocktail, made with Japanese whiskey, rhum, and plum liqueur.
Michelada Primavera
Where: Leyenda
Price: $13
In the event that a plain old Michelada isn't strong enough, there's Leyenda's new mezcal espadin–spiked Michelada Primavera. But even if the tax gods were good to you this year, a Michelada with some mezcal is a good thing.
The New Colossus
Where: Villanelle
Price: $15
Everybody could use more Cherry Heering, which is paired in this drink with tequila and Benedictine.
Tamarind Julep
Where: Empellón
Price: $16
Alex Stupak's restaurants have always served exciting drinks (not just ace margaritas), and that's true of his new midtown spot, too. Go for the Tamarind Julep, made with Bain's Cape whiskey, Von Humboldt's tamarind cordial, lemon syrup, and Carpano Antica.
Missionary's Downfall
Where: Suffolk Arms
Price: $10
If you're feeling the squeeze, there's Suffolk Arms' recently debuted happy hour, with its encyclopedic list of 100 cocktails for $10. This kind of weather calls for a drink like the Missionary's Downfall, rum doctored with lime, pineapple, peach, and mint.
Pomegranate Martini
Where: abcV
Price: $14
Maybe you're less of a dirty-Martini drinker, and more someone who secretly longs for the days of appletinis. (Your secret is safe here.) Or maybe you want to pretend like your cocktail is good for you. Make a beeline for abcV's bar, then, where the vodka is mixed with pomegranate and raw coconut water.
I Just Crush a Lot
Where: Until Tomorrow
Price: $13
The Clinton Hill bar plays loose with tiki, mixing gin, tequila, and chartreuse in this drink that's also made with lime, grapefruit, and cucumber oleo saccharum, for a refreshingly savory note.
Prima Dona
Where: De Maria
Price: $13
Sometimes, all you need with your fire-dragon bowl is a good old-fashioned cocktail: just some gin, vermouth, bitters, and a second round on the way.