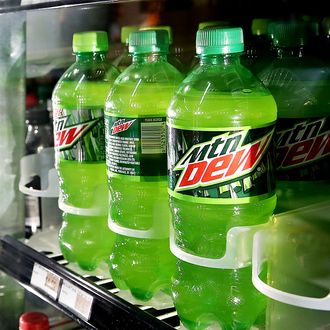 No reason for concern — just do the Dew.
Photo: Justin Sullivan/Getty Images
No video footage has surfaced yet, sadly, but it appears that a tank of Mountain Dew syrup exploded at a Pepsi plant last month, creating a so-called "huge foaming event" that triggered the state's Pollution Emergency Alert System. Crews at the plant tried containing the spill — estimated at 7,200 gallons — without any help for two entire days. But things became a Code Red, you could say, once the syrup mixed with "a large amount of waste water" and, for some reason, started foaming up massively.
That resulted in Michigan's Department of Environmental Quality receiving an alert around midnight on March 12 that a flood of high-sugar sludge (56,000 gallons' worth, it turns out) had overwhelmed the plant's system. Most of it ended up draining into a storm-water-detention basin, but enough also started seeping into a ditch on the neighboring property that crews had to erect an earthen dam to contain it. Pepsi worked quickly to clean up the area, and the company says proper procedures were used to neutralize the spill. But the state seemingly disagrees, since it complained to the local paper, the Livingston Daily, that the plant "could have tried to isolate" the spill, but effectively didn't.
There are no signs of surface-water contamination "that we know of," an agency official says, but she also warns that a spill of this magnitude is also "highly unusual," and that the sugary syrup could have "a toxic effect" on aquatic life if it got into rivers, lakes, or streams. The local city manager adds that they've been monitoring things pretty closely, and it looks like the dangerous neon-green ooze "did not get into the public sewer system," suggesting the local sewer life has avoided a Teenage Mutant Ninja Turtles–type situation for the time being.