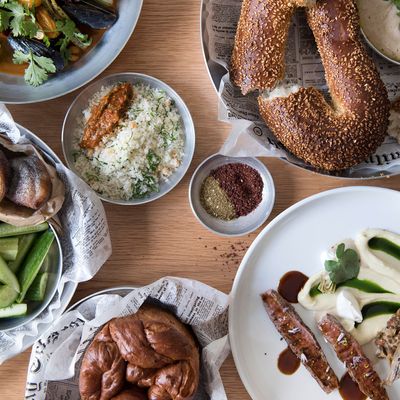 An impressive spread.
Photo: Liz Clayman
Meir Adoni is a big deal in Tel Aviv. In Israel, he's known for a Pan–Middle Eastern style that incorporates elements of French technique, his own Moroccan heritage, and a global pantry. After studying in Sydney and training in Paris, he returned to Israel to find culinary acclaim with his first restaurant, Catit, in 2002. He opened three more restaurants in Tel Aviv (Blue Sky, Lumina, and the more casual Mizlala), becoming a celebrity chef and food-television personality in the process. And today, after dipping in his toes in international waters, he'll open his first restaurant outside of Israel: Nur, here in New York.
For the 60-seat restaurant — which Adoni closed Catit and Mizlala to focus on — he's partnered with Breads Bakery owner Gadi Peleg, who seems to be making a habit of luring stars from the Israeli dining scene to New York. Over the last year, Adoni has been splitting his life, two weeks at a time, between New York and Tel Aviv. But he's also brought along his sous-chefs Gal Michalovich and Ofir Horesh to help open the place and train the American team.

Adoni will serve the same style of modern Middle Eastern food he built his reputation on, without making any accommodations to New York. (Check out his dinner and dessert menus.) Take the brain fricassée: A spin on the Tunisian fricassée sandwich, Adoni subs out the traditional fried bread for a butter croissant, and the usual tuna for veal brain. That dish is one of a few signatures he's brought across the Atlantic with him — another is his Palestinian tartar with smoked eggplant cream — but the menu is largely made up of new dishes. Many have flowery names like the Jordan River, Medjool date doughnuts with smoked trout and curry-citrus vinaigrette, and others are creative interpretations of Jewish dishes like the gefilte shrimp.
Unsurprisingly, bread is big here. There's pita for lamb kebabs, yes, but more excitingly there's also kubaneh, the challahlike Yemenite bread that's a rare find in New York; Syrian pancakes called qatayef; and Israeli sesame bagels. Many of the wines are from Israel and Lebanon, cocktails incorporate ingredients like the licorice-y arak and harissa, and there are bar snacks for those dropping by for a hot second.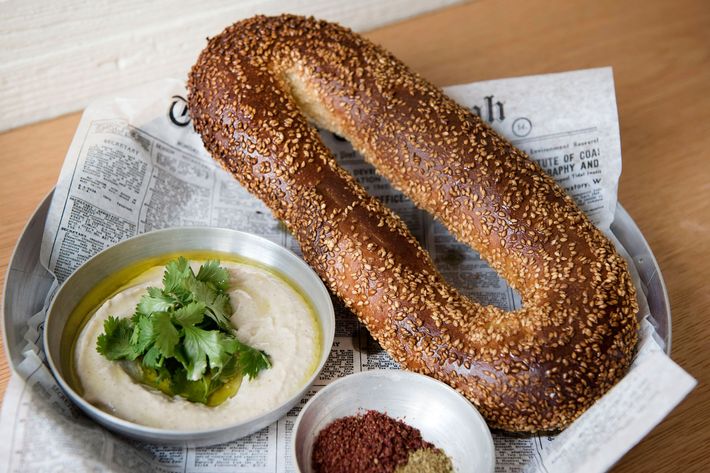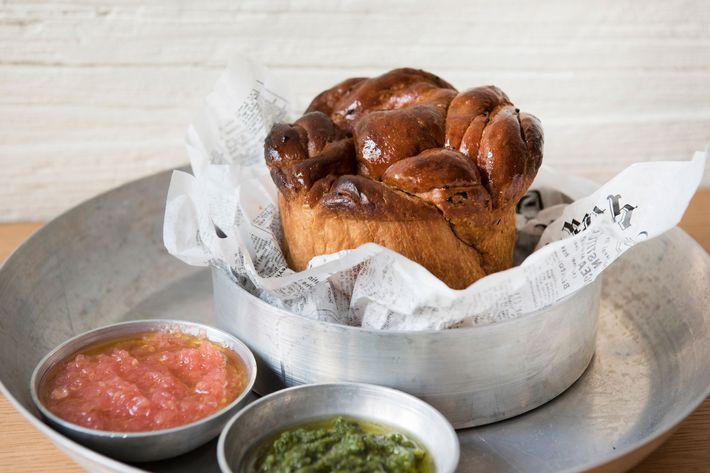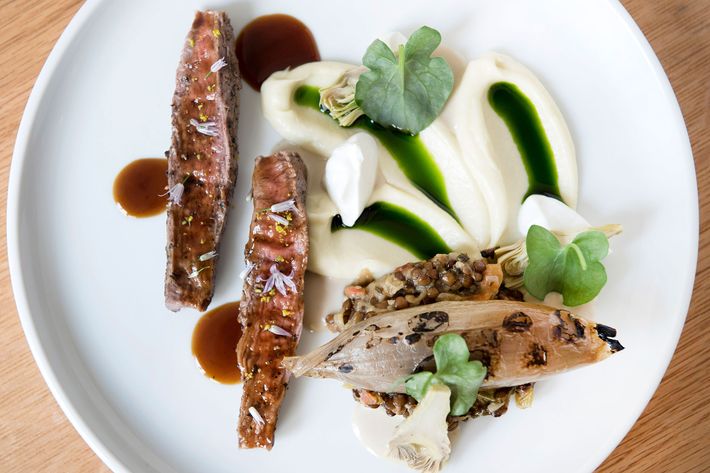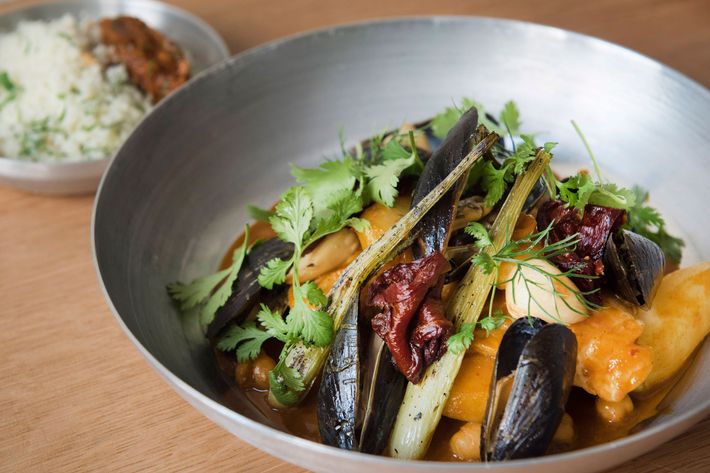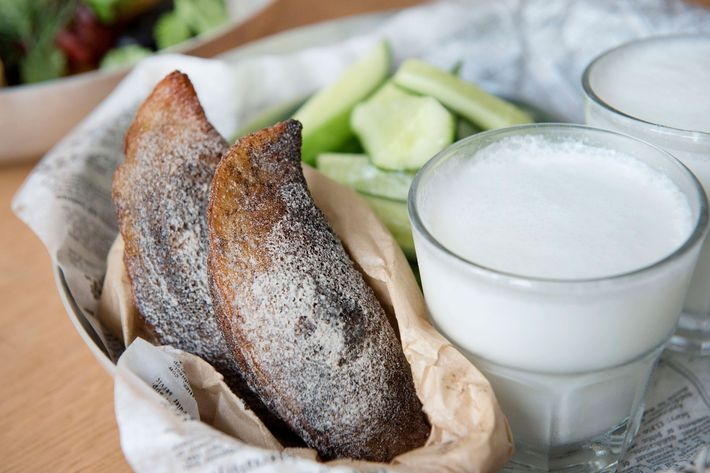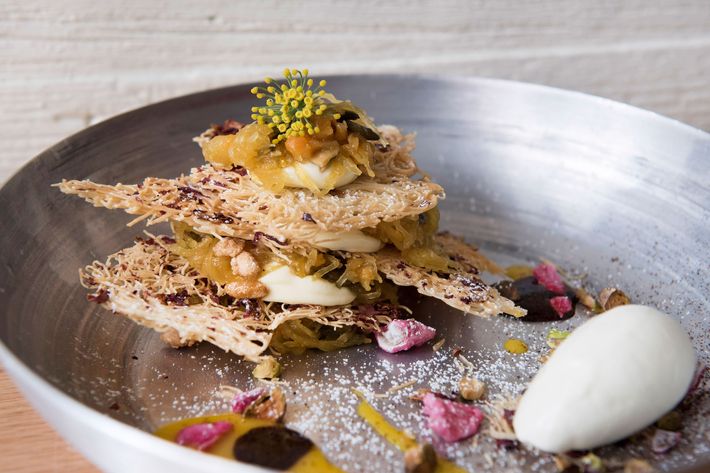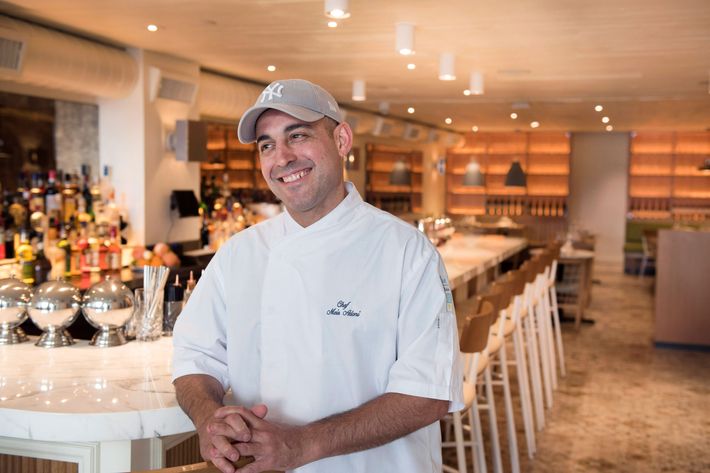 Nur, 34 E. 20th St., nr. Park Ave.; 212-505-3420