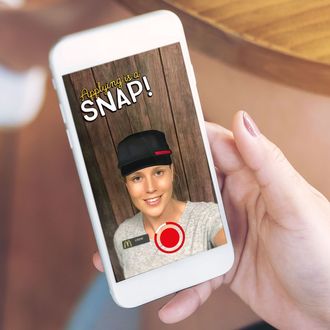 Hopefully, they have good memories.
Photo: McDonald's Australia
Snapchat has made another one of those very niche filters, this time for job seekers in Australia. If, by chance, you are looking for a new job down there, want that job to be at McDonald's, and think ten seconds of you "trying on" an employee uniform will help your prospects, then the "Snaplication" lens was made expressly for you. Both companies say it's exciting new territory for them, and the point is to encourage young people to apply for jobs — in this case, a very specific type found only at the burger chain, which isn't disclosing how much it paid Snapchat for the campaign.
Either way, it's pretty self-explanatory: Applications unlock the special lens; users shoot a video while applying, send the clip to the @Maccas account (Aussies call the chain "Macca's"), and McDonald's will direct them to a website where they can download a regular application form. This system quickly starts feeling as much about helping the brand go viral as it does about supplementing the hiring process with anything actually helpful (for one, how serious can an application that disappears be?). But Shaun Ruming, the chain's Australian COO, tells News.co.au that they, at least, won't be ignoring the snaps. "It certainly won't replace a thorough face-to-face interview, but we'll obviously take it into account," he says. "We're looking for that positivity, bubbly personality, someone we think would be good in a customer service role."
The lens superimposes a McDonald's hat and name tag on you, then lets you record a clip that answers the prompt, "Tell us your name and a little about yourself in less than 10 seconds" (a seriously well-honed elevator pitch). Maybe the Hamburger will snap lucky new hires back with that "Go, You!" cheerleader Bitmoji.