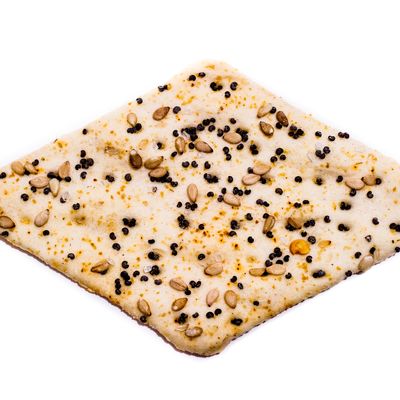 The Matzo Project's everything-bagel flavor, inspired by Russ & Daughters.
Photo: Jed Egan
Turmeric, matcha, and even mozzarella sticks have recently received the artisanal treatment, so perhaps it was only a matter of time before it happened to … matzo. The unleavened flatbread has a terrible reputation as edible cardboard, even (or, perhaps more accurately, especially) among Jewish people. It's really only eaten out of necessity during Passover. Yet the Matzo Project is a Brooklyn-based company that aims to change this. And perhaps the most surprising thing is that it's now rapidly expanding to meet high demand.
The matzo itself is sturdy and satisfying, in the salty-crisp way that the best snacks tend to be. It comes in the standard rectangle shape, as well as a snappier chip form. There are three flavors: salted, cinnamon-sugar, and everything-bagel-seasoning, which was inspired by a conversation with Joshua Russ Tupper from Russ & Daughters (and happens to be Grub's favorite).
The company's founders are — in a situation familiar to Jewish East Coasters — "camp friends." Kevin Rodriguez brought the idea to Ashley Albert, who owns the wildly popular Royal Palms Shuffleboard Club and often helps friends launch their passion projects. She encouraged him and offered some business advice, but initially didn't plan on getting too involved. (Albert is busy expanding Royal Palms to Chicago.) "Then he would come over and bring it to me to taste-test," she says. "And I was like a queen! I'd say, 'More salt! Crispier! Adjust the flour!'" Finally, they officially became partners and settled on a simple, straightforward recipe.
"When we first started out, we tried to get overly fancy with it, mixing all of these artisan flours — spelt, durum, whole wheat, and ancient grains," she says. "They were good, but plain ol' all-purpose flour was just better." Albert and Rodriguez gathered friends to make the matzo with pizza cutters and DIY "dough pokers," struggling to find the right tools because few people make matzo at home. "Our original salter was a rectangular planter that we drilled holes into, and smacked the sides of to make the salt fall out."
She also tapped into an easily accessible focus group: "I taste-tested every possible iteration with my staff at the Royal Palms, and they had no idea how to eat matzo," she says. "There wasn't a Jew in the bunch! They would just walk around the club with a single piece with nothing on it. I was like, 'This is not how you eat matzo at all, you guys!' But I was able to tell when we had something that was worth it."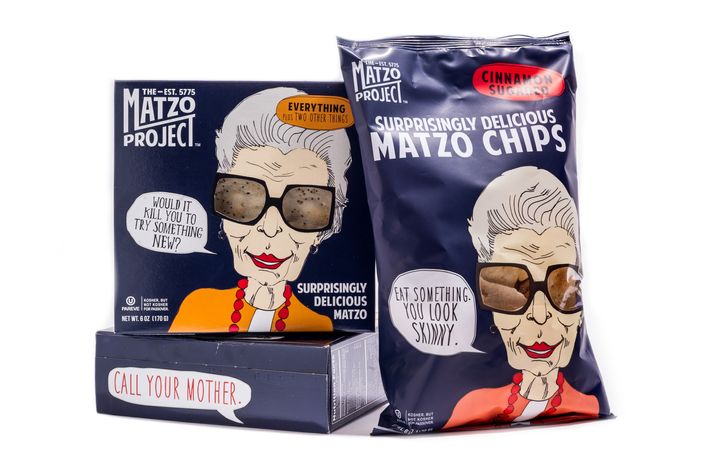 After two years of selling the matzo in small Brooklyn shops (the bags and boxes range from $1.99 to $8.99 in price), they're now in a position to go mass. At the Fancy Food Show — the industry's premier food expo — they received orders from 28 states, and realized they needed to scale up production fast. They've moved the company four times in its short life span, from a small commissary kitchen in Brooklyn, to an "innovation food lab" in Pennsylvania, to a bakery in Coney Island, and finally, on January 1, to a large commercial kosher bakery in South Brooklyn. Albert was concerned: "I thought, We're going to have all this matzo. We're going to spend all this money. Are people even going to buy this?"
Because it's such a big baking facility, their minimums are uncomfortably high: They need to make 2,400 cases every time they go into bake. But it's looking like the demand is still exceeding the supply: Albert says the Matzo Project is now in 90 stores, and they're in "emergency mode to go back and bake more." Soon, they'll launch an all-natural matzo-ball-soup food kit, too.
There's an especially high demand right now (and an influx of press) because Passover begins on Monday, April 10. Interestingly, though the matzo is kosher, it's not certified kosher for Passover because of a rule that it must be "untouched" by non-Jewish hands. Albert wants her matzo to have mass appeal — eaten yearlong by Jews and gentiles alike. "It's really like a more flavorful water cracker — it's super versatile," she says. "We want this to be a cultural cracker, and we're likening it to the pita chips. When I was a kid, you'd only get a pita chip at a Middle Eastern restaurant, and now, you eat it the way you'd eat a potato chip. It's totally ubiquitous." The only positive association with matzo, probably ever, has been the childhood Passover game of finding the afikomen, but clearly people are dispelling preconceived notions.
What will certainly help entice matzo skeptics is the cheeky, Instagram-friendly packaging, with a sketch of a grandmother with bubble quotes saying, "Would it kill you to try something new?" and "Eat something. You look skinny." Albert had a strong sense of what she wanted the branding to look like, and ran a contest on 99designs asking for a design with particular parameters (even specifying that she wanted the grandmother to wear die-cut, see-through sunglasses). She received many options, but none was quite right, so she picked her favorite elements from various illustrations, taught herself InDesign, and "cobbled the whole thing together."
"Our idea is that people will try it for the first time because of the design, or buy it as a joke to show their mom or their sister, and then taste it and say, 'Oh, that's actually really good.'"