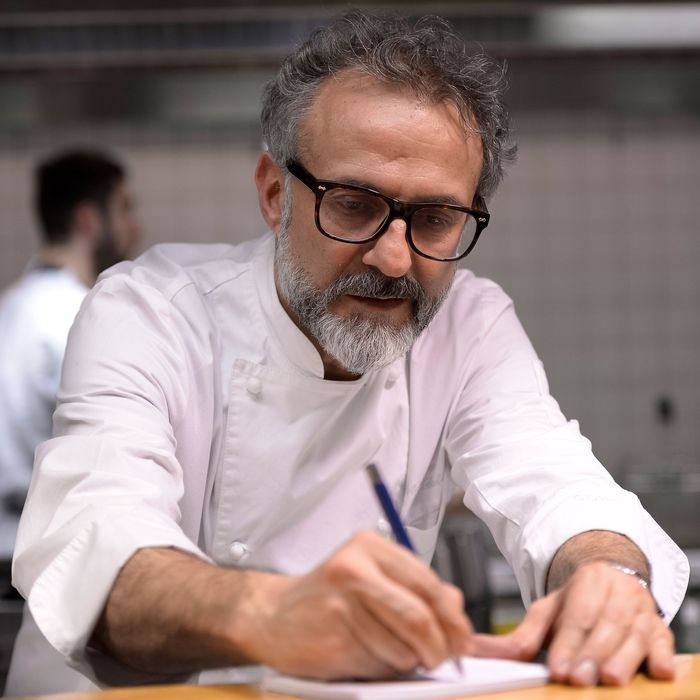 With his Food for Soul project, Massimo Bottura aims to bring awareness to worldwide hunger issues.
Photo: Nicolò Campo/LightRocket via Getty Images
For chefs, worldwide renown often leads to lucrative expansion deals: Restaurants in tourism capitals like Tokyo, Hong Kong, Vegas, and Dubai are almost a given. That's one reason why it's so surprising that Massimo Bottura, the chef at Modena's Osteria Francescana — one of the most critically acclaimed restaurants in Italy, and the world — has expanded in a different way, keeping just one full-service restaurant (with all of 12 tables), while focusing his expansion energy on a nonprofit initiative that aims to feed the hungry.
Lara Gilmore, Bottura's wife, is the president of Food for Soul, a program that aims to promote awareness of hunger and food waste, while also opening ambitious "community kitchens" for needy patrons. The idea of offering food, in addition to a sense of culture and dignity, began as a happy accident in the run-up to Expo Milano 2015 — when Bottura offered to make a sustainable contribution to the city and its residents, and found eager chef-collaborators like Alain Ducasse. That was followed by Refettorio Gastromotiva, which debuted during the 2016 Olympics. Next is Refettorio Felix in London (which will feature chefs like Ducasse, Clare Smyth, and Daniel Boulud), as well as Stateside expansion, thanks to a grant from the Rockefeller Foundation for more than $500,000. The first two American refettorios are scheduled to open in 2018 and 2019, with seven more locations slated to open around the country. Grub Street sat down with Gilmore and Bottura to talk about international accolades, getting robbed in Rio, and why they're using their culinary stature to nourish some of the the world's most in-need diners.
You're planning to open Food for Soul kitchens in the United States, which were first teased last summer when you posted on Instagram about a meeting with Robert De Niro about a Bronx location.
Lara Gilmore: It won't happen with Robert. It got blown up on Instagram, and Massimo didn't know something could blow up like that.
Massimo Bottura: But De Niro is De Niro!
LG: Right now, we're scouting nine U.S. locations, including the Bronx, but also Washington, D.C., Baltimore, Miami, Detroit, Chicago, New Orleans, Seattle, Los Angeles, and San Francisco. It's important for us to evaluate if our model could have a positive impact on the economy and social fiber of those cities. Our model is more radical because it's all about bringing people together to share a meal in a beautiful space, and engaging volunteers to be more physically invested in their communities. We need beauty more than we think. It's one of the few indivisible goods, and so often it's not given enough value in regards to social change.
Your next refettorio is opening in London, which seems generous, considering Britain's attitude toward the rest of Europe at the moment.
MB: London was about opening the door to the unexpected. When you are willing to open that door, you can do whatever you want.
Surely your fame means plenty of doors are open.
MB: You feel the vibes, and we felt London. London is a special place for me now that Paris has dropped in tourism, and in Italy we struggle so much. I think London is the real capital of Europe for me, for all its culture and art, even though there is Brexit. That's why I said, immediately, we have to do London. We have architects and designers, and now we just need to approach Damien Hirst. We need to approach British artists to make art for the people.
Do you ever feel pushback from Italians who want you to do more good closer to home?
MB: We've had a hard time doing projects in Italy. We were ready to do something in Palermo. The mayor was enthusiastic. The 20 best restaurants in the city were ready to help.
LG: Finding the space is one issue. The other is managing the space every day, and the people there weren't interested anymore. In Turin, it was the same thing. We have everything; we had support from Italy, all the food and chefs, and then one day you get the news it's off.
MB: But Modena will have one of the best.
LG: We're trying a couple of different models in Italy, and one is working with existing soup kitchens, bringing in our know-how, our idea of the element of beauty and how important that is to nourishment — design, lighting, simple things like a paint job. We want to create places where people are going to feel dignified, because there's a difference between eating at a plastic table and a wood table. We worked with a soup kitchen in Bologna to get them new tables and chairs, and found an architect to do pro bono work. And every Monday, we mobilize local chefs to come in and cook. And we started the same thing in Modena last December. There's a canteen that has good food at low prices, and every Monday night, we run a soup kitchen there in a small chapel they use as a dining room. We asked a local graffiti artist to paint a mural of Saint Geminianus, the patron saint of Modena.
MB: Three-hundred years after Christ, Attila the Hun was coming through Northern Europe, so the patron saint was in the church at the time, and he created a miraculous fog that bathed Modena in fog so thick that they didn't see it and passed through.
LG: So the dining room begins in total darkness, completely black, then you see Attila's army — the vikings, the horses, and the axes — and then it's enveloped in white fog. What's the metaphor? It's what Massimo embraces: Believe in the impossible. Of course it's impossible to create a wall of fog to protect a city, but if you don't have that kind of imagination, what are you going to accomplish? That's Food for Soul. It's unrealistic that we're putting money and energy into soup kitchens. Who gives a shit? Who cares? It seems impossible. It doesn't make any sense. There was no business plan. But there was energy and excitement, and at the end of the day, we have to believe that it's all for good.
You said that after a press conference for the London project, Alain Ducasse was the first to volunteer to cook there. Do you ever wonder why more top chefs don't undertake these projects? I assume once you make the World's Best list that you have access to connections and financing to pursue these kinds of projects.
LG: He would never risk it. It's very risky. Massimo has folly in everything he does, and you can't teach someone to have that kind of personality. So it's just something that makes a lot of sense for us. We only have 12 tables, and it's never been a problem to fill our restaurant, and the restaurant is self-sustaining.
MB: We met Mario Batali early on, in 1994 or 1995, when we opened the restaurant. He said, "I want a great vinegar I can serve on the table and use in the kitchen, that isn't extra old, because aged balsamic isn't flexible enough in the kitchen."
LG: So we created this artisanal blend that's easy to use, and Villa Manodori supported us. Step by step, we tasted and tested during the last 20 years, and now we have a vinegar that is amazing, that really sustained us. It's allowed us to bring on another chef, to redo the dining room, to travel to international chef congresses in 2004 and 2005, and that's how we got our name around, and how we communicated Massimo's cooking and ideas to the international press. Then we got invited to cook dinners at hotels, and we had this supplemental income. And that's money we now put aside for Food for Soul. At one point, you're growing very slow, but once you realize that growth is sustainable — and you could pay bills at the end of the month, and put everything from the vinegar aside — then you realize you have to give back. We don't even know why we are doing Food for Soul, but it's been such a positive response, and after all these years, we want to see more come out of the Osteria than just a fine-dining restaurant. Our goal is to finally do something that will have an impact on the general public.
MB: The day we decided to do Rio, we received at 6 a.m. a WhatsApp message from the mayor of Rio, showing us he's watching Chef's Table on Netflix, and saying he's our biggest fan. I said, We have this message from Rio, and I answer by instinct, Why not? I said, Why not let's do this? Creativity, inspiration, they can happen at any time.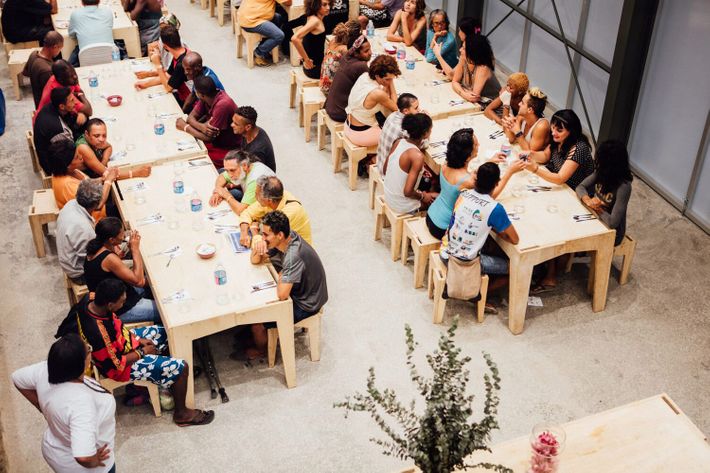 Did the chaos of opening in Rio present a different set of challenges than the bureaucracy of opening in Europe?
MB: Rio was extremely difficult in the way that we had to raise a lot of money. No one wanted to give us anything, but there was no bureaucracy, so we could do whatever we wanted. The difficult part was to connect with people there. It was a moment in which any moment you can expect anything — even a gun to your head!
You were robbed?
MB: They arrived one morning, and they robbed computers and things. We were at the Museum of Tomorrow, but people were there, and they stole everything from the volunteers. It hasn't happened since. Maybe now we have the right guards. We chose the wrong security, and now we have the right security. And we have to fund this.
Let's talk about the World's 50 Best Restaurants list. There is a huge financial gain to be had if you rank highly, but once you've been on the list multiple times, does the continued recognition have any impact on the restaurant's revenues?
MB: The difference is in the title. The title — on the people, on the media — has an incredible impact. When they read the best restaurant in the world is in Italy, people come to experience a weekend in Emilia-Romagna, and the three Italian chefs who are on the list say, "We need you to be number one again, otherwise it's going to affect our business." I say, "What do you mean?" It's because when you are number one, there are so many people coming to Italy, and looking at Italy in a totally different way.
You really feel that's more true this past year than when you were number three on the list?
LG: Absolutely. Being responsible for promoting Italian food, culture, and for promoting Modena. Massimo could have opened in Milan or outside Italy, but he decided to stay in his small hometown. He decided to make it work and have people come to us. And isn't it the greatest, coolest award in the world to have people come to a small town like Modena, and have people bring that town to light, and letting people discover it?
So is there a tension when you congregate with other chefs for the awards? Do you sense they all want what you have?
LG: You should want it. It used to be the Michelin stars that kept you on your toes, that kept you in shape. And some people, they go the PR way, some people go through the tourism boards, but the smart ones get their shit together and they focus, and they become better restaurants.