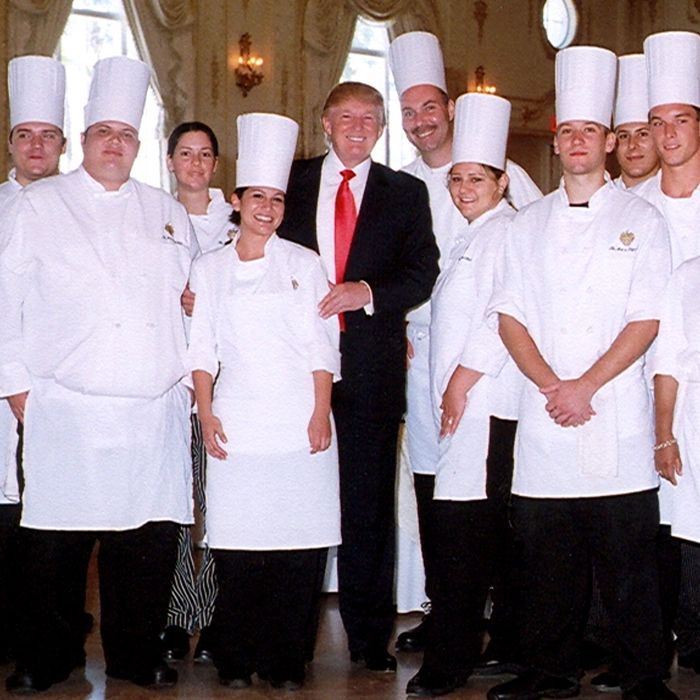 Trump with his kitchen staff.
Photo: Davidoff Studios/Getty Images
President Donald Trump is so germophobic, he once called handshakes "barbaric," over fears of catching the cold, flu, and "all sort of things." No doubt, then, that he was thrilled when Florida restaurant inspectors visiting Mar-a-Lago's kitchens reportedly found fish that hadn't been properly treated for potential parasites, raw meat stored at too high temperatures, and coolers that weren't in working order. The inspectors were concerned, of course, that guests could catch all sorts of things from these improperly stored foods.

Those three violations were deemed high-priority violations that could cause illness, which is probably not what those new members had in mind when they ponied up the $200,000 in initiation fees to hang out with the president. As a man who eats his steak extremely well-done, Trump's probably not into the idea of risky meat, either. The inspectors found a total of 13 violations during that visit, shortly before Japanese prime minister Shinzo Abe's stay, though a later visit cleared the kitchen. Mar-a-Lago hasn't always been so messy: It rarely received health violations until last year, when Trump decided to run for president and the club's violation count jumped from two in 2015 to 11 in 2016.