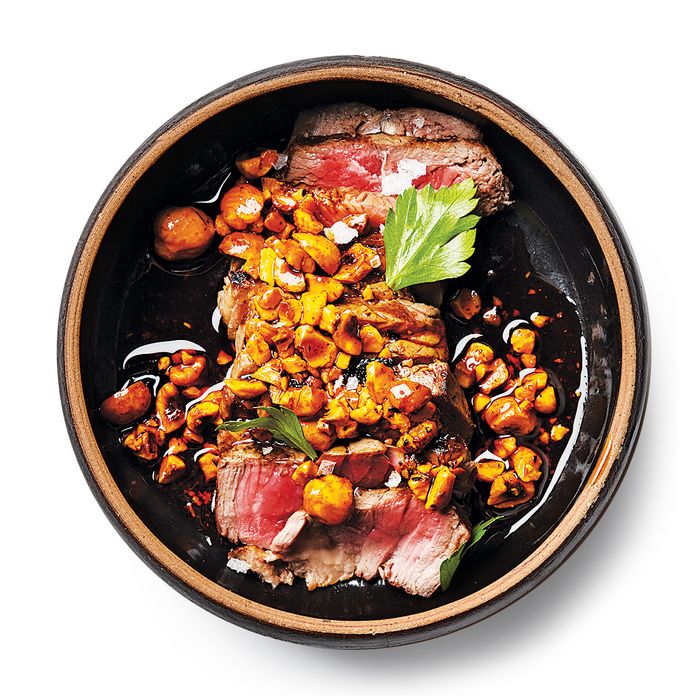 Lalito's baby steak, a 3.5-ounce strip with chile-hazelnut oil.
Photo: Bobby Doherty/New York Magazine
For years now, everybody from Michael Pollan to the American Cancer Society has been telling us to eat less meat, and we seem to be listening. Last month, the Times reported the results of a Natural Resources Defense Council study citing a 19 percent drop in American beef consumption between 2005 and 2014 (a figure the beef lobby attributes to limited supply and rising costs rather than dietary or environmental concerns). A glance at the New York foodscape reveals both extremes: the enduring double-burger craze and large-format beef orgies on one hand and the increasing appetite for vegan options and "meat as a condiment" vegivore cooking on the other. Lalito's "baby steak" falls somewhere in between: 3.5 ounces of domino-size slices of dry-aged strip steak dressed with a lip-smacking, salsa-macha-inspired sauce of guajillo-chile oil and chopped hazelnuts. Served in a small ceramic bowl, it's more steak tapas than steak dinner, or, as chef Gerardo Gonzalez puts it, "Like a really expensive wine by the glass rather than the bottle. I wanted to take a high-end product and democratize it." Gonzalez thinks of the $15 dish as a side — something to round out a shared meal, not headline it, a fact his servers take great pains to convey to diners. The portion size might be closer to a nutritionist's idea of a single serving, but not the typical New York carnivore's. "We still get occasional responses like 'Oh, it's really that small.' "
*This article appears in the April 3, 2017, issue of New York Magazine.