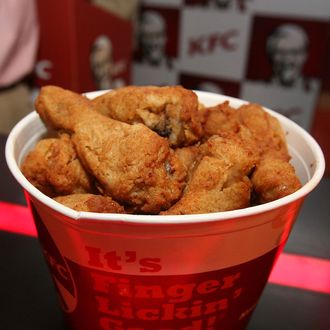 Maybe they'll keep for another 20 months?
Photo: K Asif/Getty Images
KFC has finally gone where literally almost every other large company tied to chicken has gone before — it's committing to removing most of the antibiotics from its chicken. Now, patient zero of the global multidrug-resistant shigella pandemic of 2041 at least won't be that KFC superfan with the Double Down tattoo. Reuters reports America's second-biggest chicken chain after Chick-fil-A has given suppliers until the end of 2018 to curb the use of antibiotics "important to human medicine." There's still a lot of room between that and being truly antibiotics-free, but give the Colonel credit where credit's due, even if he dallied a good long while. President Kevin Hochman tells Reuters that KFC's executives recognize that the overuse of human antibiotics in the U.S. meat supply is "a growing public health concern," so they felt this is "something we need to do to show relevance and modernity within our brand."
The change only applies to KFC's U.S. locations (about 4,200), but to give you an idea of how much chicken this means, it still affects about 2,000 poultry farms, according to Hochman. That's 2,000 fewer potential factories churning out superbugs that doctors warn could be "a death sentence" for humans, if animals keep receiving all the human drugs they get now.

Even still, KFC lags behind competitors. McDonald's phased out chicken raised with human antibiotics last year, making McNuggets safe and guilt-free in at least one area. And Chick-fil-A vowed three whole years ago that none of its chicken would have drugs of any kind by the end of 2019.