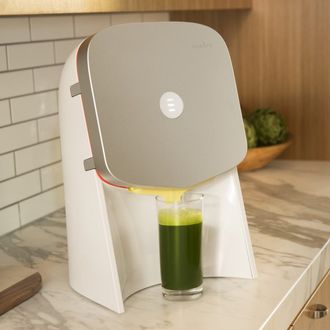 "Yes, please."
Photo: Juicero
Juicero's $400 Wi-Fi-enabled juice machine has become the laughingstock of both the food and tech worlds, now that Bloomberg has discovered that human hands can juice its $7-ish fruit and veggie packs better than the "incredibly complicated" piece of countertop equipment. Helping to make this story one of the most hilarious Silicon Valley fails in recent memory is also the fact that big companies (Google, Campbell) blindly showered the start-up with $120 million in venture-capital funding.
It's led to some derision online:

Likewise, a lot of fans probably wish they could take back raving about their Juicero before learning of its hidden feature. Gwyneth Paltrow professed her fandom, naturally, and it turns out, so did the president's daughter:

It's easy to see why she wanted one of these. There's a Trump family tradition of pushing buttons to effortlessly receive drinks. But the circumstances and timing of her year-old tweet, as people started noting on Twitter after it was unearthed, are interesting: News broke that very same day that Thrive Capital — Jared Kushner's brother's investment firm, where Jared was also a board member at the time — was one of the backers that had just invested $70 million in Juicero.
The FTC's guidelines on product endorsements are fairly unambiguous. To go ahead and just quote them: "If there is a 'material connection' between an endorser and an advertiser … that connection should be clearly and conspicuously disclosed, unless it is already clear from the context of the communication." It further clarifies: "A material connection could be a business or family relationship, monetary payment, or the gift of a free product."