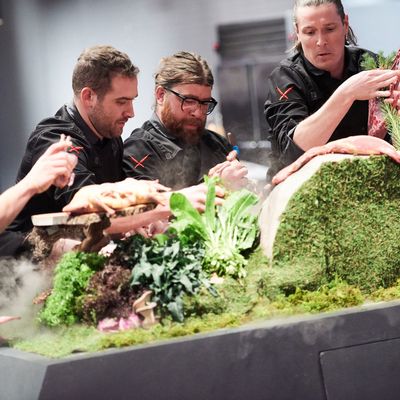 The chefs battling on Iron Chef Gauntlet.
Photo: Food Network
It has been a long, multiyear hiatus, but the most coveted culinary title in the world is back. After two and a half years, Iron Chef is here again, and just think of everything that has changed since the show went off the air! Just kidding, don't do that. It is too depressing. Anyway! Alton Brown is officially at the helm now, as opposed to simply offering commentary, which makes sense because Alton Brown has always been, unofficially, at the helm (of my heart).
The disappearance of the chairman isn't the only change: In fact, this whole enterprise is slightly different than the Iron Chef you remember. In Iron Chef Gauntlet, as it's called, seven chefs from around the country (but mostly Chicago) go "knife-to-knife" in a bloody fight to the death. But there's more! The last chef standing must then battle three different existing Iron Chefs in the aforementioned gauntlet. If that chef crushes all three, they, too, will be crowned an Iron Chef, and there will be much rejoicing in the kingdom. If they don't, there will be no winner, and we will be cursed with seven years of Guy Fieri reruns.
Let's meet our new friends! Clevelander and neo-Viking Jonathon Sawyer likes to make food that is inspired by the past, using modern technique. He has already won all the awards, except for this one, which is what makes it all the more special. Top Chef winner Stephanie Izard, of Girl and the Goat in Chicago, is also here. Her thing is creating "bold layers of flavor." She has also won many awards. Nyesha Arrington has dreamed of becoming an Iron Chef since she was a little girl, so she is here (she has also won awards) — as is multiple-award-winner Jason Dady, who aspires to be the first Iron Chef from Texas. Multiple-award-winner Sarah Grueneberg is the Pasta Queen of Chicago, and they're all joined by slow-burning south-Louisiana boy Michael Gulotta — a fellow winner of awards — and Japanese-trained Shota Nakajima, who is very young. For a change of pace, he, too, has won awards.
More rules: Every week, Alton Brown is going to throw out two challenges. Everyone does the first one — the Chairman's Challenge — which is based on a theme devised by Alton Brown, because he is now the chairman. After that, two chefs move on to a second challenge, after which the winner wins and the loser is banished forever.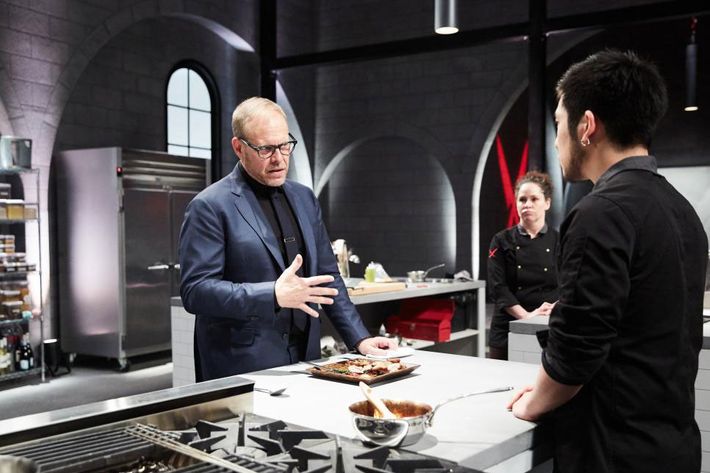 There is literally no time to waste because we have a lot of commercials to get to, so it's time for the first Chairman's Challenge! "As the king of the wild things says, let the wild rumpus start!" bellows Alton Brown, revealing a spread of gamy meats and mushrooms, and also pine needles. (The theme is "wild.") Everyone has to cook a wildly sensational dish in 30 minutes, because it is wilder that way. Wildly, they descend, tearing into squabs and quails and elks and ducks and maitake mushrooms with their bare hands. It is so wild. It is like watching a community-theater production of The Bacchae.
Chef Arrington gets to work on roasted squab with pine and rustic salsify purée. Did you know salsify is a root, like a parsnip crossed with a potato? I thought it was a dance. Chef Dady is going with elk loin, sous-vided with pine needles, plus mushrooms. If he's being honest, chef Nakajima was really hoping for seafood in this first round, but the wilderness is unpredictable, so he's doing grilled quail with seared and braised mushrooms, which will be "fun and wild," but also simple, in a way. Chef Grueneberg was going to do a rabbit scaloppine topped with rabbit sausage (seasonal!), but then at the last minute, she decides to do a roulade instead, even though it is going to take longer to cook that way, she explains, meaningfully. Ohio Viking Jonathon Sawyer is doing a Sicilian-style hunter's pasta with mushrooms and currants and squab; chef Gulotta is working on a buttermilk-fried quail vindaloo; and chef Izard is doing duck tartar with sesame oil, bonito flakes, sumac, and gochujang mayo. It will taste like a ducky forest, she says, but also there isn't time to do anything else.
Speaking of time, chef Grueneberg's rabbit roulade is still raw, and she has to un-roulade it and turn it back into a scaloppine. "What went wrong?" she wails. "I was on track! I felt so good! What a disaster!" This is what I am always saying, but about my life instead of rabbit.
Speaking of time, it is over. The first judgement has begun! Chairman Alton makes the rounds. He pretends he doesn't like chef Dady's porcini-crusted elk loin, but the trick is that he does like it. Ha! He likes chef Gulotta's fried quail vindaloo so much, he would eat it from a box in the back of a car in a dark alley. The highest praise there is! Chef Sawyer's hunter's pasta, meanwhile, is a perfect marriage of flavors, even if there is too much chili in it, and chef Izard's duck tartare is wild and woodsy, which is a state of being to which we should all aspire.
The same cannot be said about chef Nakajima's quail. The skin on the quail should have had more sear. Also, the dressing should have had less salt. Additionally, the braised mushrooms were underdone. Minor quibbles, really, compared to chef Arrington's squab, which was either overcooked or undercooked; and chef Grueneberg's rabbit, which was missing the "herbalness of the forest."
The winner is chef Izard! "Whoo-hoo!" opines chef Izard. But while Alton Brown did not care for chef Arrington's squab, her salsify saved her (whoo-hoo!). The loser is chef Grueneberg, for her messy bunny. The moment has come: Chef Grueneberg must now fight for redemption in a secret-ingredient battle against another chef. But which other chef, one wonders. Ah! That is up to chef Izard. (Is everyone still up-to-date with all the twists and turns we've encountered?)
"I should either pick the chef that I think is the stiffest competition," chef Izard soliloquizes, "or pick the chef that's neck and neck with Sarah." A classic dilemma! Whether 'tis nobler in the mind to pick the chef that almost won, or the one that almost lost! In the interest of fairness, she settles on the almost-loser. Chef Arrington it is!
And the secret ingredient is … lobster! The chefs will have one hour to make three different lobster dishes, using Maine lobster, but also spiny lobster. Spiny lobster is less sweet and doesn't have claws. Maine lobster is from Maine.
Chef Grueneberg, who totally knew the roulade was a bad idea, envisions a three-course menu that is "Italian in the root of the dish, but pushed in different ways." What she means is that she is starting with a spiny lobster aguachile, moving on to a Singaporean-inspired turmeric-black-pepper pasta with spiny lobster and coconut milk, and finishing it up with a classic butter-poached lobster tail, served in a puddle of charred eggplant purée. Not to be outdone, chef Arrington is hard at work on a lobster tour of the world, which will tastefully feature lobster boudin (only with Swiss chard instead of pork casing), Thai-style spiny lobster in coconut nage, and Spanish-style Maine lobster with spicy chorizo and corn purée. This is the marvel of a globalized world.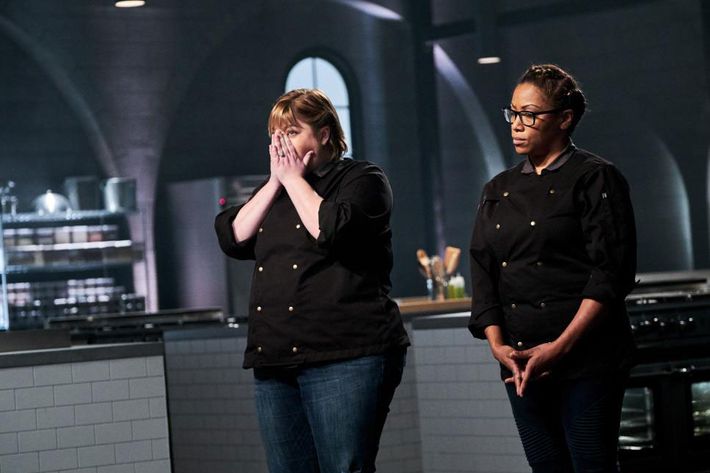 It all goes fine! Everyone does everything they said they'd do, exactly how they said they'd do it, and sixty minutes later, it is time for judgement at the hands of certified Iron Chef and silver fox Geoffrey Zakarian, and restaurateur, author, and certified Italian Donatella Arpaia Stewart.
On the one hand, Donatella Arpaia Stewart nearly chokes to death on chef Grueneberg's aguachile. On the other hand, she likes it because it's complex, but also simple. Geoffrey Zakarian worries mildly that her handmade pasta with lobster tartar is not lobster-centric enough, but Donatella appreciates how it feels Italian, even though it is not Italian. If there is a flaw, it is that the butter-poached lobster and the eggplant purée do not sing to each other, although they co-exist. "I don't really get the marriage," Geoffrey Zakarian offers. "It's lust, but it's not love."
That's the thing about eggplant; it never commits.
Chef Arrington is up next, kicking off her tasting with her controversial chard-encased boudin in lobster broth. Donatella feels it captures the essence of lobster. Iron Chef Zakarian is "not so impressed," although he is willing to concede that it is "very lobster-forward." He is rather taken with her lobster coconut curry, though — it is "very lobster-y" — and Donatella agrees, though she might prefer a touch more acid. That is more or less their assessment of the lobster-chorizo-corn mélange as well: It just needs a bit more punch.
There is a complicated scoring system, where each judge assigns points for different elements, just like in Olympic ice dancing. Oh, it is a close one! Chef Grueneberg has more taste points (+2). Chef Arrington has more plating points (+1). And chef Grueneberg has more originality points (+1). By the power of math, the winner is chef Grueneberg. That means chef Arrington has reached the end of her Iron Road. She did not see it coming, and yet, somehow and somewhere, she will persevere. "It sucks," she reflects, disappearing into the foggy middle distance.