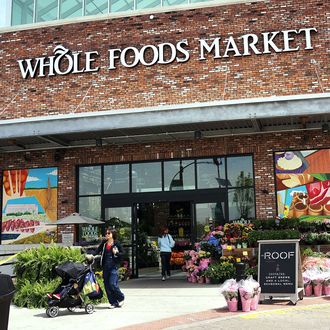 Maybe time to add a Starbucks?
Photo: Spencer Platt/Getty Images
Whole Foods has reached the point where activist investors are starting to circle the limping company like vultures. Today, The Wall Street Journal reports that the hedge fund Jana Partners has amassed nearly a 9 percent stake in the grocery chain, officially making it the company's second-largest shareholder. And it's wasting no time diving right into this newly dominant role, noting in a regulatory filing that it wants the chain to "improve its technology and operations to better compete with larger rivals, shake up its board, and explore how much potential bidders might be willing to pay."
Whole Foods' nose-diving stock has lost almost half its value since 2013; Jana thinks an important first order of business should be a little board-of-directors spring-cleaning. It's taken the liberty of proposing new nominees four months before the deadline — a sign that Jana plans to "be aggressive in demanding change," the Journal predicts. The list includes three consummate business insiders (an influential analyst and the ex-CEOs of the Gap and the Harris Teeter supermarket chain), and then Mark Bittman, who's been arguing for years that Whole Foods should simplify. All four of them already even bought their own Whole Foods shares at Jana's urging.
The paper says this sudden investor activism is also likely to "amplify the grumblings of other Whole Foods shareholders," many of whom have less patience than a hedge fund like Jana. One idea that's probably going to come back up: The suggestion that Whole Foods think long and hard about selling itself — even to Amazon or Kroger, if need be. (After all, Amazon is busy trying to develop brick-and-mortar supermarkets right now.) In the past year alone, the chain has jettisoned its dual-CEO structure, abandoned plans to triple its size, spun off a line of cheaper stores, and even rolled out a rewards program. None of these has really improved the bottom line, though, and Whole Foods even had to lower its profit forecast in February.

Investors argue the problem is that, outside of produce "butchers" and asparagus water, the company just doesn't offer anything particularly unique anymore. (Costco sells more organic produce, and you can find a surprising number of similar items at Walmart these days.) A Whole Foods rep says they get that it's not been a pretty picture lately, and that they're "open to the views and opinions of all of our shareholders," and are really zeroing in lately on the "important objective" of making investors some actual money.