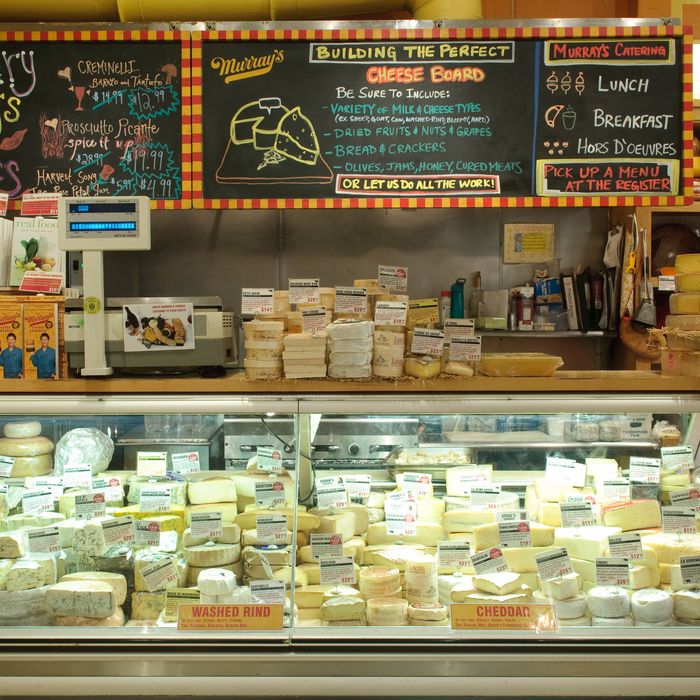 Murray's Cheese has been a longtime destination for the city's dairy fanatics.
Photo: Matt Dutile
Shake Shack is, of course, one of the great New York City success stories. Started as a stand in Madison Square Park, it's grown to well over 100 locations around the world, all of which promise burgers and fries with an increased focus on quality and hospitality. Sbarro, meanwhile, was once a family-run New York operation that specialized in Italian-American food, and which is now in every food court in every mall in America (or so it seems). Yet after the growth, Sbarro's defining feature is the mediocrity of its food. Expansion — and corporate influence — can have a wide-ranging effect on a small, independent business. Murray's Cheese, long a beloved Bleecker Street destination for soft-ripened triple creams and brandy-washed wheels of Époisses, is now at this crossroads. This year, the business — comprising, among other assets, the shop, a Grand Central Terminal outpost, and extensive aging caves — was sold to the Cincinnati-based Kroger grocery chain, which currently operates 2,796 stores. Now, Murray's has the means to grow, but will expansion turn it into something like the Shake Shack of cheese shops, or will it wind up sacrificing quality for size, like Sbarro?
For decades, Murray's has been that idealized type of New York business: The stand-alone storefront that's so dedicated to its cause — cheese in all of its glorious forms — that the bottom line almost seems secondary. (Writer Calvin Trillin's adored tour of his favorite food destinations in the city, itself something of a New York institution, often began at Murray's.) So it was surprising when news of the sale — which on the surface has all the trappings of either a financial bailout, or simply selling out — became public.
The shop has only even changed ownership a handful of times: In 1940, Murray Greenberg, a Jewish immigrant, opened Murray's Cheese at the corner of Bleecker and Cornelia Streets in Greenwich Village. In 1970, Greenberg sold the store to his Calabrian clerk, Louis Tudda. In 1991, Tudda sold the shop to fervent regular Rob Kaufelt, who in turn sold the store to Kroger.
The latest sale itself really began to take shape in 2008. In a Crain's profile, Kaufelt cheered that he was "taking the neighborhood national" through the Kroger partnerships he began that year, installing three Murray's kiosks inside Kroger stores. In 2012, there were 38 outposts. Eventually, they were adding almost 100 per year, and there are now more than 250. At the same time, the two partners were building up their expertise, and training employees as Certified Cheese Professionals recognized by the American Cheese Society: 13 in 2014, 20 in 2015, and 29 last year.
With roughly $250 million in annual sales, Murray's owned about 7 percent of the nation's $3.7 billion gourmet-cheese market. Kroger, meanwhile, made more than $2 billion in 2015. The chain often grows by way of mergers, preserving local brands — such as Mariano's in Chicago, King Soopers in Denver, Ralphs in Los Angeles, and Fry's in Arizona, which are all owned by Kroger — along the way.
Nobody from Kroger or Murray's would disclose financial details of the merger, but Kroger now owns the Murray's name, as well as the street-level retail condominium that houses both the Murray's store on Bleecker and Amy's Bread next door (although they don't own the building itself). Murray's Cheese Bar, the nearby restaurant, was acquired in the deal as well (though the space is still leased). By all accounts, the sale was not a financial necessity for Murray's, or Kaufelt.
"I never thought Rob would sell," says Kroger CEO Rodney McMullen. "He looks and acts much younger than he is. I thought he'd stick with Murray's another 30 or 40 years." But the timing proved to be fortuitous for McMullen, as Kaufelt says the grind of running the business had started to become too much.
"Our big joke was TGIM," Kaufelt explains. "Thank God It's Monday because Friday and the weekend were always so busy for us — my weekends were just gone. Years and years of weekends." He says that something dawned on him, and that he needed to spend more time away from the shop. "I'm 69 with young kids … I just didn't want to do that anymore. This election, this country, this time we have has to matter. I can pick my kids up from school now."
Nick Tranchina — Murray's chief operations officer, who has been with the company since 2006 and has overseen much of the Kroger relationship — sees other upsides to the sale. "Most of us are here because we like cheese," he says. "Now, we have this big corporate system where we can handle all the tedious, terrible, non-cheese things: legal, contract review, accounting, budgeting. We can send all that in-house and focus on the cheese again."
Tranchina says he's talking more about actual cheese than he has been in a long time, and the company has just come out with the first-ever cheese that Murray's created entirely in-house, from concept to creation. This month, the shop also plans to be the exclusive importer of a dozen specialty Danish cheeses, such as Maribo and Vesterhavsost.
That still may not be enough to assuage concerns of longtime fans and cheese lovers around the city, who fear that corporate creep — and the need for growth — will diminish the obsessiveness and breadth of products that made Murray's special in the first place.
"It's been happening across the industry for a while," says Anne Saxelby, the cheesemonger of an eponymous shop in Essex Street Market, who worked for two years at what she calls the "boot camp" of Murray's. She points to smaller producers — Cowgirl Creamery, Redwood Hill, Laura Chenel's — that were sold to larger companies. But, she says, "Rob's a smart guy. He sees where the opportunities are. He did it with his wholesale business, his mail-order business, his cheese classes."
Saxelby likens what's happening in the cheese industry now to the world of craft beer around ten years ago, when megabrewers like AB InBev saw the value of adding smaller, independent breweries to their product portfolios. "There's a lot of room," Saxelby says, "but also a lot of action, a lot of growth, and a lot of motion." In short, someone begins to promote the idea of great food, which sparks interest that grows until someone with a lot of money inevitably sees a business opportunity, and the original small player is forced to compete. Their effect on consumers is controversial, but mergers and sales are nevertheless naturally beneficial to both sides of the deal: The company gets the brand prestige, and the smaller company gets a vastly increased budget.
While corporate money can provide breathing room for small producers and sellers, there's always concern that the influence will change the way the smaller party goes about its business. "At a certain point, at a certain size," Saxelby says, "it's turning it over from an entrepreneur to a focus group." And that's where Murray's is now. Everyone involved in the deal knows that if the quality of the cheese drops, people will look elsewhere. Tranchina remembers Artisanal Premium Cheese, the New York specialty shop acquired in 2007 by American Home Food Products, Inc., which ballooned to its breaking point: "It was sad to see. They just ran it into the ground." Fairway is the most recent example of a company that expanded far too quickly, and couldn't keep up with the new owners' financial wishes. Growth is hard in the food world because there's only so much great food out there. Even McMullen says, "It's a blessing and a curse to have good food … Nothing else will do after you know how good it can be." For the many devoted customers of Murray's, who count on the shop to provide that good food, that's the exact issue that's causing so much anxiety right now.