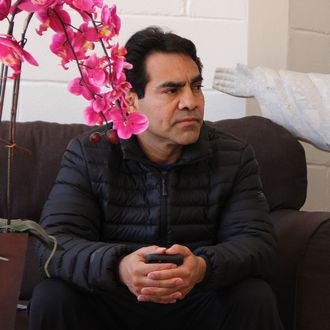 Beristain in Juárez after his deportation.
Photo: Herika Martinez/AFP/Getty Images
President Trump's immigration officials have deported another popular restaurant owner, but this may be the first one who had permission to remain in the U.S. from the Obama administration, which saw him as no threat. Roberto Beristain is the owner of Eddie's Steak Shed in Granger, Indiana, where he has an American wife and three kids, ages 8, 14, and 15. He entered California illegally in 1997, and later moved to Indiana, where he met his wife while working as a busboy at a Fort Wayne restaurant. In January, he bought Eddie's from his wife's sister and her husband, but barely a month into being its new owner, he drove to Indianapolis for his annual check-in with ICE, and disappeared. "I waited in the car," his wife, Helen, tells the local news, "and Roberto just never came back out."
The saddest part of his story — besides that he has a family of five, his business is now under strain, and he's not committed a crime of any sort while in the U.S. — is that his attorneys had challenged his removal order and had a court date approaching, but before they could go before the judge, ICE officials took Beristain from a Texas detention center and "had him walk across into Juarez, Mexico," according to The Wall Street Journal. Under the Obama administration, he'd been paying taxes and even had a driver's license, Social Security card, and work permit. In a press release, Beristain's attorneys called his sudden deportation "an attempt to short-circuit the justice process by intentionally removing him before a judge could stop his removal."
His case is another example of the way Trump plans to prosecute immigration enforcement — that is, his willingness to deport people who haven't necessarily committed other crimes beyond living in America without documentation. The way immigration authorities first learned Beristain was here unlawfully was after he apparently entered Canada by mistake during a family trip to Niagara Falls in 2000. Helen, who's Greek and a naturalized citizen herself, voted for Trump in November, partly because she wanted criminals kept out of the country. She just didn't expect there was any way they'd come for her husband.