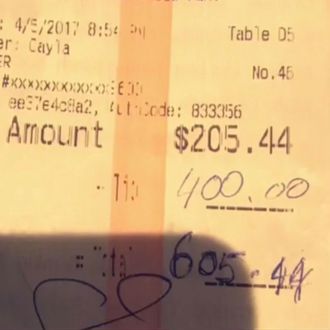 That's already unnecessarily generous.
Photo: KHON
A server in Hawaii won the service-industry lottery twice last week, when a couple she waited on tipped her $400, then decided that — as a bonus tip — they were also going to pay off her student loans. Cayla Chandara got the initial fat gratuity during her Wednesday-night shift at Noi Thai Cuisine, a popular spot on Waikiki Beach. She tells KHON that the people at one of her tables — a couple visiting from Australia — had asked what brought her to the islands. She explained that she'd originally moved there for school, but right now was "kind of in a little bit of debt," so she's working that waitressing job — plus another at the Cheesecake Factory — until she can go back. Feeling generous, the couple doubled their $200 tab when the check came, and left that as Chandara's tip.
She says she felt so overwhelmed that she hunted them down at the hotel they said they were staying at. "I just thought it was so generous of them," she tells KHON. "I never get tipped that big. I had to say thank you." She dropped off a thank-you card, some dessert, and flowers.
That must have been some dessert, because the couple returned to the restaurant the next day, and said they wanted to take care of her student debt, which totaled more than $10,000. "I was like, 'No way, you don't have to do that for me. I just wanted to say thank you,'" Chandara says. "I still don't feel like it's real. I want to run around in the streets."
The benevolent couple wants to remain anonymous, but they told Chandara that the best thank-you is for her to just "be your best possible self." That, plus maybe treating her school friends to dinner, so they can get a break from Cup Noodles.