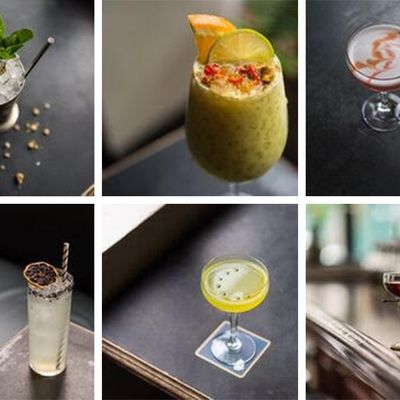 Fancy!
Photo: Courtesy of Grand Army
Lorelai and Rory Gilmore rarely drank alcohol — turning more often to coffee than to a cocktail — but for some reason, a bar in Brooklyn's Boerum Hill, Grand Army, has decided to honor the show by serving 12 Gilmore Girls–themed cocktails this spring. Obviously, I had to try every single one of them in one sitting.
Grand Army — a bar that's less known for shticks and more for its excellent oysters and Bloody Marys — has a cocktail menu that changes with the seasons, and the theme is always somewhat esoteric. (Last month's was black-metal album titles.) I asked head bartender and co-owner Damon Boelte why Gilmore Girls was chosen for spring, besides the fact that it is the greatest television series of all time. Boelte said the Netflix revival and the arrival of spring itself aided in the decision to go with a theme related to "fresh guilty pleasures." Plus, it's a conversation piece. "We like to promote the friendly, communicative neighborhood vibes at Grand Army. It's kind of mind-blowing to see how many cheerful people instantly picked these references up, a true testament to the cult status of Gilmore Girls."
But how do the cocktails stack up to their TV references? Great question. In order of descending excellence, I present:
Cocktail: "The Dragonfly Inn"
Gilmore Reference: It's the name of Lorelai and Sookie's inn.
Ingredients: Pimm's No. 1, dry gin, rhubarb, lime, rabarbaro, soda.
Relevance: This cocktail was light and refreshing, and had beautiful little roses in it, and it was so nice. Just like a stay at Stars Hollow's premier boutique inn, the Dragonfly. A favorite of Norman Mailer.
Rating: Ten Rorys.
Cocktail: "The Hep Alien"
Gilmore Reference: Lane's cover band that somehow once got a gig at CBGB.
Ingredients: Spanish gin, size, arugula, lime.
Relevance: The look of this drink — light green with a smattering of dark-green dots floating on top — seemed to be more a reference to aliens in general than it was to Hep Alien. But you do have to admit, Hep Alien were sort of "aliens" of the music scene, in that they seemed to have no original songs, yet still believed they could get a record deal. So it fits.
Rating: Eight Loreleis.
Cocktail: "Late Night at Luke's"
Gilmore Reference: Luke's Diner is the name of Luke's diner. Sometimes, Rory and Lorelai would go there late at night.
Ingredients: Amburana-aged cachaça, bruto Americano, sweet vermouth.
Relevance: This coffee-tasting drink was great at first, and then left an unpleasant, bitter taste. This is very similar to how Luke was pretty charming in the first few seasons, but then you started to tire of seeing his flannel shirt.
Rating: Eight Jess Marianos.
Cocktail: "Nights in the Pool House"
Gilmore Reference: This could either be a reference to when Rory lived at the pool house, following her departure from Yale; or to when Grandpa lived at the pool house, following his brief separation from Grandma. Or maybe it's both.
Ingredients: Aged rum, bourbon, Falernum, pineapple wine, guava, kaffir lime.
Relevance: The rum and bourbon are for Grandpa, that's obvious; you can imagine him drinking brown liquor in his study. The remaining elements must be for Rory because of … well … she lived in the pool house when it was very brightly decorated. Logan did give Rory a Birkin in the pool house, and that's certainly worth celebrating.
Rating: Seven Paris Gellers.
Cocktail: "That Damn Donna Reed"
Gilmore Reference: The title of the episode where Rory wore an old-timey dress and made dinner for Dean while she was cat-sitting for Babette. And Apricot escaped!
Ingredients: Gin, hibiscus, ginger, egg white, lemon, pisco, absinthe.
Relevance: You may remember that in "That Damn Donna Reed," Rory made Dean green Jello and Cool Whip for dessert; you may also remember that absinthe is green and egg white is somewhat like Cool Whip in its consistency and color. Right on the money. Plus, the drink is reminiscent of the pre-Prohibition era Clover Club cocktail, which is old-timey like Rory's dress!
Rating: Seven Emily Gilmores.
Cocktail: "Kiss and Tell"
Gilmore Reference: You might think this is the title of the episode where Dean kisses Rory for the first time. It is not. It is the title of the episode where Dean kisses Rory for the second time.
Ingredients: Rye whiskey, cognac, toasted orgeat, apricot eau de vie, lemon, salt.
Relevance: The salt element works in theory, but in practice, you're just sort of wondering why your drink is salty, sort of like how Dean stinks. Or why Rory slept with him while he was married.
Rating: Six Rorys.
Cocktail: "The Long Morrow"
Gilmore Reference: It's a nod to when Logan sent Rory a rocket, and she was like, "What?" And then he explained that it was a reference to the Twilight Zone episode "The Long Morrow." Not sure how she was ever supposed to get that.
Ingredients: Japanese whiskey, amaro, Swedish punsch, mole bitters, sparkling rosé.
Relevance: Japanese, Italian, Swedish, Mexican, French. Lot of "Earth" things represented here — maybe alluding to when the astronaut came back to Earth in "The Long Morrow." It's tasty, even though it seems like there might be too much stuff in it, especially with the inclusion of sparkling rosé. Logan and his Life and Death Brigade bros are well-traveled, so it sort of works.
Rating: Six Sookies.
Cocktail: "Renoir Girl"
Gilmore Reference: In Stars Hollow's "Festival of Living Art," Lorelai plays the girl in Renoir's "Dance at Bougival."
Ingredients: Vodka, grapefruit oleo saccharum, suze, cava.
Relevance: Taylor wouldn't let Lorelai play the Renoir girl, at first, because she'd flinched the year before. Ultimately, she was allowed to reprise her role and did great. At first, I thought I didn't like this cocktail because the grapefruit oleo saccharum was bitter in a way that was surprising, but then, after I became acclimated, the drink was one of my favorite cocktails. An obvious nod to the episode.
Rating: Six Kirks.
Cocktail: "En Garde!"
Gilmore Reference: My best guess is that this is a reference to when Rory took fencing at Chilton and had a fight with Paris. Francie framed Rory for meeting with her (Francie) secretly, which was an unfair thing for Paris to be mad about because it wasn't even Rory's idea!
Ingredients: Botanical Haitian rum, banana, coffee amaro, sweet vermouth, angostura.
Relevance: There was a little, blue plastic sword on the glass, like the fencing sword.
Rating: Five Miss Pattys.
Cocktail: "Sookie's Mix"
Gilmore Reference: Sookie is a character.
Ingredients: Reposado tequila, rum, house Thai curry, coconut, orange juice.
Relevance: I don't remember Sookie ever cooking a curry, if I can be honest. Mostly she did French-American.
Rating: Two Mitchum Huntzbergers.
Cocktail: "The Glass Chimney"
Gilmore Reference: Did you know that in the pilot episode, Kim's Antiques was called "The Glass Chimney"? I didn't until I looked it up after getting this cocktail. It's wonderful to learn! Gilmore Girls deep cut!
Ingredients: Mezcal, green Chartreuse, Falernum, lime, smoked black salt, soda.
Relevance: This was essentially a very fancy margarita, and the straw had stars on it. Seems like Mrs. Kim would disapprove of every element of this cocktail. Perhaps it should have been a tofu drink with a Seventh-day Adventist brochure as the straw.
Rating: One Luke.
Cocktail: "Super Cool Party People"
Gilmore Reference: April's birthday episode. No thanks.
Ingredients: Pineapple rum, Navy-strength rum, pineapple, mint, chamomile.
Relevance: This is a delightful party drink, which makes sense with the reference. But that episode is not one of my favorites because of the emphasis on the birth of April the Demon, and the rating must reflect this unfortunate fact.
Rating: No Deans.