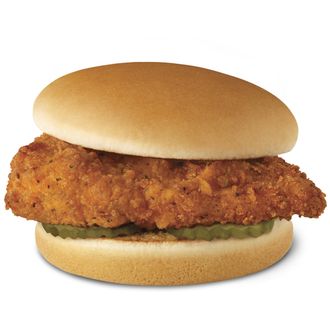 College undergrads: America's greatest threat to Chick-fil-A's quest to put chicken sandwiches in every citizen's hand six days a week. In the latest chapter of this fight, the Fordham University Lincoln Center campus was all set to get a location all its own — the Fordham Observer reports that it just needed the student government and a few other groups to rubber-stamp the proposal. But like such proposals do on most campuses these says, the idea ran into way more hostility than the Catholic school's administration had expected.
After discussing it in early March, the university decided to seek additional opinions from an LGBTQ advocacy group, Rainbow Alliance. When they expressed reservations, Chick-fil-A's reps offered to "collaboratively run unspecified programming," according to the student paper. Whatever that pledge entailed, the group apparently rejected it, and voted unanimously against the proposal, telling the paper on Friday that they refused to back a fast-food company that's been tied to "other institutions that work to destabilize and demolish movements for queer equity." By this point, lots of students had started voicing similar complaints on their own, and the student government was beginning to rethink its support. Realizing this plan was DOA, the school bowed to pressure, and told the groups after spring break that there would be no Chick-fil-A.
The paper also says that student complaints weren't just limited to ones about the chain's stance on gay rights. Chick-fil-A's poultry-heavy menu was a problem as well: "There were some menu concerns as it related to special diets," the liaison for dining-services contracts said. "They didn't have a lot to address special diets."
Any students upset about their loss can maybe just consider this: It would have been one of those student versions run by Aramark, but there are already two other locations crammed into a two-mile stretch of that part of Manhattan, meaning they're already closer to a Chick-fil-A than most people who live in Georgia.