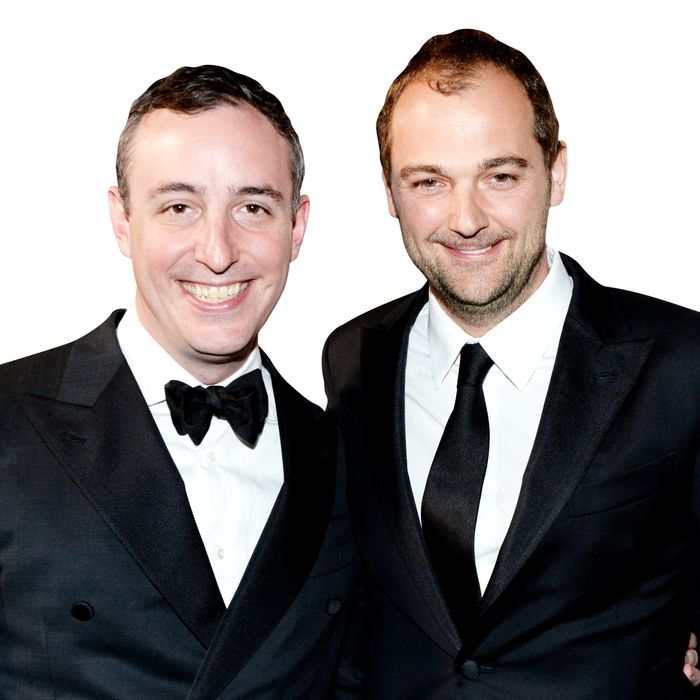 Eleven Madison Park's co-owners, Will Guidara and Daniel Humm.
Photo: MAL FAIRCLOUGH/AFP/Getty Images
In 2012, a New Yorker profile laid out the ways in which Daniel Humm and Will Guidara were changing Eleven Madison Park — the restaurant they'd bought from their previous employer Danny Meyer the year before — to help its performance on the annual World's 50 Best Restaurants ranking. That year, they were 10th — a jump from 24th the year before — and in the time since then, as EMP's place on the list has steadily risen, they've made no secret about their goal to ultimately land the top spot. Today, that happened, when the restaurant was crowned No. 1 at a ceremony in Australia.
Critics can point to flaws with the list itself (such as its continued lack of meaningful female representation), but it is nevertheless very well-established that placement on the list has a tremendous impact on business, and each year's release is closely followed by the industry. Even people with a casual interest in restaurants will refer to the list's winner as the "best" restaurant, even though it's also well-established that, as an actual objective measure of restaurant quality, the list is sort of silly.
It is a list of expensive, world-class restaurants — all of which offer exemplary dining experiences — voted on by chefs, restaurateurs, food writers, and "well-travelled gourmets." As the official manifesto reads, "There is no pre-determined check-list of criteria," and voters are free to select whichever spots they prefer. As such, the list is a useful guide to eating $800 dinners, sure, but it's best read as a look into chefs' standing, and reputations, among their peers.
In other words, the restaurants that have regularly occupied the list's top spot in the past — ElBulli, Noma, or Osteria Francescana most recently — are the restaurants that the industry is most proud of. Humm and Guidara, who host and attend many industry parties and conferences, are extremely respected and well-liked; voters clearly think that holding them up on a pedestal will be good for the world of fine dining as a whole. And EMP's co-owners are first-rate ambassadors for the world of hyperexclusive dining: Their restaurant is a modern interpretation of the classic big-city dining temple, proof that "fancy" restaurants, even ones like EMP that are firmly rooted in the European dining tradition, can still feel vital and forward-thinking.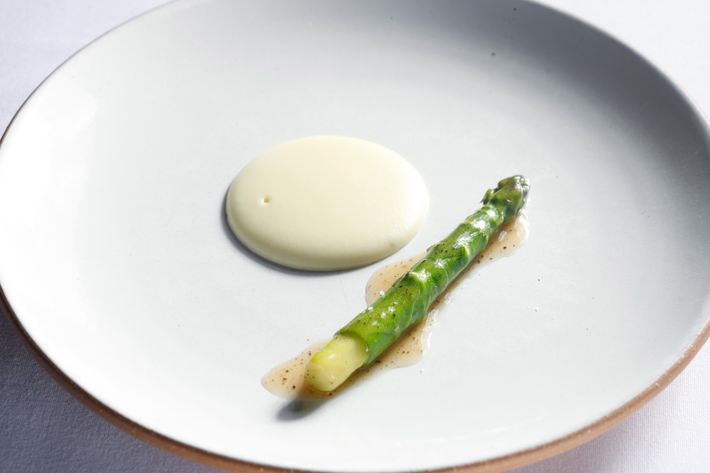 Interestingly, the news comes just as the restaurant is set to close for the summer to renovate and overhaul the menu. The timing may seem somewhat inopportune, but it highlights the way chefs constantly rework their restaurants to stay atop these kinds of international restaurant rankings, where stagnation will cause voters to look elsewhere. Yet, in many ways, the new version of EMP sounds like it will be a natural evolution of the restaurant as it is now.
The current iteration of Eleven Madison Park is just about a decade old. Though the restaurant opened in 1998, Humm took over as chef in 2006. (He and Guidara bought the restaurant from Meyer in 2011.) In an interview with the Times, the partners explained that in addition to updating the kitchen, the dining room will get an overhaul — it will be more comfortable, which makes sense, because comfort is the restaurant's defining feature.

ElBulli was a showcase for Ferran Adrià's fearlessly modern technique and open hostility toward the established pace of a meal at a Michelin-caliber restaurant. Noma, meanwhile, grew to epitomize trends like foraging, traditional preservation techniques, and steadfast commitment to local ingredients. (Not to mention all the earthenware plates you see in every single dining room.) EMP, on the other hand, offers a menu that in many ways is a throwback to traditional luxury ingredients and classic European techniques — a signature dish of Humm's is celery root or asparagus that's braised in pig's bladder and served with black truffle; another dish, "eggs Benedict," is essentially a caviar course served with homemade English muffins — and sets itself apart with unparalleled warmth and familiarity. Dinner at Eleven Madison Park isn't about boundary-pushing or avant-garde food; it's an exercise in opulence and pampering.
That m.o. clearly resonates right now with voters, and with today's announcement, Humm and Guidara are now the faces of fine dining around the world (just as Redzepi has been for the past decade, and Adrià was before that). The accomplishment is a testament to their talent and determination, of course, as much as it is an indication of the prevailing trends at the highest end of the restaurant world. And just as Adrià's modernist cooking and Redzepi's New Nordic aesthetic inspired scores of other chefs, the EMP team's embrace of unpretentiousness (relatively speaking) and unmatched graciousness should continue to influence other restaurants around the world for many years.