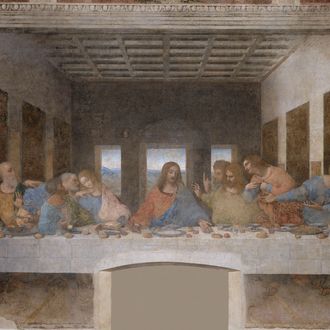 Those Italians got each other's backs.
Illustration: Leonardo da Vinci
Leonardo da Vinci's The Last Supper — perhaps you've heard of it? — is a 519-year-old painting that's endured humidity, vandals, and even bombs (Milan's Santa Maria delle Grazie, where the mural is located, was all but obliterated during World War II). The art world's so-called "most famous endangered species" is, in fact, in such bad shape these days that only 1,300 visitors per day are allowed to see it.
Thankfully, Eataly — the giant grocery chain that's known for its excellent prosciutto selection — is stepping in to save the day. ARTnews reports that to keep the surface of history's most famous meal free of the "microscopic dust," the Italian-market chain has agreed to pay for an "advanced air filtration system." Italy's Ministry of Cultural Heritage and Activities says this should help extend the work's life by another 500 years. "The cutting-edge system will filter in approximately 10,000 cubic meters of clean air into the convent every day (compared to the current 3,500 cubic meters)," a press release explains. So, yes, that $50 bag of dried porcini mushrooms is probably too expensive, but you can now justify it as an investment in early Renaissance-period art.