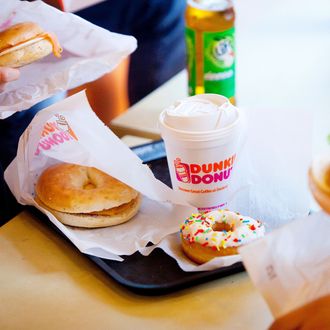 Polanik's lawyer says they thought "twice or three times" about whether to bring a lawsuit.
Photo: Bloomberg/Getty Images
A Massachusetts man who sued 23 different Dunkin' Donuts stores, after learning they gave him a butter substitute on his bagels, may have scored free pastries for thousands of customers. Jan Polanik took the chain to court last month, saying he'd been ordering real butter but receiving a substitute since June of 2012 (there's still been no explanation as to how his "I can't believe it's not butter" moment eventually came about). The Dunkin' franchise groups agreed to settle, though, and the New York Times says Polanik could receive a $500 "incentive award," while around 1,400 other customers who got similarly shafted would be allotted up to three free buttered baked goods.
His attorneys, though, stand to make $90,000 in fees. That isn't Subway-footlong-lawsuit bad (where ten plaintiffs who sued over the chain's less-than-12-inch subs got $500, and their lawyers pocketed $520,000), but it does seem a little lopsided. Polanik's lead attorney assures the AP that's not the case: "I can tell you we're losing money on this case," he says, adding that, like any good Dunkin'-consuming Bay Stater, "We felt that the principle involved was important enough and something should be done to correct the practice."
Under the settlement, which now needs a judge's approval, those 23 stores are also barred from using butter substitutes of any kind for an entire year. And if they decide to reintroduce them after the one-year period is up, menus would have to explicitly mention that. A Dunkin' rep says most stores have both butter and margarine, and that it's unlikely those stores were trying to be deceptive — more just lazy: "For food safety reasons, we do not allow butter to be stored at room temperature, which is the temperature necessary for butter to be easily spread onto a bagel or pastry." While it's not clear what Polanik's butter was being replaced with, his attorney made a point of noting someone had visited one of the locations and spied "a large tub that looked a lot like a tub of Country Crock, a very inexpensive spread that is sold in grocery stores."