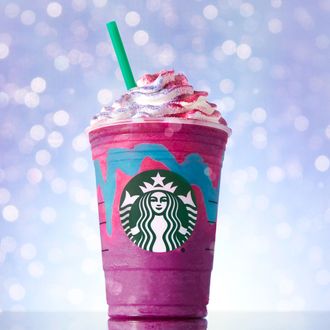 Clearly overdue some improvements.
Photo: Starbucks
Did you miss Starbucks's Unicorn Frappuccino this weekend because your café ran out of "Unicorn Dust," or because the barista started weeping? You're going to be okay. For one thing, Katy Perry spit hers out, and Anthony Bourdain seems to have really hit the nail on the head when he said Starbucks, unicorns, and the colors pink and purple are "four things I hate all in one sentence." But also, YouTube's DIY community is here for you — they've posted dozens of copycat videos in the past couple days for all the people who didn't get their sugar quota the first time around (even if the USDA says they did; a grande had 59 grams, one and a half times the recommended amount for one day). So now you're set, assuming Kroger isn't out of pink food coloring, too.
As the host of the ThreadBanger channel, Corinne Leigh explains in her video that's been trending on YouTube all morning, "The real ones are all sold out, so now it's DIY or die":

Altogether, literally millions of people have already watched how to DIY vegan versions of the Frap, versions that don't "taste gross," versions explained in German and Spanish, versions that are four feet tall but not edible, and versions that naturally turn the Frap into slime, for maximum Instagrammability.