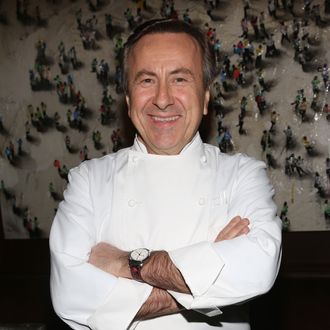 He never stops.
Photo: Sylvain Gaboury/PMC
Considering the Eleven Madison Park team is opening a two-story "Four Seasons on steroids," the Carbone trio is taking over the actual Four Seasons, and Anthony Bourdain is plotting a massive food hall at Pier 57 — the new status New York restaurant is big, bold, and inside a giant and expensive hunk of real estate. Daniel Boulud's next restaurant will open in 2020, inside midtown's One Vanderbilt Avenue, a 1,401-foot skyscraper.
Not only will Boulud operate an 11,000-square-foot fine-dining restaurant on the second floor of the tower, he'll also have a grab-and-go Épicerie on the ground floor. The building's development costs $3.14 billion, so you can expect a sprawling, stunning space for the 100-plus-seat concept. Aside from his flagship restaurant, Daniel, Boulud has focused more on casual offshoots, so it'll be fascinating to see how he elevates, and potentially modernizes, this style of cooking.