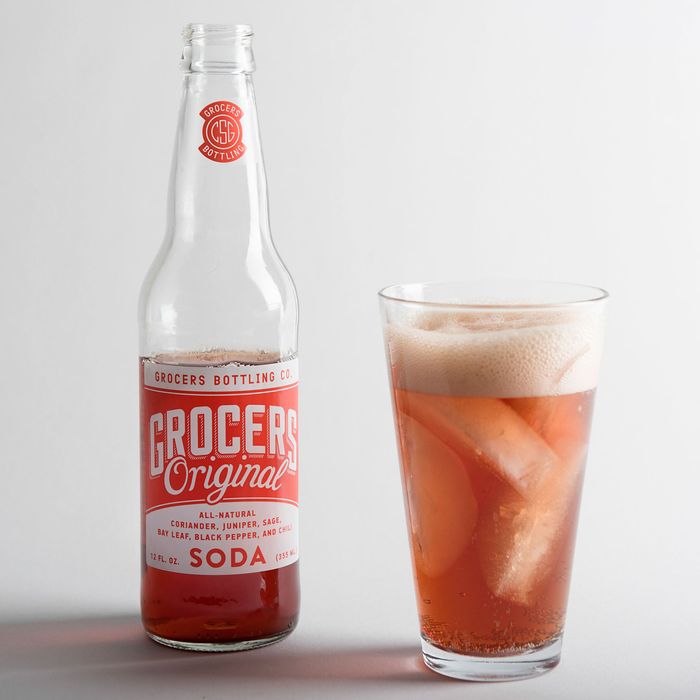 The Grocers' Original is their take on cola, the most classic of sodas.
Photo: Liz Clayman
The very idea of "soda" has, perhaps, fallen out of favor with people, leading to all sorts of reinventions — spiked root beer; "throwback" flavors; new-look, zero-calorie sweeteners aplenty; or even lightly sweetened sodas designed for the discerning, grown-up soda drinker. But great soda doesn't demand gourmet reinvention. When push comes to shove, the best sodas come in recognizable flavors — instead of, say, a lemongrass-basil-rye-berry concoction that's made to order — and serve to maximize its own soda-ness. The folks at New York's Court Street Grocers know this, and will this week start serving their own version of the classic American beverage.
A new cola, called Grocers' Original, is inspired, in part, by co-owner Eric Finkelstein's mother's ginger ale–braised brisket and his grandmother's Coke–braised version. The idea, he explains, was to create something that's just as good for drinking and mixing into cocktails as it is for cooking. While it's not explicitly stated, the cola is made with pickling spices like coriander, juniper sage, and bay leaf — which mellow out the sweetness — plus black pepper and chili, which give it some bite. Courtesy of apple, carrot, and hibiscus juice, the color is an attractively ruby red that's lighter than your everyday Coke. Most important: It's something you'd want to drink on a hot day.
Finkelstein and co-owner Matt Ross turned Court Street Grocers into one of New York's favorite sandwich shops, by cheekily embracing their love for (often low-brow) 20th-century American food. That same approach informs Grocers Bottling. They'll use extracts, Finkelstein says, "the way sodas used to be made," and avoid fresh ingredients, with the exception of a forthcoming Mountain Dew riff. All the sodas will be made with a little sodium, too, something — they realized during testing — that was present in classic brands, but missing from their own recipes. It brings out the flavors and makes them taste, Ross says, more like soda. The cola is one of four sodas debuting under their new Grocers Bottling line, first at the Court Street Grocers stores, then around New York, and eventually (if all goes to plan), everywhere soda is sold.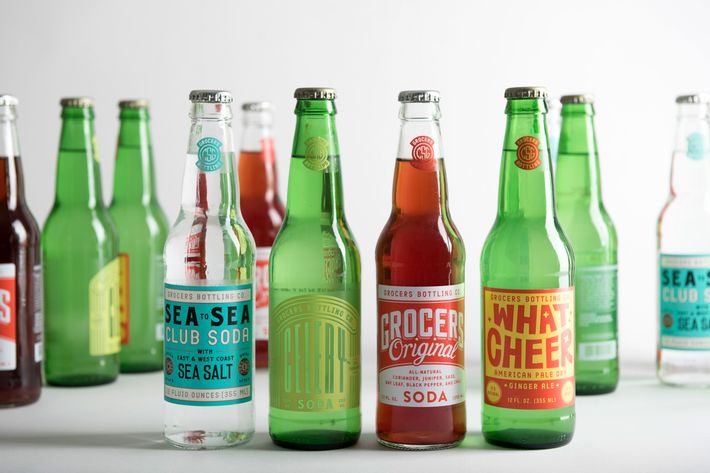 Plans call for the aforementioned lemon-lime Mountain Dew variation; a Club Soda called Sea to Sea that uses salt from Maine Sea Salt Company and Oregon's Jacobsen; and a fiery ginger ale called What Cheer. (They also plan to release a cocktail-oriented tonic.) But Grocers Bottling has its origins in a more unexpected soda: Dr. Brown's Cel-Ray, a classic pastrami pairing that is perhaps lesser known in the rest of the country. Made with lemon and black pepper, Grocers' Celery Soda is less sweet and more herbaceous than the classic Cel-Ray, but it nevertheless nods to the original, without straying too far into artisanal territory. "We don't want to be precious," Ross says. "You're drinking soda."