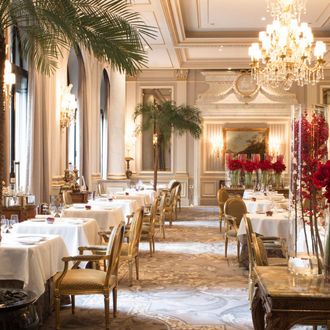 The opulent dining room with "thick carpets to muffle the screams."
Photo: Four Seasons
As a restaurant critic with a masochistic side, the Guardian's Jay Rayner has eaten many disastrous meals. Apparently nothing, however, that competes with the experience at Paris's three-Michelin-star Le Cinq, currently ranked the 80th best place to eat on the planet. Explaining that he chose the spot to write "an observational piece, full of moments of joy and bliss, of the sort only stupid amounts of cash can buy," he says the $635 he spent got him "by far the worst restaurant experience I have endured in my 18 years in this job" instead.

Outside of faint praise for a couple pastries, Rayner writes that the whole meal — from the food to the service — was basically an unmitigated failure. In fact, you'd think it'd be hard to top this burn in the first couple hundred words, but he's just getting warmed up:
The dining room, deep in the hotel, is a broad space of high ceilings and coving, with thick carpets to muffle the screams. It is decorated in various shades of taupe, biscuit and fuck you. There's a little gilt here and there, to remind us that this is a room designed for people for whom guilt is unfamiliar. It shouts money much as football fans shout at the ref. There's a stool for the lady's handbag.
Waitstaff present his female dining companion (who booked the reservation) a menu without any prices — a bad start. Among the amuses-bouches is a hallowed-out passion fruit with watercress purée that "tastes only of the plant's most bitter tones," causing Rayner's lips to purse "like a cat's arse that's brushed against nettles." A dish of gratinated onions arrives "mostly black, like nightmares, and sticky, like the floor at a teenager's party," while Rayner says a canapé of spherified "stale air with a tinge of ginger" looks off-puttingly like "a Barbie-sized silicone breast implant." He reminds readers who've slept since the '90s that spherification, which makes multiple appearances, was once all the rage. But Ferran Adrià's technique at elBulli isn't on his tablemate's mind; she just describes the dish as "like eating a condom that's been left lying about in a dusty greengrocer's."

Dessert is also a miss. A cheesecake with "lumps of frozen parsley powder" is so objectionable that Rayner calls it "one of the worst things I've ever eaten," and the restaurant takes it off his bill. Chocolate-mousse cigars are "fine," he grants, "if you overlook the elastic flap of milk skin draped over it, like something that's fallen off a burns victim."
Also, Le Cinq wouldn't let the Guardian photograph the food "as we usually do after I've reviewed," Rayner writes, insisting the paper use the restaurant's own press shots. "This is highly unusual," he notes, so his review includes a possible first — pictures the reviewer himself took with his iPhone. He's also since tweeted the itemized receipt, so readers can get a sense of the prices, including €30 for two mint teas: