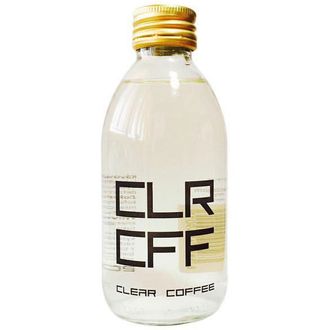 High-tech coffee or $4 bottle of flavored water — you decide.
David and Adam Nagy, two Slovakian brothers who prefer their coffee strong and their teeth white, say they got tired of finding "nothing on the market that would suit our needs," so they apparently decided to create it: Get ready for clear coffee.
The Nagys say their product — called CLR CFF, which is exactly what it is, minus the vowels — is the world's "first colorless coffee drink," and, like every coffee drink these days, is made from high-quality arabica coffee beans and pure water. It has no artificial flavors or sweeteners either — although, to get technical here, colorless is a bit of a stretch:

It took the brothers three months to develop their recipe, which reportedly uses "methods which have never been used before," and are, for the time being, remaining top secret. The pair promises that it doesn't have weird chemicals though, which the nutrition facts seem to bear out, since a 200-milliliter bottle effectively contains nothing but "water, fresh coffee, caffeine," and less than a tenth of a gram of fat.
Lest you think this is a hoax, some people have actually tried it. The Evening Standard reports that the taste is similar to a "potent cold brew," so it's at least sufficiently trendy. Metro also gave it a try, and a reporter there felt the flavor was more like what happens if you forget to wash the coffee filter out, add more water "to get the very last dregs of flavor out of the wet beans," and then, for some reason, drink that. (Also: Sounds like Metro's offices should maybe invest in a new coffee machine …?) Right now, CLR CFF is available in a few London cafés, some Selfridges, and U.K. Whole Foods locations. It's also online: A five-pack will set you back £14.99, or nearly four bucks a bottle.