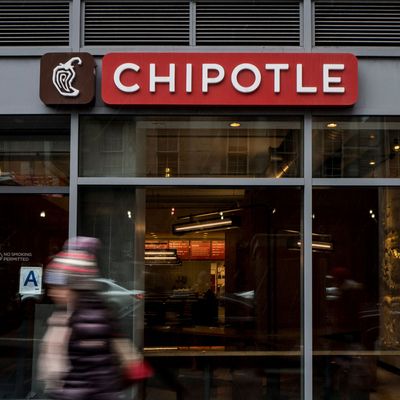 Can't hardly catch a break.
Photo: Andrew Renneisen/Getty Images
Chipotle's customers have started to return, but now reps for the chain are issuing an ominous warning that may affect diners' credit-card statements. The company told investors yesterday that it has "detected unauthorized activity on the network that supports payment processing." That's troubling news for customers, and terrible timing for Chipotle, since sales have finally started to rebound for the first time since the marathon food scare ended. (The chain's sales figures were released yesterday, too, and per the earnings statement, they're up almost 18 percent this quarter.)

An investigation has been launched with cybersecurity experts, legal authorities, and Chipotle's payment processor. According to a statement given to BuzzFeed, they're focused on credit-card transactions that occurred in stores between March 24 and April 18. "We anticipate providing notification to any affected customers as we get further clarity about the specific timeframes and restaurant locations that may have been affected," the statement reads, adding that it's too early to provide additional details right now, but that the chain also believes the unauthorized activity has been stopped. It's set up a link on its website where the eventual notifications will be posted for customers.