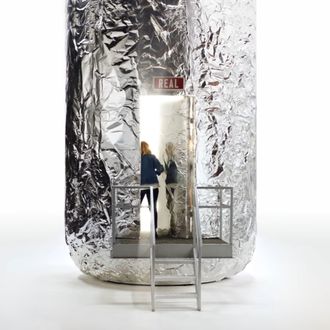 Jillian Bell entering the "real" burrito.
Who better to convince Americans that Chipotle is a place to eat safe food made with integrity than the guys who played Arrested Development inmate George Bluth and wrote Stefon's nightlife recommendations on Saturday Night Live? That appears to be the crux of the burrito chain's newest turnaround plan, at least: It's cranked out a massive new marketing campaign in the form of a bunch of videos where Jeffrey Tambor's disembodied voice coaches comedians John Mulaney, Jillian Bell, and Sam Richardson to be like Chipotle burritos (i.e., "real"). In theory, this will result in people returning in droves to Chipotle's stores. Granted, it doesn't have the same panache as 21 million free burritos or a sexy rewards program, but the chain tried both of those already with limited success.
Adweek explains the campaign is Chipotle's biggest to date. In the new spots — there's a total of eight — Tambor welcomes the comedians into a colossal foil-encased burrito using some variation on the line "You're inside a Chipotle burrito where everything is real, so just be real." This charge inevitably results in them making an embarrassing "confession" of some sort (Bell gets uncomfortably intimate about why she hates the ocean, Mulaney cops to wearing a women's sweater, Richardson once dreamed of being a horse cop, etc.), then the spot ends with the slogan "As Real As It Gets" flashing across the screen, a reference to the fact that Chipotle's food is now completely free of artificial ingredients and preservatives.
The chain's clearly hard-up for marketing ideas beyond pushing how its ingredients are realer than everybody else's. CEO Steve Ells even recently started questioning whether Panera, which has siphoned off a sizable chunk of Chipotle's business, is serving food that's as "clean" as it purports to be. He and rest of Chipotle's execs finally realized making food safety the focal point of outreach efforts isn't a wonderful marketing strategy. It reminds customers of the one thing Chipotle wishes they'd forget ("Oh yeah, E. coli!"). As its chief development officer Mark Crumpacker tells Fast Company: "When you're excited to go out to lunch, you're not like, 'Let's go to the safest place!'"