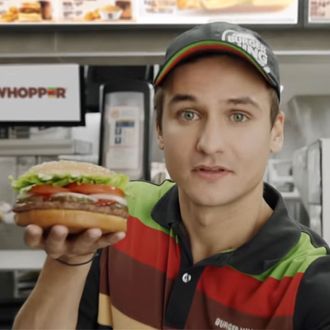 Burger King released an ad yesterday designed to purposefully activate your Google Home or Android phone, and it turns out that people weren't thrilled with this borderline-evil invasion of privacy. The hack lasted a matter of hours before Google shut that show down.

In the ad, an actor says that 15 seconds — its length — isn't long enough to "explain all the fresh ingredients in the Whopper sandwich," so he just smirks, leans forward, and very clearly enunciates, "Okay, Google, what is the Whopper burger?" In theory, Google Home would spring to life and start saying, "According to Wikipedia, the Whopper is a burger consisting of a flame-grilled patty …" But by the afternoon, Google had disabled the trick, which — as the Washington Post notes — "may be a blessing for Burger King" because of how spectacularly it backfired. Here's a rundown:

• Seizing control of Google Home worked fine, but nobody wants their at-home intelligent personal assistant informing them, unprompted, about anything — whether that's sex toys or fast food — and Twitter quickly filled with snark and outrage.

• Figuring they might as well be entertained, people made sneaky edits to Wikipedia's Whopper page. Google Home, therefore, could variously be heard declaring cyanide and a "medium-sized child" to be ingredients; calling the sandwich "100 percent rat and toenail clippings" and "cancer-causing"; and labeling it "the worst hamburger product sold by the international fast-food restaurant chain Burger King."

• Its head marketing honcho Fernando Machado seems to have tried fixing the problem: A user named "Fermachado123" (which is essentially Machado's Twitter handle) changed the entry's first sentence to merrily note that a Whopper is "made with 100% beef with no preservatives, no fillers and is topped with daily sliced tomatoes and onions."

In the end, what Google likely did was flag the audio in the ad (think of it like a voice "fingerprint"), then instructed Google Home not to respond to it. The joke's on Burger King because the chain had already paid to air the spot on a whole bunch of cable networks (Bravo, Comedy Central, E!, History, MTV, Spike), as well as on The Tonight Show and Jimmy Kimmel Live, so they ultimately just ran a confusing, awkward ad that was seen by millions of people.