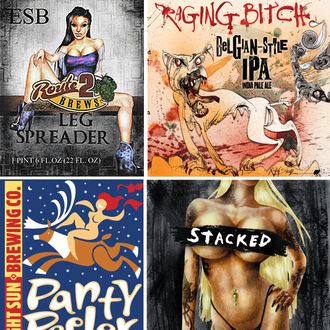 Some beers that are perhaps due for a redesign.
Selecting a great beer name these days is a Herculean effort (it recently took Left Hand Brewing 400 tries to find one that wasn't trademarked), but for years, critics have argued that's no excuse to get lazy and cater to the male population's baser instincts, with a label that objectifies women as sex objects. Now, craft beer's largest trade group, the Brewers Association, is finally taking steps to discourage breweries from going the boys'-club route: It's rewriting its marketing guidelines to punish those who, say, put a dog and the words "Raging Bitch" on their bottles. Henceforth, the group's guidelines say, beer labels and marketing materials shouldn't "contain sexually explicit, lewd, or demeaning brand names, language, text, graphics, photos, video, or other images" that reasonable adults would find offensive.
As obvious and civilized as that sounds, this topic has proven contentious for years, especially in a highly litigious industry where edginess pays, but everybody's also fighting for a rapidly diminishing supply of punny names. The list of breweries that might want to rethink the names and labels on at least one of their beers is pretty long — there's SweetWater Brewing Company (Happy Ending imperial stout), Route 2 Brews (Leg Spreader ESB and Stacked double IPA), Midnight Sun Brewing Company (Panty Peeler tripel), and New Albanian Brewing Company (Naughty Girl Belgian blonde), just to name a few. But lots of these breweries push back when somebody jumps on their case. Route 2's Leg Spreader has a fairly unambiguous name and label in this regard (it features a big-busted woman with the company's logo strategically placed between her legs), and while the brewery recently told IndyStar that it's responded to criticism by creating a new label for gas stations and grocery stores, it seems like the original is staying put on bottles at liquor stores.

The two annual contests that the Brewers Association runs are the World Beer Cup and the Great American Beer Festival. Under the new guidelines, offensive beers could still "win," purely technically speaking, but they'd effectively be banned from telling anybody about it afterward: An independent review panel will check winners against the new code, and any violators will be banned from mentioning their new award "in any way" when marketing that beer. To give this some legal legs, brewers will have to sign a terms-of-use agreement going forward to enter either competition.
"We want our members to be responsible corporate citizens," the group's president and CEO Bob Pease tells Brewhound about the change. He admits what's offensive is "not going to be black and white," and that they're still "going to find ways to be inclusive." At the same time, though, he adds that they think this "is the right thing to do."