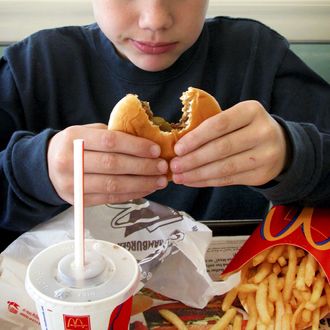 All of an 8-year-old's major food groups.
Photo: Robert Ginn/Getty Images
An Ohio kid whose dinner was missing a Chicken McNuggets course went on a late-night joyride to McDonald's this past Sunday to fix that oversight. Police say the 8-year-old ate his meal, waited for his parents to fall asleep, and then packed his sister, who's 4, into Dad's work van. He had no clue how to drive (again: only been alive eight years), but luckily, he's a pro at watching how-to videos on YouTube.
It's a 1.5-mile trip — involving train tracks, four intersections, and several left- and right-hand turns — to get to the nearest McDonald's. Once they arrived, the boy pulled into the drive-through; ordered cheeseburgers, fries, and McNuggets; and then tried to pay with money from a piggy bank. At some point, a person who knew the family and happened to be at that McDonald's put an end to their excursion. Police say they were, frankly, expecting reports of damage to people's mailboxes or trash bins, or maybe a felled tree or two. But the kid "didn't hit a single thing on the way there," a clearly impressed officer tells the Morning Journal. "It was unreal."
The boy explained to them that he'd taken a quick driver's-education crash course on YouTube (duh) before commandeering his parents' car, and that it turns out his dad's keys are surprisingly easy to fish off the knob where they hang. When police told him none of this was okay, the smooth operator apparently started crying, said he hadn't meant to mess up, and added he'd just really wanted the nice McDonald's cheeseburger he was finishing up as they spoke. Pure genius.