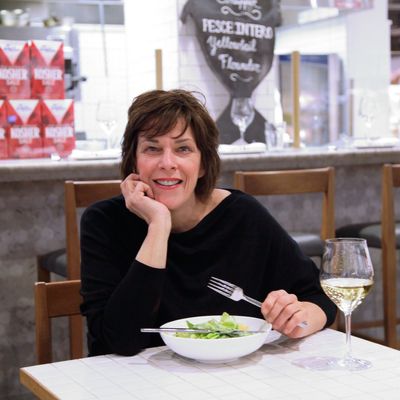 At Eataly in Boston.
Photo: Madeline Zappala
Barbara Lynch is one of the most successful restaurateurs in the country: She owns seven businesses in Boston, and in 2014, won the James Beard Award for Outstanding Restaurateur. To add to her accomplishments, she'll publish her first memoir on April 11: Out of Line: A Life of Playing With Fire, chronicling her rise to success following a tough childhood in South Boston. This week, she spent some precious time at home before embarking on a book tour, making herself soup for breakfast, and going out for seafood at her favorite local spots. Read all about it in this week's Grub Street Diet.
Friday, March 31
For breakfast, I had a big glass of cranberry concentrate. I read somewhere that it flushes out fat, and I just got back from two weeks of eating a lot in Italy, so that seemed like a good idea. I also had a few cashews and a cup of tea.
For my second breakfast, I had quinoa, white beans, and carrots, with a poached egg in a broth with curry and cumin. I love soups for breakfast.
And then, for lunch, I had a Caesar salad. This was just a takeout salad, actually, from a deli across the street from my office.
That night, we had a gala for the opening of Eataly Terra, their new rooftop restaurant. I'm collaborating with Eataly Boston on their seafood restaurant, Il Pesce. They put in front of us some pasta with charred tomatoes and capers. I had a few bites, a few pieces of grilled steak, a bite of a sausage, and that was that. The opening was great. I also had two glasses of wine.
I went to a friend's house after, and they got takeout Thai food. I had three bites of that. Another glass of wine.
Saturday, April 1
Saturday morning, I had chicken and roasted broccoli on top of white rice, with Indian spices and mushroom sauce. My new daughter-in-law made it at home. She's from Nepal, so she cooks a lot of vegetarian food. She's a great cook.
For lunch, I had a salad from Dig Inn. It was broccoli greens, salmon, radishes, and beets, with cilantro. The vinaigrette was lemon and olive oil. It was huge!
It was another Terra opening night. I didn't really eat because I worked the floor for much of the night — running circles around the restaurant and talking to everyone. I had two glasses of wine. It was a little smoother than most openings. The first 20 people who hashtagged the restaurant came in for dinner and had a great time. When I got home, I had some more of that Dig Inn salad.
Sunday, April 2
That morning, I had another poached egg with radishes at home, and some of that vegetable soup from Friday.
Then, in the afternoon, I got a to-go Greek salad from Legal Sea Foods, dressing on the side, and put a poached egg on that.
For dinner, I made a porcini-mushroom-fennel soup, with a little bit of farro and roasted fennel, and I had that with an aged cheddar cheese, which I shaved onto it. Plus a salad with radish and parsley and asparagus. I didn't have any groceries left, so I used dried porcini and just water, no chicken stock.
Monday, April 3
I had an egg-white omelette with cheddar in the middle. And then I had some of that mushroom-farro-asparagus soup, which I poured on top of the omelette.
That night, I had a gala for an opening of a documentary I'm in, called A Fine Line, about women in back-of-house management roles. I was a little early, so I stopped at Bell in Hand and had grilled shrimp with spicy tomato sauce. My friend and I split that, and we had a glass of wine.
Then, I was at the gala for three hours because I was on a panel. After that, I was starving because I was only supposed to be there an hour, but it was a quarter to 10 p.m. I ran over to Neptune Oysters, and I split a dozen oysters, a crab salad and shrimp cocktail, and a half-bottle of Sancerre wine with my friend. I always drink white wine or rosé with ice cubes.
Tuesday, April 4
I had a bowl of cereal with almond milk — Kashi shredded wheat with no sugar on it. I had chicken with broccoli and farro again as a late breakfast.
I drove around South Boston with a writer from the Times, showing where I grew up. We stopped at my local spot, a bar called Shamrock, and I had one chicken finger and one French fry. They were big chicken fingers! I dipped it in ketchup and honey-mustard sauce. The fries weren't great, so I could hold back. If they had been delicious, I would've eaten the whole bowl.
That night, we had an event at Menton to celebrate the memoir. I had a slice of pizza from Babbo that my staff brought in — with fava beans, pancetta, and cheese. It was delicious. It's called Babbo in Boston, but it looks like Otto, owned by Mario Batali. During my book signing, I had two pieces of lamb marinated in yogurt and juniper berries. I tasted the potato gnocchi with cream sauce, peas, and lobster. I also had a tomato tarte Tatin and two and a half glasses of wine from David Hirsch. Probably more than that. I was talking so much that I couldn't just sit down and eat.
And I can't lie: I had a small bag of Cheez-Its sometime that day.