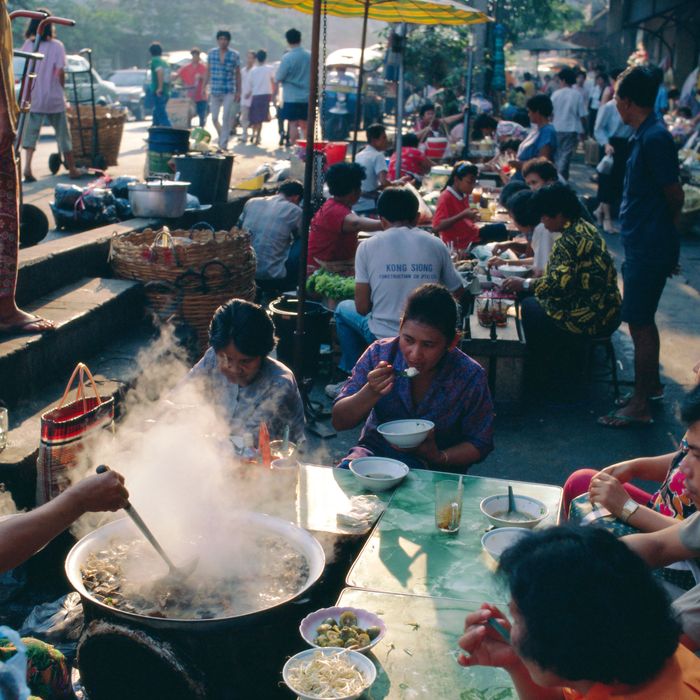 Now living on borrowed time.
Photo: John Henry Claude Wilson/Getty Images/Robert Harding World
One month after CNN voted its street food the planet's best for a second year, Bangkok has announced plans to ban all of its celebrated food stalls by year's end. Officials are telling the city's thousands of vendors, who clog the capital's thoroughfares, but are undeniably one of Bangkok's biggest draws and charms, that they have until then to vanish from the streets. "All types of stalls including clothes, counterfeit goods, and food stalls will be banned from main city roads," a representative from city hall said, according to Thai news outlet the Nation. "They will not be allowed for order and hygiene reasons."
The Nation says it's being described, officially at least, as a cleanup campaign to reclaim footpaths for pedestrians and tidy up Bangkok's public spaces. The city says efforts are already underway to "get rid of stalls from all 50 districts of Bangkok," and warns there will be "no let-up in this operation" until "every street vendor" has moved out. Some of them apparently have already:
Obviously, this sudden crusade has struck locals and those who know anything about the city's vibrant food scene as absurd. The tourism office itself has frequently promoted Bangkok as one of the world's top food destinations, and its street carts truly are seen as a democratizing force — businesspeople pull up chairs next to cab drivers, and foreigners eat pad Thai, kebabs, and papaya salad among the seasoned locals. The government says the campaign will supposedly "return happiness" to the people of Thailand.
Update, April 21, 2017, at 3:15 p.m.: Reports now say that the city isn't banning street vendors after all, or at least not banning them exactly. Journalists on the ground argue that city hall was misquoted, and that what's happening is more of a cleanup effort — a way to regulate vendors, not get rid of them. It's possible that carts will be allowed on certain side streets or during set hours (after 7 p.m., say), but there's a lot of confusion still. Locals tell media they'll just wait it out and "soon see what is really going on."