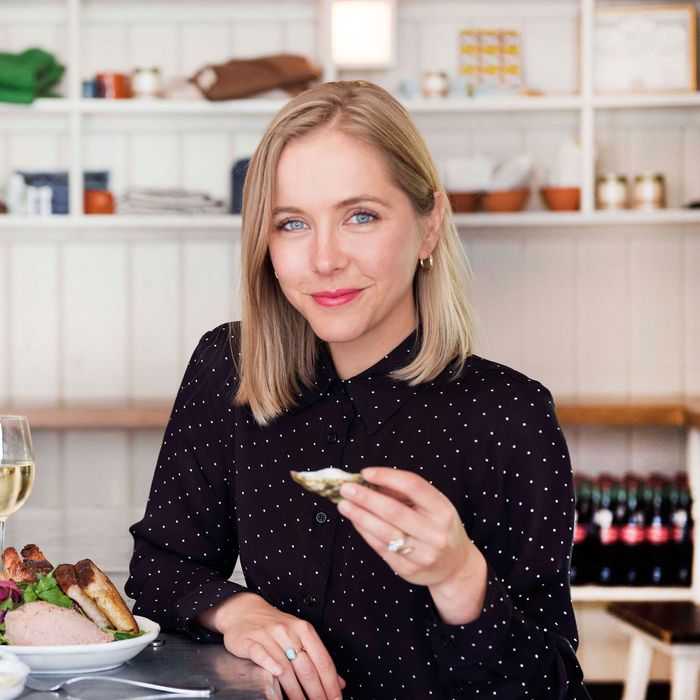 "So many reasons to love Marlow …"
Photo: Liz Clayman
Since Sweetbitter was published last May, it has gone on to become a best seller: It's one of the few books to truly capture the frenetic experience of working in the restaurant industry (the protagonist is a server at a place that bears a close resemblance to the original Union Square Cafe). Now, the book is finally out in paperback, which means author Stephanie Danler is still on a book tour, even while working on a new nonfiction book. At least bouncing from New York to Los Angeles (where she calls home) meant she could hit Shake Shack and In-N-Out on the same day. Read all about it in this week's Grub Street Diet.
Thursday, April 13
I wake up at 7 a.m., snuggled with my sister in Chinatown. Beg for coffee and fall asleep again. When I wake, there's coffee next to the bed, and a "Sister Smoothie" in the fridge. Avocado, cherries, kale, and blueberries. She's quite proud of her smoothies, but I love them because they're a touch disgusting. I think it's the aloe-vera juice. My favorite part is when Sister tells me how the smoothie will keep me full until lunch. Yeah, fucking right.
This is typical of my life in NYC now: My sister and I share a bed; she makes me all sorts of weird treats. At the end of the night, she walks me through her ten-step Korean skin-care program, and then we drink magnesium water and watch videos on Instagram in bed together. We were both married once, and this is so much more fun.
I make toast with packets of Justin's almond butter that are usually in my suitcase. I also eat six spoonfuls of Sister's homemade blackberry-rosé sorbet, and a handful of homemade pickled beets, while responding to emails that I should have responded to weeks ago.
At 12 p.m., I have lunch with Robin Desser, editorial director of Knopf and one of my serious woman-crushes. I don't know how I got this lunch-date dispensation, but we don't ever seem to run out of conversation. She picked Benoit, Alain Ducasse's, and I see the words "asparagus and morels" on the menu, and I'm done. It's served in a coquette, a sort of a stew of barely blanched asparagus, and I dip lots of bread into the gravy that's left. I get a Campari soda, even though it feels early. I'm celebrating. The Sweetbitter paperback just hit the IndieBound best-seller list, which is based on independent bookstores' sales. It means more to me than any other list.
I go to Pressed Juicery in Columbus Circle after lunch for a Wellness Shot and the new rosewater lemonade. Cannot get sick. The Wellness Shots work.
At 5 p.m., I meet my agent, Mel Flashman, and editor, Claudia Herr, at Janklow & Nesbit, where Mel has a bottle of Billecart Champagne already chilled. The number of bottles of Billecart we've had in the past year … they should sponsor me. Mel's office has a terrace with stunning views, and we go out there to have a very sentimental toast to the paperback. I didn't think I would be so moved by this release, but I am. I think about how hard we've all worked — how hard everyone works, from assistants to booksellers to art directors, to make books — and I'm totally weepy. And the paperback feels more permanent. This is the form the book will be in when I die. Sounds morbid, but it feels like a miracle. But yikes! Can't get drunk before my event at Greenlight Bookstore.
By 6 p.m., I'm in Fort Greene and we run into No. 7 — after battling an unholy number of people on the rush-hour 5 train — where I wolf down fried-broccoli tacos, pickles, and French fries with a glass of rosé. Chug water. Get nervous and feel ill, but that's all normal. Chug water.
At Greenlight Bookstore, I'm in conversation with the brilliant and beautiful Angela Ledgerwood of the Lit Up podcast. I'm super nervous, there's a huge crowd, and it's warm in the room. Every time I feel shaky, I just stare at Angela's soothing blue eyes and drink more rosé. The Greene Grape picked this curious Pinot Noir from Hungary that I'm heartily recommending to the crowd.
I black out during events. It's better that way. When we finish, I've sweated through my cardigan, and it's dripping down my sides. Silk dress. Covered in sweat. Mortified. Drink more rosé and an entire bottle of water. Feel my usual disembodied, surreal self when strangers come up to me and tell me how important the book is to them. I can't process it in the moment, or I would start bawling. My publicist, Angie Venezia, makes sure I sit down, breathe, hydrate, and sign books, and gets me rosé at Black Forest beer garden. I'm in awe of the incredible friend-family that surrounds Sweetbee.
At 11:45, Sister puts a face mask on me and makes us Golden Milk. It's toasted coconut milk (also homemade) mixed with turmeric, ashwagandha, and ghee. She says, "It's so simple!" because toasting coconut flakes and making your own coconut milk is something most people whip up after work. The longer she stays in NYC, the weirder she gets — I'm extra obsessed with her lately.
Friday, April 14
At 7 a.m., Sister rolls over in bed and says, "Should I take a personal day?" and I say, "Of course," because it's a medium-quiet workday for me. I think for a second that it means we can sleep in, but then I smell the coffee.
We go to Dimes for overpriced green smoothies (kale, coconut water, avocado), and go the Greenmarket in Union Square so Sister can load up for her cooking projects. She's just getting into pickling, which is soooo 2009, but it's cute on her. We get watermelon radishes, purple radishes, and golden beets. She wants to make ratatouille, and I roll my eyes and say, "You should only serve ratatouille in summer." Sister ignores me and buys these pretty hot-house tomatoes and basil.
Lunch is at Kiki's with my hardcover publicist from Knopf, Jordan Rodman. Years ago, after my novel was acquired, I got invited to the Knopf 100th-anniversary party, where I was completely overwhelmed and starstruck (Patti Smith's surprise performance was just one highlight). I went to the bar afterward and was greeted by a tipsy and enthusiastic 24-year-old assistant publicist named Jordan. She was quoting my book to me. She forced me to take selfies with her. I thought she was insane. Four months later, she was promoted and became my publicist. No exaggeration: It was the best thing that ever happened to me or Sweetbitter.
Jordan's keeping kosher for Passover like a good Jew, and I eat all the bread and tzatziki and fava mash, and the eggplant spread and the lemon potatoes (best thing on the menu). I eat so much of that stuff, I feel ill. Jordan tells stories that make me grateful that I'm not 25 anymore. Then I help her write text messages to guys she needs to tell to fuck off.
Sister and I walk over the bridge to Williamsburg. It's spring in the greatest city in the world. We go to Marlow & Sons, a tradition. So many reasons to love Marlow, but the real reason is that they have been putting out exquisite, hyperseasonal food for the 11 years I've been going there — how is that possible? How is the raw-asparagus salad we order (asparagus, almonds, mint, preserved lemon) the most delicious thing I've eaten in 2017? I do not know the answer, and I don't need to. I don't dissect restaurants anymore, just adore them.
We rounded the salad out with oysters, chicken-liver pâte, and the scallops with butter beans, yogurt, and za'atar. We're drinking a Slovenian Chardonnay that has the salinity and dryness of a Manzanilla sherry. Touch of amaro at the end. A-plus meal.
Happy birthday, Molly Prentiss! Molly wrote the critically acclaimed Tuesday Nights in 1980, and I'm an original superfan of hers. We go to Troost, a newish bar in Greenpoint that reminds me that everyone in New York is de facto cooler than everyone in L.A. We're in the garden, and I drink Campari sodas so I'm not hungover (Campari soda = not hungover, the foundational equation of my life), and Molly made a heritage cake from her great-great-grandmother's recipe. It's dense and not too sweet; I accidentally eat most of it.
Magnesium water and Golden Milk back in Chinatown. Sister says she's drunk and it's my fault. Whatever, I'll take the blame. She looks happy when she falls asleep.
Saturday, April 15
I hate flying. I barely slept from anxiety. I don't know if my Campari-soda plan worked. I instinctively know that Shake Shack at JFK will cure me. I get a bacon-egg-and-cheese and a dollop of sriracha. It's risky, as I'm a little nauseous, but I feel human when I finish.
I can only eat "puffed air" snacks on planes. Too nervous for real food. I eat half a bag of Snapea Crisps. They always make me a little sick, but are so satisfying. I can't drink coffee before flights (see: anxiety), so I'm gulping cups of black tea and water, and sweating and working. Despite this lifetime of flying anxiety, or perhaps because of it, I get a ton of writing and reading done on planes.
I land at LAX at noon. Insert emoji with heart eyes. My love, Matt, picks me up at the airport with In-N-Out — protein-style, no onions — a huge bottle of Mountain Spring water, Pressed Juicery (apple, lemon, cayenne), and lilacs. He also has Mayra, our stolen dog (short version: I fell in love with my best friend's dog and now routinely steal her). Experts take note, this is how you have Shake Shack and In-N-Out in the same day.
Before New York, I was in Aspen for work. Before that, Spain. Sometimes, I lose track of where or who I am. I have four days in Los Angeles for the entire month of April. I'm ravenous and hugely relieved to be home.
I go to the Silver Lake Farmers Market for dinner supplies. Matt's sister and his nieces are arriving, and I want to cook — it makes me feel like I'm living in my "real life." Asparagus (obsessed much?) for a spring-farro salad — a riff on something out of Chez Panisse Vegetables. I add Feta. Serve with a shallot vinaigrette, my recipe where I macerate the shallots for at least 30 minutes and throw in a ton of anchovies.
April in California is ridiculous. I buy fava beans, pea shoots, asparagus, Meyer lemons, strawberries, super-spicy large-leaf arugula, eggs, butter, and a whole chicken to roast. Couldn't find English peas, so I buy a bag of frozen ones. Do I need to compare the farmers' market in L.A. to the one in NYC? No, it's too cruel.
We run by Silverlake Wines for house wine (Chenin Blanc and Sauvignon Blanc from the Loire), Campari, and a bottle of Manzanilla sherry.
We eat in the backyard in Echo Park, and it's glorious out. Matt's nieces are pure joy. They miraculously love asparagus. I keep a huge bag of candy in our closet, so I can ensure that they love me the most of all the adults. We have the asparagus-and-farro salad with a roasted chicken and a few sweet potatoes. I drink a Campari mixed with grapefruit LaCroix, my house variation of a Campari soda.
At 9 p.m., it's magnesium water, ginger tea, exhaustion.
Sunday, April 16
Easter! And back in my kitchen! Currently obsessed with Canyon Coffee made in the Chemex. While Matt is hiding Easter eggs in the yard, I make an assortment of toast for everyone in the house (avocado, peanut butter and banana, butter, and honey). We are taking the girls to Universal Studios for Harry Potter World.
Let's get this out of the way — Harry Potter is dope. Universal Studios is one of Dante's circles of Hell. We drink Butterbeer from a stand in Hogsmeade (if you don't know these HP references, I can't help you), which is butterscotch soda with this whipped-cream head on it. Definitely the most sugar I've had in a decade.
We have lunch at the Three Broomsticks, where I eat fish and chips. The plate is entirely fried and brown, and they weren't generous with the French fries. The adults split a 20-ounce beer that costs $12. I throw out my neck on one of these god-awful virtual-reality rides, so I have another beer and four Tylenol when we get to Simpsons Land — appropriately, a Duff Beer at Moe's Tavern, which I guess is pretty cool.
Ten hours at Universal Studios. After 4 p.m., I refuse to eat anything there. But no complaining — the girls are so happy, and it really did feel like Harry Potter for a second. Plus, we're going to El Compadre for dinner. El Compadre is not trendy or authentic, but reminds me of the Mexican restaurants I grew up with in Southern California. Big booths, mariachi music, huge messy plates of enchiladas, fajitas sizzling in cast iron, and goblets of margaritas. It's been around since the '70s, and it's pretty much perfect.
Enchiladas verdes, at least six baskets of chips; I drink all of my Pacifico and most of Matt's. I want to be a kid again, so I can lie down in the booth. Exhausted.
Monday, April 17
Canyon Coffee in Chemex at 7 a.m. Two pieces of toast with almond butter and banana. I have a list a mile long — accounting, scheduling, interviews, deadlines, not to mention I'm out of clean underwear. Busy morning.
Surprise lunch with the love of my life (also a child, is this weird?), Luca, and his mom, Carly de Castro. We go to Honey Hi on Sunset Boulevard, and I have the breakfast bowl (sweet potato, turmeric poached egg, avocado, sumac). Then I run around my yard with Luca on my back, even though my neck is kind of broken. I miss my people so much when I'm traveling.
Matt takes off half a day, so we can have a minute to ourselves. Then, we're shopping for dinner. We go to Fish King in Glendale for salmon and hit the Whole Foods. I never thought I would shop in the suburbs, but I have an irrational fear of driving in downtown L.A. I also hate closed parking structures. Nothing scarier. I guess I am getting soft.
Dave Peterson comes over, a.k.a. Mayra-the-stolen-dog's actual owner. He's just back from Coachella and is producing a ton of shows in the desert at Pappy & Harriet's, so we are ships crossing in the night. Pre-music-festival-producer days, Dave and I worked at Tía Pol together, and he went on to become a cook, working all over Mexico and Brooklyn. He's one of the only people I know in L.A. that thinks about food the way I do.
We cook together often and ambitiously. But tonight is easy because everyone is brain-dead. I've been making these salmon-and-brown-rice bowls and throwing in whatever is in season: Today, I blanch asparagus (no one is surprised), and roast eggplant glazed in miso (recipe from Lucky Peach Vegetables). I quick-pickle seedless cucumbers in rice vinegar, chop up radishes and scallions, and poach the salmon in barely simmering, lemon-infused water for eight minutes exactly. The whole thing comes together with a sweet miso dressing, and we eat outside under the lights, and Dave tries to tell me — yet again — that the Beatles are overrated. Yeah, right, listen to the White Album and go fuck yourself.
Dave brings a Riesling from Nahe, and I have a California pét-nat (naturally produced sparkling wine, typically from France) that's cloudy and funky and tastes more like kombucha than wine. I love weird wines, but sometimes, I just want structure. In comes the Riesling, razor-sharp acidity and unbelievably dry.
Magnesium water, ginger tea, quiet.
Tuesday, April 18
Canyon Coffee in Chemex. Toast with almond butter with a side of Elizabeth Bishop poems. Greens 4 juice from Pressed. This is my last day in L.A. for five weeks, the thought of which makes me manic.
All the leftovers become a weird lunch. It's Saturday's farro salad, all the asparagus, the cucumber pickles, last shreds of salmon, and some sweet miso dressing. I put that on a huge pile of arugula and poach an egg. Drink two grapefruit LaCroix throughout the process. I literally emptied the fridge into a bowl, and it was fucking delicious.
Vanilla Almond Milk Coffee from Pressed. I mix Sun Potion ashwagandha into it, which is supposed to be good for adrenal fatigue. Coffee is not good for adrenal fatigue. I don't know. I'm trying.
By 5 p.m., I'm stress-eating rice crackers (another puffed-air snack), avocado, and hummus (from the guys at the farmers' market; it's like silk). I'm in a haze, and then I look down and the entire bag of crackers is gone. It happens.
I am in a packing nightmare. I need clothes for a cross-country book tour, in addition to two music festivals, New York, and a wedding. I do not have the mental bandwidth to figure it out, so I panic and go to my love Alex McKenna's house for help.
First, she gives me a glass of a super-nutty Chenin Blanc. I should mention that her house — in addition to possessing a closet called "Narnia" that takes up the entire garage — is also like a natural-wine bar. Whereas you can find me on the plane drinking Pinot Grigio from a box, Alex will not compromise on wine. Her fridge is filled with pét-nats, and chilled Northern Italian reds. Her "house wine" is a Trousseau from the Jura. Everyone at domaineLA and Silverlake Wines can recognize her voice when she phones in her orders.
I leave her house — after two glasses of wine, a bowl of these crazy potatoes she roasted with ghee and smoked sea salt that she was saving for dinner (whoops), and a chilled Orgaid face mask — with two Reformation dresses. She's an amazing emergency resource.
Magnesium water, ginger tea. Epsom salts in bathtub. Matt's out of town for business. I can't remember the last time I've been in a house alone. Double-checking my suitcase, and my alarms. I touch all my books and go to bed with Plainwater by Anne Carson.
Off to Massachusetts and D.C. this week. Then Iowa City, Wichita, Chicago, and so on, and so on for the next month. I say yes to everything. I remind myself of all the joy in this, even the chaos. I often say that the privilege of my life is getting to write. But it's not. It's the food and the love. I am fucking #grateful.