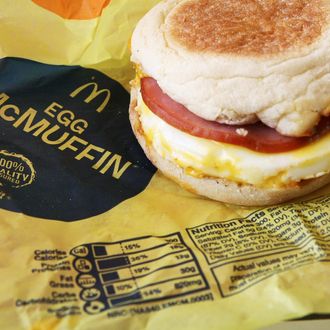 Why not?
Photo: Justin Sullivan/Getty Images
More evidence that America is built on Egg McMuffins: Mickey D's earnings for the first quarter are out today, and they outperformed expectations by a good bit, even as the rest of the industry continues to see a drop in restaurant visits. Analysts' rosiest estimates were for McDonald's same-store sales to climb by a little more than a percent, but the company reports that they actually rose by 4 percent. The reasons why mostly boil down to two: the fact that Big Macs now come in different sizes; and the fact that, sure, people have stopped copping to ordering McGriddles for dinner, now that the novelty of all-day breakfast has warn off, but they're totally still doing that.
Investors thought breakfast enthusiasm would have waned by now, but CEO Steve Easterbrook tells investors that recent efforts to "regain lapsed customers" by doing things like switching from margarine to butter and serving fresh-cracked, cage-free eggs are paying off. Since Starbucks's new business model is to sell you either a $12 pour-over or a unicorn sugar-explosion Frappuccino, the decision to drop the price of normal espresso drinks to $2 probably didn't hurt either.