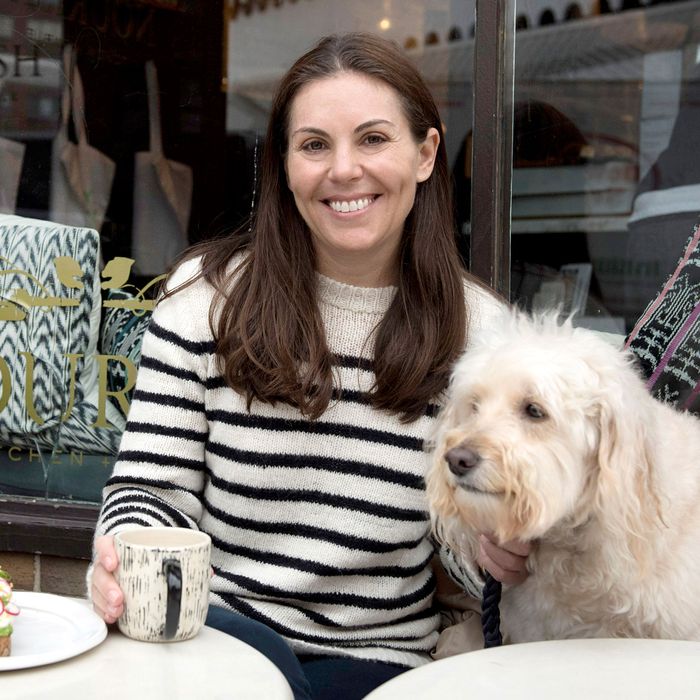 At Nourish Kitchen & Table.
Photo: Liz Clayman
Five years ago, Alison Cayne opened Haven's Kitchen in New York — a recreational cooking school for busy New Yorkers who never quite mastered skills like pie basics and easy weeknight meals. It transformed into a community space, with an on-site café and event space, and as of this April, the school's lessons are widely available via a cookbook. Cayne herself is a busy New Yorker: She's the mother of five children (almost all teens — ages 11 to 19), and has to juggle events like wisdom-teeth removal and Passover Seder, all while running her own business. Read all about it in this week's Grub Street Diet.
Thursday, April 6
Today started off at 6:45, with my usual 20 minutes to shower, dress, and eat breakfast (typical mom morning). I'm not really ready for a full breakfast on the days I take the kids to school, but definitely need something, so I make these shakes that tide me over till coffee time. I put a tablespoon of raw almond butter, a banana, a hunk of fresh ginger, ice, and almond milk into a Vitamix and blend until it's smooth. Sometimes I add kale or berries, if they are past their prime. I'm not particularly coherent until I've had caffeine, so after I dropped the kids off, I ran over to meet my friend Erin at Box Kite on West 72nd for an Americano. One shot, milky.
When I got to work, I did what I always do: filled a quart container with ice and some of our turmeric, our ginger "elixir" or green smoothie, and the rest with water. I usually go through a few of these a day. I like ginger. A lot. We're lucky to have pretty killer staff lunches, and today's was particularly fun, if not slightly hodgepodgey. My plate consisted of remnants of yesterday's vermicelli salad, which I made with Dawn [Perry] from Real Simple to promote our cookbook, plus roasted carrots with spiced yogurt from last night's "Inspired by Gjelina" class. In addition to being the fortunate recipient of their leftovers, I was also lucky enough to snag the last quarter of a roasted acorn squash.
Throughout the day, I walked around with my quart container, and occasionally meandered into the teaching kitchen to grab a few figs or a handful of nuts. This week, we're testing our new muffin for spring, so I had an afternoon snack. It was bright and citrusy, with little bits of orange rind and slivered almonds. Like a lemon bar and an old-school New York–deli corn muffin had a baby. It shall be known as the Sunshine Muffin on the menu, from here on out.
Tonight, I threw myself a small birthday dinner at Loring Place. I have been a bit ambivalent about turning 45, I'll admit. After a refreshing Paloma (grapefruit and tequila), we had crispy cauliflower with lemon jam and chiles; a fluke ceviche that I think about sometimes in the middle of the night; and a green, crispy Brussels-sprout pizza. Oh, and also, this crazy wood-grilled broccoli and pan-roasted char. With parsnips. I love parsnips. There was also roasted kabocha squash, the King of Squash, as my friend Katie calls it. The meal had moments that were roasted and caramelized, and others that were green and herby and kicky. At some point in the middle of a discussion about how, since I was sort of "reborn" at 40, it's like I am actually only 5 years old, I happened upon a citrus bite that knocked my socks off. Kumquat?
My friend Laurie Ellen made my birthday cake. She watched me interact with the leftovers of a lemon-meringue, olive-oil cake she had made for a wedding at Haven's a few weeks before, and made me the most gorgeous honey-wheat cake with lemon chiffon and meringue. I can't remember the last time I had an actual birthday-y birthday cake. It was like a cake out of a storybook about cakes. It was tall! I ate the meringue off my friend's cake, too. I think she was okay with it.
Friday, April 7
Today, I didn't take the kids to school, so I was able to caffeinate myself and enter the world of the living in a bit more civilized way. I walked Ivy (my dog/therapist) over to Nourish Kitchen + Table, and Raoul (the barista/therapist), like always, saw me coming down the block, so had my Americano ready. I'm somewhat picky about my coffee, so much so that I can't please myself at home, no matter how I've tried. French press, moka, drip — I can't get it right. It's like an Excel spreadsheet; I can hack something super JV together, but it in no way resembles what I need. So if I'm not having coffee at Haven's, I rely on the few other places around town that hit the spot.
To be clear, my pickiness has nothing to do with sophistication: Actually, I think most coffee aficionados would scrunch up their noses at my preferences. I don't like bitter. I don't like pour-over. And I like it significantly watered down. Raoul knows I'm a one-shot gal, with whole milk and lots of hot water. Today, they were testing out a delicious, new (super-pretty) pea-and-ricotta toast. Good way to start the day. I was surrounded by happy dogs and a baby who had some swagger, so I'd say it was a pretty perfect morning.
After that, I took my eldest, Kate, to have her wisdom teeth removed, and read How to be a Woman by Caitlin Moran in the waiting room. I laughed out loud a few times, which is always awkward in public. But she is so damn funny. It's the kind of book that has entire paragraphs that I want to screenshot and send to my friends. When Kate woke up, but was not yet out of her drug-induced stupor, we chatted (I kid you not) about whether the world spins slowly or quickly, and we decided slowly was a lot safer. Then I got her into a car, settled her in bed, and headed to Union Square to buy supplies for the Passover Seder on Monday. I bought an unnecessary number of apples — Jonagolds and Ladies and Galas, oh my — carrots in a rainbow of colors, and the biggest horseradish I've ever seen from Schmitt's Farm, aptly called "Holy Schmitt's Horseradish." Then I walked over to Breads and got two of their round, multi-seeded challahs. It was packed in there, no sign of gluten-freedom to be seen. I nibbled on a chocolate-babka sample while I waited in line, paid, and headed back to Kate.
When I got to the house, Kate was sleeping, with Ivy at her side (a dog knows), and I nudged her awake to give her some pain meds before her anesthesia wore off, per the dentist's instructions. We both had a White Moustache date yogurt because, frankly, there is no better yogurt on the planet. It is real and creamy, and I think may have something to do with what they serve in Heaven. After yogurt, we set Kate up with ice packs and some television show I can't tolerate, and I got to work on my laptop in the kitchen.
But first, before anything of consequence could be accomplished, I had to text my friend Charlotte (Druckman, whose writing you must read, on any topic) the picture I took of the Holy Schmitt horseradish, and our messages went something like this.
Me: (photo of Holy Schmitt's very large, very phallic horseradish) Check it.
CD: I keep wondering why horseradish hasn't taken off more.
CD: It's so phallic, and good for you.
Me: Let's do a horseradish dinner.
CD: I would totally do a horseradish dinner.
Then Charlotte and I proceeded to muse about the applications of horseradish in Chinese medicine. I looked it up in my Healing With Whole Foods book that is somewhat of a treasure. A cross between a hippy textbook, acupuncturist primer, and book of spells.
Later that afternoon, I ate some leftover fried rice, with a handful of chopped spinach and a few splashes of this yuzu-tamari sauce that I bought at the new Japanese market near my house. I turned on to yuzu when I went to Tokyo last summer, and haven't turned off since. I Googled yuzu to try to prompt a good description, but this is pithier than what I could write, so I will quote verbatim: "Yuzu is a funny, uneven skinned fruit with all the goods, all the characteristics of a tart, sour citrus, with the spirit and the spritz of a mandarin orange." I couldn't have said it better. All the goods indeed.
At about 6, my other kids got home from school, and I cooked for them and a few friends a fairly straightforward dinner: lamb kibbe (conveniently, there just happens to be a recipe for it in our new cookbook) with herb-loaded tahini sauce. We also had roasted cauliflower and broccoli and a salad. With apples. The kids wanted rice, so I made that, too. I've always felt pretty confident in my rice game, but a few weeks ago, my friend Umber [Ahmad] came over for dinner, and I've been making it her way ever since. She may be known around the planet for her tarts and cookies (she owns a beautiful bakery called Mah-Ze-Dahr), but her rice recipe is rock solid:
Sweat onions in some olive oil, add minced garlic and ginger, then two cups of rice, and stir until it smells nutty. Add 4.5 cups of water and bring to a boil. Turn the heat to low, add some ground cumin to the top, and cover. Twenty minutes, and it's done. Don't rinse the rice before cooking. Umber made that VERY clear. Do. Not. Rinse.
My friends and their kids are the best kinds of guests for two reasons: First of all, they eat. Second, they surprised me with a Gianduia cake from Sant Ambroeus because they wanted to continue my birthday festivities. That's just the kind of people they are. And the Gianduia is as good a cake as I know: You've got a hazelnut crunch element, some sort of mousse, and a glaze to keep it all together. It's especially good when paired with a nip of Amaro Nonino over ice. My youngest and I played a riveting game of chess (stalemate), and I was asleep by 11 p.m.
Saturday April 8
This morning was sunny! So Ivy and I stopped at Nourish for coffee and oatmeal, and then took a long walk, before I got cold and we headed home to make the kids breakfast. While I am perfectly capable of making my own oatmeal at home, Nourish's oatmeal is especially good. It's loaded with chunks of apple and super-plump golden raisins. To make matters better, they top it with a crunchy crumble. Sometimes my timing is serendipitous, and I walk in just as they're bringing it out from the kitchen, piping hot and super creamy. Like hitting the jackpot. I think I may have said "yay" out loud. Raoul smiled knowingly.
Kate graduated to scrambled eggs, so things are looking up. We opened and closed the windows a few times during breakfast, and everyone agreed that April is a little capricious and unpredictable, but we love her. Then I walked to NYU to participate in a food-studies-alumni panel.
After the panel, I fueled myself and my youngest for his soccer game with a sandwich of toasted grainy bread, last night's tahini, and sliced cucumbers. He added a slice of cheddar and liked it. We had to get to the field an hour before the game, and I got cold, so I headed to the deli a few blocks away, and got myself a tea and one of those big, old-school corn muffins that I had been thinking about since I tasted the Sunshine Muffin at Haven's. When we got home post-game, I sliced it in half and toasted it in a pan. He had a glass of milk. I had more tea. We shared the muffin.
Dinner tonight was at Haven's Kitchen. We hosted the first of our supper-club series, At the Table, in response to the political moment and issues of identity, borders, and immigration. Tonight's chefs were Lucas Sin from Junzi Kitchen and Jonathan Wu from Fung Tu. Lucas started cooking in restaurants in Hong Kong at 16, and as an undergrad at Yale did pop-ups in his dorm basement. The menu was based on an old restaurant on Pell Street called Mon Lay Won, with dishes like "Nice Rich Omelette, à la Chinese," and "Lychee Nuts, Best in Town." They included all sorts of fun ingredients like Buddha's palm, golden limes, hawthorn, lotus seed, and lily petal. It all ended with a pudding made of black sesame, plum, ginger, and vanilla.
Sunday April 9
Another glorious spring morning, and back to Nourish for coffee. It was French-toast day at my house, as the leftover challah from Shabbat dinner was just the right kind of stale. NB: Add a touch of lemon zest, cinnamon, and vanilla into the egg/milk mixture. Trust me on that.
Midmorning, Laurie Ellen came over and guided me through a Passover-friendly version of a succès cake — hazelnut meringue, chocolate ganache, and candied hazelnuts, made Passover-esque by the omission of a hazelnut buttercream, and coconut milk as the fat for the ganache. My middle daughter's 16th birthday is tomorrow, and having grown up with many birthdays falling on Passover (not fun cakewise), I wanted to do something special. Laurie Ellen and I made three discs of hazelnut meringue, layered them with the chocolate ganache, and topped it all off with candied hazelnuts and praline dust. While we baked, melted, and toasted, I made my friend Stacy's mom's brisket recipe. I felt the urge to go old-school this year, and Cora's brisket had just the right vibe: ketchup, onion-soup mix, cook forever. I also made the charoses (blitzed apples, dates, figs, cinnamon, and walnuts with some Manischewitz), and boiled baby potatoes and eggs for the Seder plates.
We got a little hungry during Passover prep, so Laurie Ellen, my kids, and I had PB&J sandwiches, carrot sticks, and apple slices. I swung by Mah-Ze-Dahr on my afternoon Ivy walk — Ivy appreciates the dog bowl in front; I appreciate the whole thing. Umber told me about a new coconut cake with coconut cream and meringue frosting they were making, and obviously, we all needed to give that a whirl. I figured we'd have it for dessert after dinner, and put it safely out of sight when I got home.
Sunday night, I didn't want to cook, so we headed across the bridge to an old friend's restaurant in Williamsburg called Meadowsweet. Polo, the chef, makes these olive-oil rolls that literally melt in your mouth. We all shared the roasted asparagus and glazed carrots. Then we passed around a creamy, mushroomy pappardelle dish and two orders of the arctic char: crispy, seared skin, cooked perfectly. When we got home, I took out the coconut cake (Umber, if you're reading this, it's a keeper!) stuck a candle in it, and C.C.'s 16th-birthday festivities began with a bang of gluten, coconut, and meringue.
Monday April 10
This morning, I had a doctor's appointment uptown, so I made my smoothie, dropped the kids at school, and grabbed a coffee at Three Guys on Madison Avenue. I used to live nearby and spent a lot of time there, so it's always nice to visit. I got to work in time for the end-of-staff meal, and made a plate of mustard greens and apple salad. I added some of the broccoli salad with miso balsamic dressing from the café, and worked till about 4:30.
I headed home to put together the individual Seder plates, set the table, heat up Cora's brisket in more ketchup-water, and make the rest of the dinner. We read through the Haggadah, asked and answered the four questions, dipped things in salt water, and made little matzo sandwiches with charoses and thinly sliced Holy Schmitt's. I confirmed my love for horseradish, and we all agreed Cora's brisket was our new tradition. We took turns singing and eating mashed potatoes and carrots roasted with maple syrup. There was cauliflower galore for my vegetarian daughter, and I made a fennel–blood orange salad to lighten things up. My oldest son informed us that, actually, the world spins very, very quickly. Like 1000 mph quickly. Kate didn't remember asking in the first place, but we all paused to think about that. C.C. was happy with her birthday toasts and the succès cake was, indeed, a big success (I know, sorry, I had to).
Tuesday April 11
My kids were off from school, so everyone slept in a bit, and I headed over to work, after making a few rounds of scrambled eggs and toasted matzo with cream cheese and salt for everyone. I had my shake, and headed to Dutch Flower Line to get flowers for Haven's. Best-kept secret in town: Mohammed, the lovely man who wraps up the flowers at Dutch, is also a master coffee maker; and upstairs, there's always a hot pot of coffee to be sipped, as you amble through the flower market. I am a lucky, lucky lady.
When I got to work, I filled my quart container with the usual, and we sat down to finalize the plans for our book/five-year-anniversary party. I am the chair of the balloon committee, a position I take seriously. We chatted menu and "flow," and, of course, chose our specialty cocktail of the evening. We plan a lot of weddings and events, so it's especially fun planning one for ourselves. We all got a little spring in our steps.
Staff lunch was roasted chicken and a kitchen-sink salad (cleared out the walk-in, delish.)
I brought home a few quarts of the matzo-ball soup from work. Zoe Maya, our kitchen manager, makes a mean, fluffy ball. We were all a bit tired from the previous evening's Passover shenanigans, so for dinner, I heated up the soup, made another fennel–blood orange salad, and baked a bunch of the apples for dessert. Tonight, my son won the chess game; he wanted me to write that.