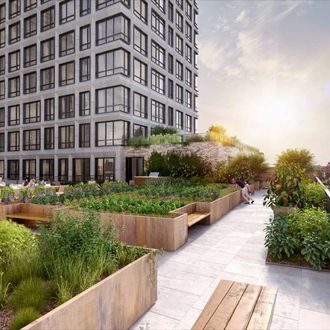 A rendering of what the plots will look like.
Photo: VUW Studio
Your friend's LEED-certified loft on the Gowanus Canal has nothing on a new luxury condo near the Barclays Center in Brooklyn, where, by this time next year, the building's lucky occupants will be harvesting fresh ramps from their own private rooftop farm. Apparently, right now, crews at 550 Vanderbilt Avenue are installing 1,600 square feet of metal boxes filled with soil "suitable for high-altitude farming" on one of the high-rise's south-facing terraces. These boxes will be divided into plots that condo owners can rent at the start of each season, the smallest of which measures 7 feet by 10 feet — "enough to harvest a significant edible crop," in the words of the developer. Should your one- or two-bedroom New York City household require more than a "significant" edible crop, the biggest plot measures 39 feet by 21 feet and features "plank walkways," presumably so tenants don't have to soil their Common Projects sneakers.

Rooftop-sourced produce has been a thing in New York City for a while (Bell Book & Candle started lowering hydroponic veggies from its building's roof by pulley in 2010), but this is the city's first terrace for people living in million-dollar urban condos who want to farm. As The Wall Street Journal quips about the whole situation, "It was only a matter of time before the farm-to-table movement merged with the Brooklyn condominium boom."
Groans aside, though, the gardening up there must be good: The paper adds that Ian Rothman, co-owner of Olmsted and Atera's in-house horticulturist, has already called dibs on a bunch of the plots. Olmsted is just a few blocks down Vanderbilt, and only has a tiny space in back to grow produce. Rothman initially plans to grow hot peppers for their ají-dulce sauce.