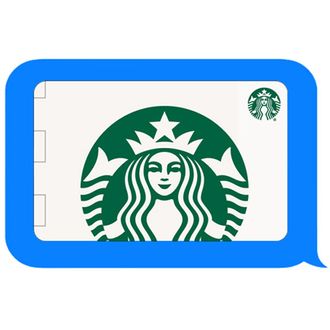 Your odds of getting a Starbucks gift card for Christmas, your birthday, or a cat-sitting thank-you present just went up by about 10,000 percent: Next month, anyone who has an iPhone and Apple Pay — so, everybody — will be able to text Starbucks gift cards via iMessage (the "card" part now being entirely metaphorical). Since the Starbucks gift card was already the most undemanding present a person could give, the effect of this new feature that somehow makes the process even easier could be either wonderful or devastating, depending on your thoughts about converting to a latte-based currency.

Interested gift-buyers will find the voucher as an option in Apple's messaging app. Once they purchase it with Apple Pay and text it to their about-to-be-married co-worker or newly graduated third cousin, that person can redeem it in a café from the text screen directly, or import it into the Starbucks app the way old-timers would, you know, move gift cards over into their wallets from envelopes.
The rationale here needs no explaining — about one in six Americans gets a Starbucks gift card during the holidays alone. And about one in three Starbucks customers uses the app, a mobile application that now legitimately rivals large banks in term of deposited money on hand. If the drinks aren't winning people over anymore, Starbucks can at least be the cool-tech early adopter. It announced as well during yesterday's shareholders meeting that it's going to roll out Amazon Alexa voice-ordering, so hopefully Alexa will get updated with a Starbuckese crash course by then.