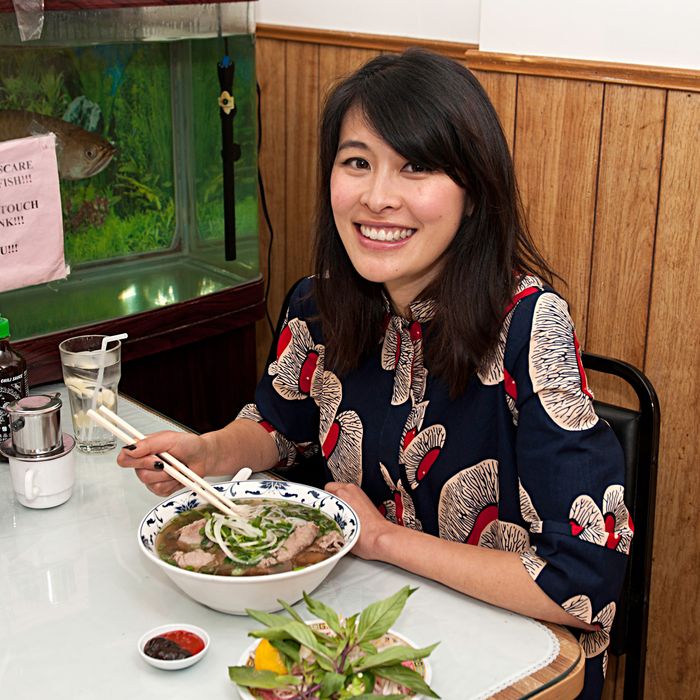 At Pho Tan Hoa in San Francisco.
Photo: Sheila McLaughlin
In the coming months, Rachel Khong has not one but two books hitting stores — first, on April 4, All About Eggs, a collaboration with the editors of Lucky Peach (where she worked as the managing and then executive editor for five years); and then, in July, Goodbye, Vitamin, her first novel. She spent the past week, in her home in San Francisco, cooking a Turkish poached-egg dish called çilbir, and eating several servings of chicken katsu and all kinds of pho (even egg-drop soup made with leftover pho broth). Read all about it in this week's Grub Street Diet.
Thursday, March 23
Thursday starts with me running to my car in my pajamas because I forgot it was street-cleaning day. I'm hoping for a miracle. No miracles today, only heartbreak. I owe the San Francisco Municipal Transportation Agency $71 and am sad.
Last night, I posted to my @all_about_eggs Instagram account a picture of beautiful, fluffy scrambled eggs, with the caption, "Dreaming of breakfast." (At one point, while working on the book, I started an all-eggs Instagram account, and now it's basically my job.) But I do not eat scrambled eggs for breakfast. Instead, I have a roasted Japanese sweet potato — the kind with purple skin and yellow flesh, like the emoji — with butter and flaky salt. I eat it, skin and all. To be clear, I eat these sweet potatoes because I love them, but also because I'm trying to get out of the house to start writing ASAP. "Be regular and orderly in your life, so that you may be violent and original in your work" is something Flaubert said. Sometimes, it's good to think about that while you're feeling undignified, scarfing down a sweet potato.
At Charlie's Cafe, my office for the morning, I drink a mug of "Obama blend," a bean mix of "one-third Kenya, one-third Indonesia, and one-third Kona." I make pitiful progress on my new long thing (a novel I can't jinx yet by calling a novel) because it's hard not to think about my parking ticket or self-worth.
Lunch is at Rintaro, a Japanese izakaya that recently started serving lunch. I get a hojicha. I try my friend Cassandra's "melon creamy soda," a drink that's crazy green and tastes compellingly like candy. We order two teishoku lunches to share: A tuna don with shredded egg that comes with freshly grated wasabi on a shiso leaf; and their pork katsu, which I always get because it's out-of-control good — layers of pork, breaded and fried, and topped with black-hatch miso sauce, alongside a mound of thinly sliced cabbage and watermelon radish. The side dishes are delightful: miso soup with hen-of-the-woods mushrooms; green onion and vegetably stalks; and a Tokyo turnip-wedge koji pickle; crab and cucumber sunomono; and an innocent little fried smelt that's the perfect bite.
At home, more work, and its accompanying snacks: first, two tangerines. Then, a couple hours later, Castelvetrano olives and prosciutto draped directly into my mouth. The olives and prosciutto are from Lucca's Ravioli, an old-timey Italian grocery store in my neighborhood that I particularly love. They sell housemade ravioli, yes, but also fancy tuna and not-fancy wine, obscure pasta shapes, and all manner of cured meat your heart could desire.
My friend Sandra is having a dress pop-up on the other side of town. She's come from Nairobi, so the least I can do is travel to Presidio Heights. I have a glass of wine there, and ooh and aah over everyone trying out dresses. I can't buy any because I already own three, including one with eggs on it that I'm planning to wear on my book tour next week. Sandra explains that there's a feminist message to my dress: There are the eggs and hens, but also roosters, which are decapitated. I love this dress.
Back at home, I drape more prosciutto into my mouth while prepping leftover chicken pho. Yesterday, I made the "Classic Chicken Pho" recipe from Andrea Nguyen's new pho cookbook, aptly titled The Pho Cookbook. The recipe says it's eight servings of pho, but it looks like it will be four servings for me. Humans are 60 percent water. I'm probably 50 percent pho.
Friday, March 24
I wake up beside a bodylike mound of books. They've replaced my roommate, Eli, who left me for New York on Monday, to work on season two of the podcast Homecoming. (Tony Danza drinks Metamucil, and I endorse Homecoming from Gimlet Media.) It's a wonderful show! Eli and I just got married at City Hall, so I still feel weird about calling him my "husband." My training wheels are "spouse." The judge said, "I now pronounce you spouses." Anyway, that's a disclaimer for why I will be the way I will be this week. Not getting a separate bowl for my olive pits, et cetera. Just throw your pits in the same bowl where your olives are hanging out, and save a dish!
It's raining, which is enough to make me want to stay home this morning. I brew some coffee, and toast a fat slice of Tartine country loaf. I cook a half-recipe of çilbir, a Turkish egg dish the writer Laura Goodman turned me onto, which is now in my regular breakfast rotation. The recipe is in All About Eggs (page 102), so you can make it, too! I'll tell you how to do it anyway: Basically, you pound a tiny clove of garlic in a mortar with some salt, then mix yogurt into that. Poach two eggs (I do it the Jacques Pépin way). Melt a couple tablespoons of butter with a few shakes of paprika and a pinch of chili flakes. Put the yogurt in a plate, slide the eggs on, drizzle with the hot chili-butter, and garnish with mint leaves, if you have them. On my egg Instagram, I keep using the hashtag #cilbir like it's going to catch on. Maybe this is how it happens — via Grub Street. The bread is important for sopping up the yogurt mingled with yolk mingled with butter. It's such a good breakfast! It fuels a solid morning of writing. Then the UPS guy comes while I'm in a phone meeting. It's boxes of finished copies of All About Eggs, and I'm so happy. Eggstatic even.
I have some chicken-pho broth left, so I make a quick egg-drop soup, loosely based on the stracciatella recipe in All About Eggs: Italian egg-drop soup with spinach and cheese — except with thinly sliced Chinese broccoli instead of spinach, and chicken instead of cheese. It surprises me by being really good. Pho-broth egg-drop soup! You heard it here first, folks. I refrigerate the rest because I have to run out for a meeting at Sightglass Coffee. There, I have some of what they have already brewed: something delicious from Colombia.
Old friends from college are coming over for dinner. I drink some also-old Zinfandel (old vine and old because I opened it Monday!) while cooking a roughly Marcella Hazan–esque chicken cacciatore with capers and olives. I serve it with rice, alongside a green-leaf lettuce and arugula salad with grana padano that was on sale at Lucca's, and lemony roasted broccoli. Dessert is a blood-orange cake that's a Paul Bertolli recipe from Cooking by Hand, a perfect cookbook. The recipe intrigued me because it's called "bitter orange cake," and involves blending whole blood oranges — peel, pith, and all. "Just how bitter, Paul Bertolli?" I mutter to myself while baking it, all alone at home. Each slice gets served with a compote made of orange peel, sugar, and segments of blood orange — all the syrupy stuff soaks lusciously in. It seems bonkers, but the cake is edible! And not only edible, but a hit! As it turns out, everyone can have this superpower to eat whole oranges disguised as delicious cake.
Over the course of dinner, we somehow get onto the topic of mukbang, the YouTube videos of Korean women eating alone. I guess the idea is, you watch these videos when you're eating alone, so you feel less alone. After everyone leaves, I watch a few: riveted, aghast, then riveted again.
Saturday, March 25
Breakfast is Sightglass coffee from Rwanda, which is acidic and perfect with leftover cake and compote nuked for 45 seconds in the microwave. The cake might be even better today. Then I head to the Alemany farmers' market, my favorite farmers' market in the city because it's huge and festive and glorious. I try slices of a few different kinds of grapefruits and oranges. Honestly, today I'm here for the butt-shaped kiwis, which I buy from this one farm that seems to only grow kiwis — not all of them butt-shaped. I seek those out.
For lunch, I'm meeting my friend Vicki at Souvla, a Greek spot that does good souvlaki and these fries soaked in chicken fat that I totally forget to order. We split a pork gyro and a lamb gyro — cut them right down their centers with butter knives — a foolhardy but ultimately prudent decision. The pitas are fluffy and perfect, like pot holders but bread. In a good way! We get back in line to get a cup of frozen Greek yogurt with "Cretan honey" and share that, too.
Cut to: the afternoon. Sometimes in the Mission, where I live, there's a white van parked on 22nd Street that opens its (car) doors to vend snacks, like fruit in quart containers or cut-to-order coconuts. I notice the van's doors are open and ask for a coconut. Usually, it's a guy van-manning, but today it's a lady van-womanning. She has long, bright orange nails. With a cleaver, she hacks the coconut deftly. I'm humbled and charmed. She hands the coconut juice to me in a zip-top baggy with a straw, and the flesh in a separate baggy, mixed with salt, lemon, chili, and hot sauce. The chili-covered coconut pieces are good — weirdly reminiscent of Micheladas.
Dinner is leftovers: stewy chicken, rice, stracciatella. I also steam a bundle of asparagus from the farmers' market, and season it simply with salt, pepper, and lemon juice. I put a pat of butter on my asparagus and watch it melt. All in all, a wild Saturday night! I eat the asparagus like fries, and wind up eating all of it, also like fries. For dessert, a butt-shaped kiwi. Naturally, it's juicy.
Sunday, March 26
What would a Californian Grub Street Diet be without avocado toast? My favorite trick is to rub a clove of garlic over the hard toast's surface, which sucks up the garlic somehow (really scientific terminology I'm using here!). Then I smush avocado on (correct ratio is one avo to one big piece of toast), and drizzle with olive oil, salt, black pepper, and chili flakes. Today, I top the whole thing with a poached egg. It isn't pretty to eat, but it is good and hearty.
I'm getting my photo taken for this article at Pho Tan Hoa, my regular pho spot in the Tenderloin. You might even call it a pho-to. (Sorry.) I pose with my regular pho order, the No. 12, rare-beef pho, and an iced coffee. I suck down all the condensed coffee, and after the photographer leaves, I eat the room-temperature prop because that's how my mama raised me.
Lunch is at my friend and former Lucky Peach co-worker Chris Ying's house. I left the magazine just this past fall, after five years of living and breathing Lucky Peach. The news of its shuttering is something that, yes, I'm feeling pretty emotionally weird about, but that I've compartmentalized — just like I've compartmentalized the fact we're all going to die someday. Anyway! Chris has made katsu don! Eggy katsu and katsu with sauce for dipping, perfect donabe-cooked rice, cabbage lightly dressed with Meyer lemon, and miso soup. We wash it all down with rosé. (Inadvertently, I'm having a double-katsu, multi-pho week.) Chris's daughter Ruby tries to eat my book, a very good sign.
A couple hours later, we're back together: Aralyn Beaumont (also a friend and former co-worker, also in attendance at lunch), Chris, and I have tickets to a Filipino pop-up — a "kamayan" meal we'll be eating entirely using our hands. We're seated at a long table covered in banana leaves. The rice gets placed down the middle, like an enormous line of cocaine for a giant with a car tire–size nostril. The rice line is adorned with bok choy and shrimp and mangoes and chicken thighs. We convey all the food to our mouths using only our hands. The dinner is BYOB and we BYO'ed rosé. My wine glass, which I've been pawing at with my food-covered hand, is — not surprisingly — covered in food. Our friendship has been forged in the fire of magazine deadlines. Now, better slept (well, except for Chris, who has a baby), we polish off two bottles and have a good time. Dessert is a pleasant little Manila-mango tartlet with a peanut crust.
Monday, March 27
It's two regular and orderly butt kiwis for me this morning, then to the café! Eating two butt kiwis is sort of like eating four normal kiwis because you get two for the price of one (not literally; obviously, they're sold by the pound). My regular method of peeling kiwis is to cut off both ends and run a spoon around the fruit, where the flesh meets the skin. But it's a challenge when they're butt shaped. I have to peel them over the sink, but the skin comes off in patches. My spouse typically laughs at the wreckage because it looks like a raccoon got into some trash. That's generally how I eat things, like a raccoon attacking trash.
I have a cup of black coffee at Borderlands, a café I like for its lack of music, while I type some words. By 11 a.m., I'm hungry. At home, I scarf more snacks: prosciutto and olives.
Guess what lunch is? It's pho! Back when we were a gang, the San Francisco Lucky Peach staff religiously went out for pho every Friday, which we staunchly still call Pho-riday. We always went to Pho Tan Hoa, and we still go for old times' sake. Last Friday, Aralyn was vacationing in Thailand, so today is a Monday that's an honorary Pho-riday. I can't bring myself to order another beef pho, after the one I ate yesterday: I get seafood, plus a salted plum soda. There's always a small part of me that wants a No. 41, vermicelli with barbecued pork and nuoc cham, which I could drink daily and never get sick of. So another regular thing is, I force us to share a No. 41. Chris orders it for the table like a dad buying us toys. Our server calls him "big guy."
I drink a bottle of stout while I'm cooking dinner: fried rice to use up all the languishing things in the fridge. First, I crisp up some garlic and ginger in vegetable oil, so it's crispy bits and nice-smelling oil. Then, I fry old rice with kale and herbs and two egg whites leftover from making Paul Bertolli's cake. Last, I fry two eggs in butter. The eggs go on the fried rice, and the garlic-ginger-bits oil goes all over. On the side, some steamed Chinese broccoli with oyster sauce and that same garlic-ginger stuff.
Tuesday, March 28
Breakfast is a regular and orderly piece of toast topped with a very ripe avocado that needed to be eaten, and a cup of Sightglass Rwandan coffee.
I'm meeting my friend Kate for lunch at the Alamo Drafthouse, the Texan import to San Francisco, because we're also watching Beauty and the Beast. Efficiency! I'm tempted to order a boozy milkshake, but I haven't done enough work today to deserve it. I definitely deserve a beer, though, so I get a HenHouse Saison to go with a Cobb salad because, as Kate correctly puts it, "All the other salads seem to be missing one thing." We also share a giant mixing bowl of kimchee-dust popcorn. As for Beauty and the Beast, I'm disappointed they don't show Gaston eating five dozen eggs (every morning to help him get large). For dessert, a slice of "scone loaf" baked by Aralyn — a Molly Yeh recipe.
Dinner I have to work for: I'm shadowing a class at 18 Reasons called "Poories & Punjabi–style curries" because I might be teaching one on eggs. Teachers Simran and Stacie teach us to make poories, magical bread that puffs into balloons when you deep-fry it, and an aloo sabzi (tomatoey potato curry), and chana masala (chickpea curry darkened with steeped tea). At the end of class, we eat all our handiwork, plus wine. Everything is spicy, so I eat lots of it. I realize it's not a great idea; it's just, somehow, what happens. For dessert, carrot halwa with ice cream and chai tea.
Now, I'm home, feeling defeated, full, and in mild gastrointestinal pain, nursing a quart container of water. There's one last butt-shaped kiwi left, and it's beckoning me to eat it. I'm gonna make some tea, eat my last kiwi. Let's just call that my nightcap.