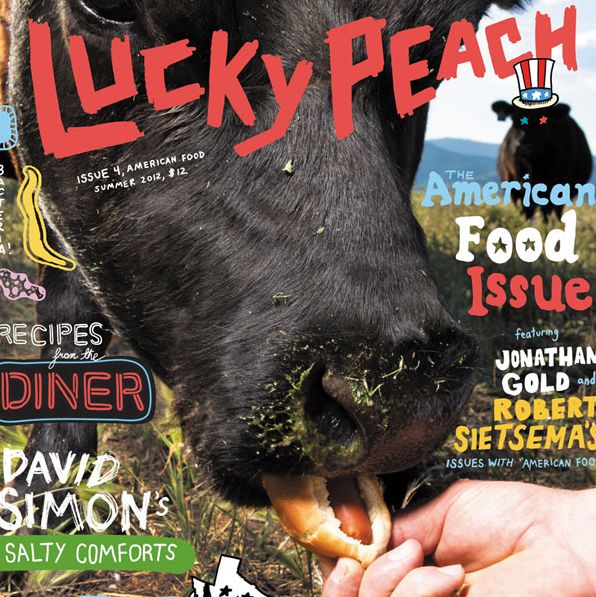 Lucky Peach also became known for its great art.
Photo: Walter Green/Lucky Peach, Gabriela Hasbun/Lucky Peach
In 2012, Lucky Peach published a story, purportedly based on a series of emails from a writer named Sydney Finch, who claimed to have found evidence that the Chinese invented spaghetti with tomato sauce. It was an amusing, irreverent spoof on the transcontinental noodle rivalry between China and Italy, as well as a loving paean to China's remarkable culinary contributions to the world. Nerdy and weird in all the best ways, it was also the kind of story Lucky Peach published in each of its quarterly issues. But this week, Eater reported that the critically acclaimed magazine will lay off all its staff and probably fold in May. (Today, editorial director Peter Meehan confirmed the news on Lucky Peach's website.) When that happens, it will be a loss not just for food lovers, but for people everywhere who appreciate deep, idiosyncratic storytelling.
Founded by David Chang, Chris Ying, and Meehan originally under the McSweeney's publishing umbrella, Lucky Peach is just months shy of its sixth anniversary. In that time, Lucky Peach has won numerous awards, and is coming off something of a banner year. In 2016, it won Publication of the Year, Food Blog, and an MFK Fisher Distinguished Writing Award from the James Beard Foundation, as well as a National Magazine Award for General Excellence.
During its short but decorated run, Lucky Peach developed a following among the food-geek set. It was an outlet for nerdier explorations, with each issue going deep into a single topic: ramen, the apocalypse, and gender in food. (The magazine's website, launched in 2015, was more free-form, and magazine stories weren't always published on it.) Courtesy of its connection with Chang and his Momofuku restaurant group, as well as people like Anthony Bourdain and many high-profile chefs, it was also the rare niche publication that got a lot of mainstream exposure as soon as it launched.
Beyond being a quarterly food publication, Lucky Peach is, at its core, a writer's magazine that allowed contributors to geek out on seemingly obscure topics: how a Connecticut oysterman is using experimental farming techniques during a time of looming ocean catastrophe; the life of America's greatest unknown chef in Alex Lee; tips on survival skills from Ted Nugent; and finding out what kind of organism feeds on cigarette butts. Some stories were serious; others, less so. Yet through its lifespan, Lucky Peach maintained a distinct, singular aesthetic that was, in many regards, ahead of the curve. Not only in its emphasis on stylized illustrations but also in its use of the throwback '90s-web design style that has proliferated in recent years.
In writing about food culture on a deeper level, it made room for stories that resonated beyond its core readership's culinary interests. There was this story, which laid out pivotal African-American contributions to the history of Carolina gold rice; and a discussion about American identity from two of the country's longest-tenured restaurant critics, Jonathan Gold and Robert Sietsema, as they wrestled with just what the hell American food is.
There is perhaps no better example of Lucky Peach's ambition than John Birdsall's excellent, James Beard Award–winning "America Your Food Is So Gay," a story that dealt pointedly with the role of the LGBTQ community in shaping our cuisine and teaching Americans how to eat in the 20th century:
By 1970, America's interest in food had finally progressed from the stale international haute cuisine of the 1950s—we were more curious about the world, and were willing to spend more on food and travel than ever before. Three gay guys—Beard, Richard Olney, and Craig Claiborne—would become architects of modern food in America. You find their influence in the cooking of Thomas Keller and Daniel Patterson and in the food Alice Waters has overseen in four decades of menus at Chez Panisse. It's food that takes pleasure seriously, as an end in itself, an assertion of politics or a human birthright, the product of culture—this is the legacy of gay food writers who shaped modern American food.

I admit, it's tricky pinning something as sprawling and amorphous as modern American cooking to anything as poorly defined as a queer point of view, and an exclusively male one at that. I first struggled with that task in the late '80s, when I was writing about food for the Sentinel, a now-defunct gay weekly in San Francisco. My editor, the late Eric Hellman, would always ask, "Is there a gay sensibility? Can you see it in a work of art?"

Decades later, Birdsall points out, queer individuals are still relegated to the edges of culinary culture. As Take Root chef Elise Kornack told Grub Street this year, "We are gay women and we understand what treatment feels like when we feel marginalized … I can confidently say that there have been a handful of experiences that very much made us feel that way."
Lucky Peach's depth and variety were what defined it: Serious examinations of the marginalized gay community in American cuisine gave way to playful odes on culinary feuds, obsessive issues devoted entirely to pho, or just plain weird stories about microbes. When that voice really is gone, the silence it leaves will be all too noticeable.
This post has been updated to reflect confirmation of the magazine's closure.