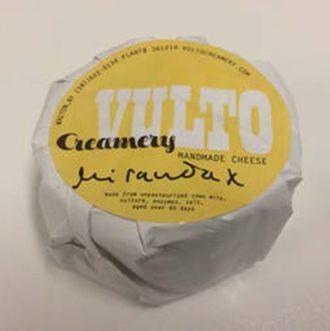 Vulto's absinthe-washed Miranda.
Photo: FDA
Whole Foods has recalled a couple of soft raw cheeses over fear that they might have listeria, in addition to their usual notes of "cultured butter" and "wet hay." The company says the products, produced by celebrated New York cheesemaker Jos Vulto, were sold at nine stores in four states, including the Tribeca and Chelsea locations in New York City. The other seven spots are in Albany, Massachusetts, and Maine. FDA inspectors found listeria in one lot of Vulto's cheese, and the recall covers the Ouleout and Miranda wash-rind varieties that are plastic-wrapped; have PLU codes 0200305 and 0200306; and are marked with sell-by dates between December 27, 2016, and March 28, 2017.
Whole Foods adds it's only recalling them "out of an abundance of caution," but the FDA says there were additional retailers in New England, the mid-Atlantic, and Chicago, as well as on the West Coast. It's worth noting that Vulto's cheeses — several of which weren't affected by the recall — are specifically available at many of New York City's top cheese destinations, like Murray's Cheese Shop, Eataly, Saxelby, Bedford Cheese Shop, and Bklyn Larder; so it might be smart to double check before setting out your next cheese plate.

Update: The CDC has announced that two people have died after consuming Vulto's tainted cheeses, and that at least another six have gotten sick. Expect this to reignite the debate over the merits of raw milk.