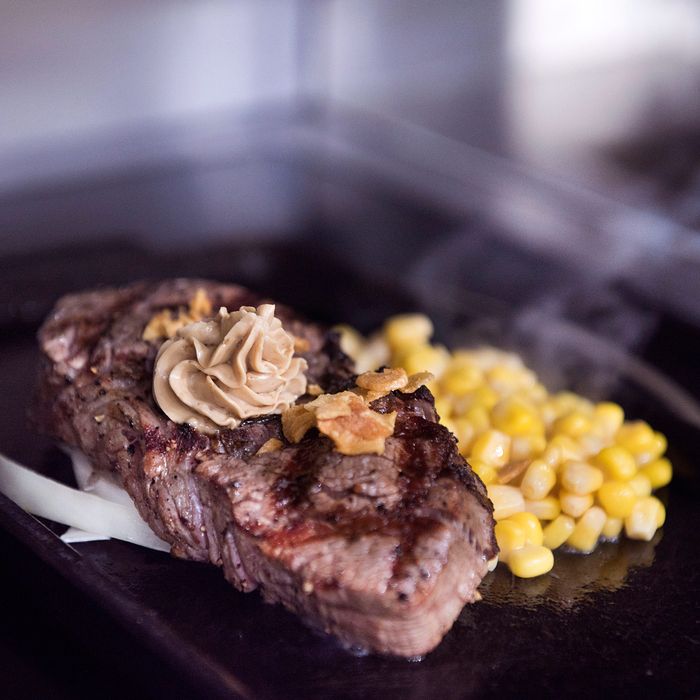 Steaks come sizzling on a platter with garlic chips, garlic butter, and, for some reason, corn.
Photo: Liz Clayman/New York Magazine
You can't open a Japanese chain restaurant in New York these days without a good gimmick. There's Ichiran, the East Williamsburg ramen shop that sends you off alone to contemplate life and soup in a human feeding pen called a "flavor concentration booth." And now comes Ikinari Steak in the East Village, which offers you the opportunity to tuck into your sirloin while standing up at a podiumlike table as if you were about to deliver a speech between bites.
The funny thing is, the concept not only works—it works well. Chomping beefsteaks in the manner of those who hunch over sinks with cartons of dan dan noodles after drinking binges, it turns out, is a perfectly fun and efficient way to go. Miss Manners and Emily Post might frown upon the practice, but the Underground Gourmet is all for it. In fact, eating standing up at Ikinari is much more comfortable and relaxed than eating sitting down at any number of overrun, cramped restaurants. There's plenty of space between dining pulpits. The eating surface is big enough to hold several plates of food, with lots of thoughtfully designed storage systems for containing a cornucopia of proprietary steak sauces and salad dressings, and hanging and stashing coats and bags. Where many have tried and failed to make diners stand for their supper—Otto at the bar, Eataly's La Piazza, Mile End sandwich shop—this steakhouse import might just succeed. (Indeed, the standing tide might be turning, judging by the dining counter at nearby Tim Ho Wan and the high-tops at Daily Provisions.)
Even the ordering system, which may remind you of Katz's in its intricacy, is kind of endearing. After a host shows you to a station, you place your order for drinks and appetizers, take your number card to the open-kitchen counter, and specify precisely what you want to eat: sirloin, rib eye, or filet mignon; how much of it you want—from 200 to 1000 grams, priced at 8, 9, or 11 cents per gram, respectively; and how you'd like it cooked. Management suggests rare. (Later, you pay at a cash register; service is included.)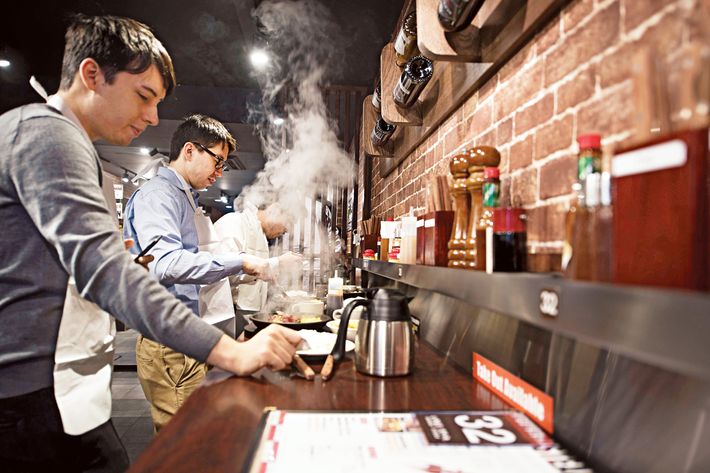 When your steak arrives at your dining platform on a sizzling platter perfuming the air with the scent of charred beef, you may not mistake it for a 150-day dry-aged Pat LaFrieda côte de boeuf, but the wet-aged meat (choice grade, from Illinois) is surprisingly good, well-seasoned, and nicely grilled with a great beefy taste. It wears a cap of crispy fried garlic chips and a thimbleful of melting garlic butter, and is splayed out over a pile of onions and, for some reason, corn. The appetizers (plain salads, mugs of beef broth) aren't much to write home about. The garlic pepper rice, on the other hand, is wonderful. You might go to Ikinari just for that. Served on a sizzling platter of its own with more of that garlic and corn and loads of black pepper, plus bits of beef trimmings, it develops a crust to rival any Korean bibimbap or Persian tahdig.
Although the thinking behind the no-seats concept is high turnover, none of our meals at Ikinari felt rushed. In fact, the subterranean room is a fun place to linger, watching goofy promotional videos on TV monitors, modeling the plastic bib you'll find at your place setting, and experimenting with various sweet and salty steak sauces and the effects of residual cast-iron heat on hunks of rare meat. (That said, the slower you eat, the more your steak cooks — which, come to think of it, just might be the restaurant's underlying strategy, prompting the medium-rare contingent to eat up and get out.)
One downside: Whether or not you wish to commemorate your visit to Ikinari with a souvenir, the smoky scent that clings to your clothes for days leaves you no choice. There's a bottle of Febreze "printemps et renouveau" fabric refresher located in the vestibule of the restaurant to alleviate this problem. But whether spraying yourself from head to toe with Febreze is an improvement over smelling like a freshly grilled rib eye is up for debate.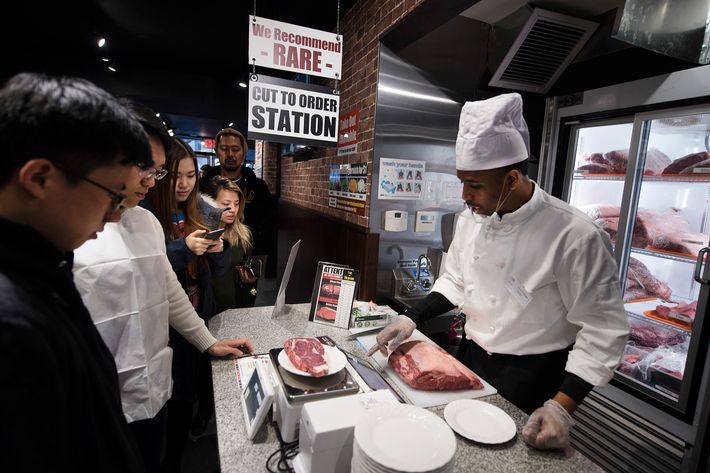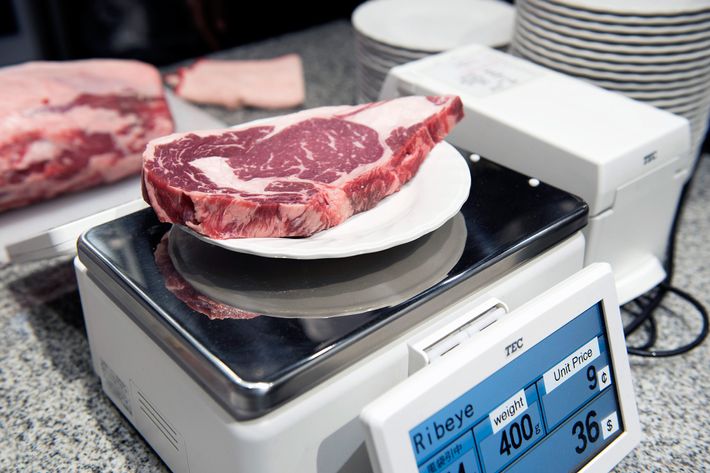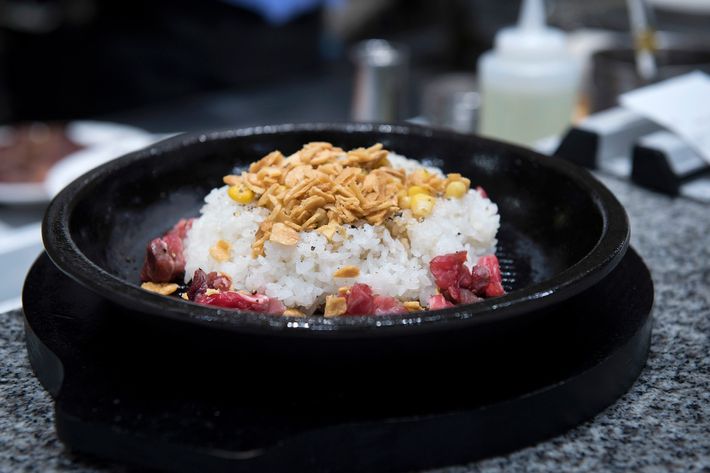 *A version of this article appears in the April 3, 2017, issue of New York Magazine.