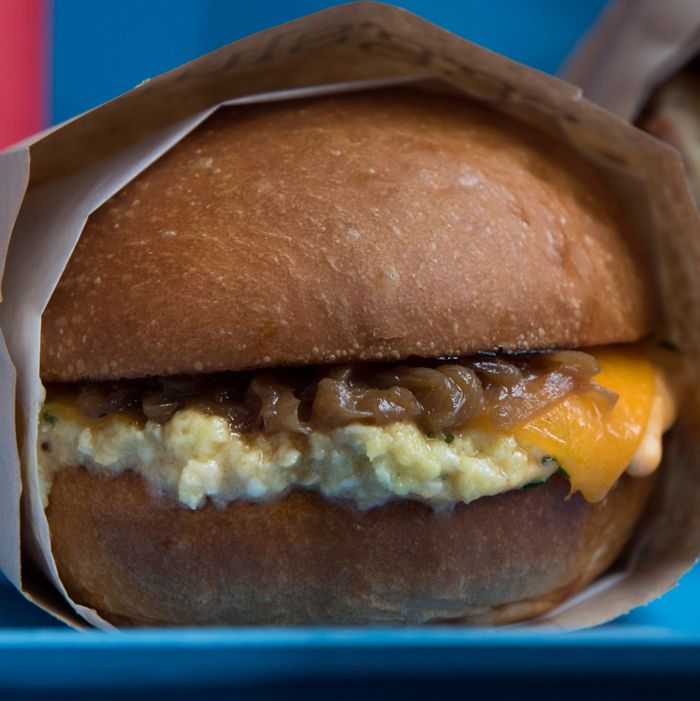 Eggslut's Fairfax and Soho Salmon sandwiches.
Photo: Liz Clayman
As much as the Underground Gourmet loves a good egg on a roll, is there any breakfast food worth a voluntary hour-long wait in the rain? In the hope of answering that question, we joined a little group of egg-sandwich aficionados and food-line addicts outside Chefs Club Counter for its grand opening, and the New York debut of Eggslut, the much ballyhooed egg-sandwich brand from L.A.
First in a line that eventually ran to 20 or so was a woman named Robyn, who said that when it came to egg sandwiches, she could take them or leave them, but was really there to pick up an order for her food-critic daughter — who presumably wouldn't be caught dead waiting outside in the rain for a sandwich at 6:45 in the morning. Put Robyn down for Mother of the Year.
A man named Scott wearing a wool cap, waxed-cotton jacket, and a big camera sidled up around 7:15. "I'm from Gothamist," he said. "Are you all here for Eggslut?" "Yes," said the crowd. "Awesome," said Scott, who proceeded to interview some of the people in line. Sample questions: Why are you here? What time did you get here? Are you worried you're going to be late for work? Have you ever eaten an Eggslut sandwich before? Have you ever eaten an egg sandwich, period? How old are you?
At 7:45 sharp, a staff member dressed like a French sailor in a striped Breton shirt and sneakers invited us to come in out of the rain. It was like Willy Wonka giving the go-ahead signal to Charlie Bucket and the gang to storm the Chocolate Factory.
The ordering system, we learned upon entering this pleasure palace, is Shake Shack style (as are the paper jackets and cardboard containers the sandwiches come in): You place your order at one counter, pay, collect a vibrating pager, then pick up your food when it's ready at a second counter opposite the open kitchen.
After watching Scott record Robyn's reaction upon picking up her to-go bag, and then take some shots of another woman who was photographing sandwiches herself to post on Instagram, we unwrapped our own hard-earned Eggslut booty.
So how was it already, you ask?
The signature sandwich, the Fairfax ($8), was excellent — a pile of chive-flecked eggs as masterfully scrambled into soft and tiny curds as any the U.G. has ever tasted, plus cheddar, sriracha mayo, and sweet caramelized onion (cut into little pieces, so they weren't off-puttingly stringy), all of it coming together in exquisite harmony on an Eric Kayser roll. The new–for–New York Soho Salmon ($12), a sort of egg sandwich meets Sunday bagel brunch, is nearly as good. In addition to a fried egg and silky strips of fish, there's a tangy white sauce subbing for cream cheese, a little melted Havarti for extra richness, and a smattering of brightly flavored pickled mustard seeds that pop in your mouth like fish roe.
Although these California imports can't be criticized for balance and flavor, they both get docked a point for being slightly unwieldy. We blame the bun: though impressively light and airy, with a cool and creamy crumb that's almost spongy, it flaunts a slightly stiff, though micro-thin, crust. And, as it is with burgers, when the outside of the bun is even slightly harder to bite into than the filling, you have a bit of a problem. You have what is known in sandwich circles as a heightened squeeze-out factor, where the fillings squirt out the sides when you chomp the sandwich. (No offense to M. Kayser, whose training prioritized baguettes over breakfast sandwiches.)
That, admittedly, is nitpicking. Eggslut's egg sandwiches exhibit polished egg cookery and thoughtful construction; and though they may not break any breakfast-sandwich ground, they make fine additions to our already thriving egg-on-a-roll scene. You might not need to go to L.A. to eat one, but it's worth a trip to Soho.