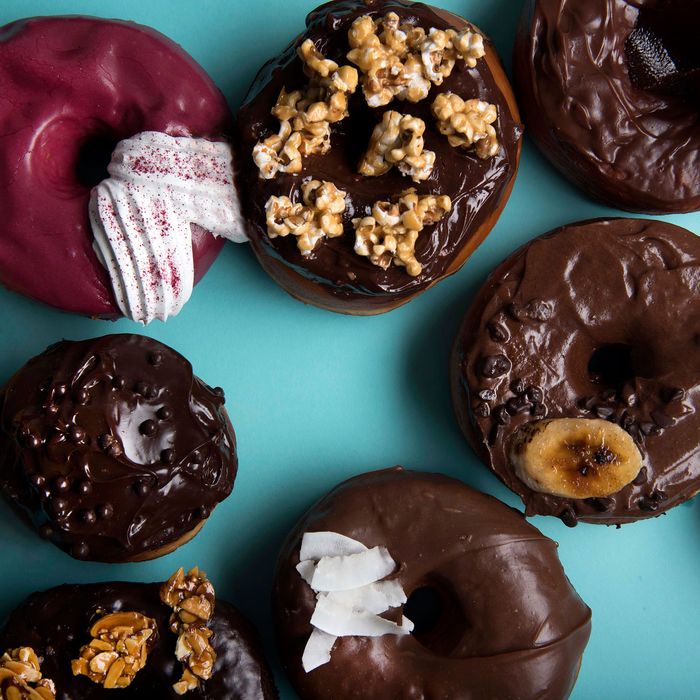 What's on the menu for April? Chocolate doughnuts.
Photo: Liz Clayman
Every month in New York, there's bound to be a bewildering number of new dishes to eat, drinks to imbibe, and food-themed events to attend. It would be impossible to pack in every single thing each month, and the hardest part often is just figuring out what's really worth your limited time. So Grub kicks off each month with a curated collection of dishes, drinks, and events that should absolutely be on your agenda. Make your plans now.
1. Feast on chocolate doughnuts at one of New York's best shops for fried dough.
This weekend, Dough's Flatiron location will go all-in and embrace chocolate. Co-owner and chef Fany Gerson has created a roster of 15 new flavors (full menu here), all made using Belgian chocolate from the award-winning Callebaut. Specials include salted banana caramel; caramelized white-espresso and cocoa nib; vanilla custard with a hot-fudge glaze; chocolate arroz con leche; and single-origin Ecuadorian chocolate, peanut, and caramel popcorn. Bring your friends, cause you gotta eat 'em all.
2. Go get breakfast at this promising new bagel shop in Harlem.
Not that uptown is without solid spots for a nosh (see: Absolute Bagels, Barney Greengrass), but New York's bagel resurgence has been confined to downtown Manhattan and trendier parts of western Brooklyn. At least one shop aims to change that. Last month, Bo's Bagels opened up on East 116th Street in a 19-seat space offering bagels (all $1.25, or $15 for a baker's dozen) ranging from the traditional (salt, black Russian, or pumpernickel everything) to the not so traditional (cinnamon raisin, three cheese).
3. Drop by for lunch at New York's latest soup-dumpling specialist.
The soup dumplings at Soho's recently opened Pinch Chinese are already some of the better ones in town. Now, they're available during lunch as part of a prix fixe that's a really solid deal. Choose a main course of Taiwanese beef noodle soup ($18), chicken-sao-bing sandwich ($18), or vegetarian fried rice ($13), and supplement it with a choice of dumplings (pork soup, chicken napa, pan-fried beef, or vegetable) — plus salads like seaweed and tofu, or pickled daikon and carrot.
4. Go shopping for curry mixes and fried fish sauce at the city's only Burmese market.
You can eat most places in the world in New York by just hopping on the subway. Burmese food isn't totally unknown in this city, but it's relatively rare, and became more so last year when the Upper East Side's long-standing Café Mingala closed. Now, New Yorkers who want to bring Burmese flavors into their own kitchens will have a place to shop. A new Jackson Heights market called Little Myanmar imports its food and snacks from Myanmar, including fried-fish sauce, teas used for tea-leaf salad, bagged curry mix, and pearl-onion kimchee. (It's worth noting that New Yorkers with a taste for chickpea tofu and tea salad have options in annual festivals, like one benefiting the Moegyo Humanitarian Foundation, the seasonal Queens Night Market, and several Brooklyn pop-ups.
5. Eat North Carolina barbecue from an Ed Mitchell apprentice at a Brooklyn pop-up.
Brooklyn's modern Taiwanese restaurant Win Son is going whole hog. From 6:30 p.m. to 10 p.m. on April 10, it will host friend of the kitchen John Bottas's Smoke Show BBQ pop-up. A North Carolina native who has apprenticed under the renowned Ed Mitchell, Bottas also worked at Colicchio & Sons, was the chef de cuisine at Ducks Eatery, and helped co-found Harry & Ida's here and Whiskey Kitchen in Raleigh. With Smoke Show, he's focusing on wood-fired, whole-hog 'cue. To go with it, Win Son will serve Wolffer rosé cider and Taiwan beer. Tickets are $75.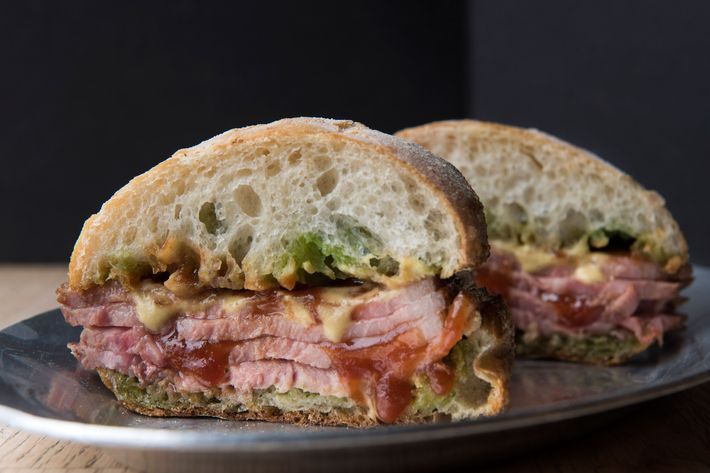 6. Eat a Catskill's Roast-Pork Sandwich at Court Street Grocers.
Court Street Grocers has a new chef in Ted Rosen, formerly of Dickson's Farmstand Meats and Maple, and next week he'll start introducing new sandwiches to the shop's already extensive menu. In keeping with Court Street's love affair with regional Americana, one of those is a Catskill's roast-pork sandwich ($11), the culinary oddball that was once served in upstate New York's Borscht Belt and, later, Brooklyn. A New York mash-up, it's Chinese-style roast pork served with a duck sauce on garlic bread. The shop had sold a version of the sandwich made with its pulled pork, but Rosen has turned it into the real deal with Chinese-American roast pork, the shop's take on duck sauce, and Colman's mustard. That's just one of several new sandwiches, though, as Rosen will also debut a chorizo breakfast sandwich ($8.50), among others.
7. Have fritto misto and tiramisu for lunch this Sunday.
Looking for a blowout meal this weekend? Head to King, where this month's Sunday Lunch will focus on the foods of Venetia. The four-course meal ($75, limited reservations) includes fritto misto; beef carpaccio with Harry's Bar dressing (a mix of mayo, lemon juice, Worcestershire sauce, and milk); rice e bisi, or Italian rice and peas; and classic desserts of tiramisu and the Venetian cornmeal, pine nut, and raisin cookies called zaleti.
8. Attend a bake sale benefiting Planned Parenthood at Café Altro Paradiso.
This Sunday, starting at 11:30 a.m., Ignacio Mattos, Thomas Carter, and pastry chef Natasha Pickowicz (the pro behind New York's Best Sticky Bun) will host a bake sale at Café Altro Paradiso to benefit Planned Parenthood. They've invited their friends to join in, including Le Bernardin, Del Posto, Reynard, Le Coucou, Gramercy Tavern, and many more. Later that week on April 6, the restaurant will launch its new café menu, which will be available from 8:30 a.m. to 4 p.m. on weekdays and include dishes like a cacio-e-pepe biscuit. (Also, the ladies behind the bakery and bar Butter & Scotch have been donating a dollar for every cocktail sold on their Winter of Women menu. On April 5, they'll double down and match the donations by contributing to the local Planned Parenthood of New York City. Might as well get a slice of birthday cake while you're at it, no?)
9. Head to one of New York's premier cocktail destinations for the most ambitious happy hour you could imagine.
Suffolk Arms is one of the city's finest places to get a drink. Not that you need an excuse to drop by there for a cocktail, but owner Giuseppe Gonzalez has created another reason with a revamped menu. The vodka section has been replaced by one devoted to caffeinated drinks, and new cocktails include the Singapore Steve (mezcal, pineapple, sweet vermouth, Bénédictine, Cherry Heering, and bitters) and the City Island Piña Colada (Hennessy VSOP, pineapple, and coconut). And for the first time, the bar will offer happy hour. From 4 p.m. to 7 p.m., Mondays through Fridays, there will be discounted food, $1 oysters, and 50-cent Little Necks. They've also taken the ambitious step of tripling their menu to 100 cocktails during this stretch, serving a mix of "reclaimed classics," "should be classics," their own inventions, and one-time hits culled from bars around the world. All those drinks will cost just $10.
10. Have dinner with two of New York's very best barbecue and ramen chefs in Frankies 457 Spuntino's backyard.
The Brooklyn restaurateurs known as "the Franks" have teamed up with Resy to start the Franks' Backyard Chef Series. In the backyard of their Brooklyn restaurant, they'll bring in a pair acclaimed chefs from around the world to cook dinner. The Series kicks off on April 20 with a local one-two punch of noodle master Ivan Orkin and Hometown Bar-B-Que's Billy Durney. Tickets will cost $100, and are available exclusively on Resy.
11. Get a fried-chicken bento box with your bubble tea at the new Boba Guys.
At its new location at 11 Waverly Place in the West Village, bicoastal bubble-tea shop Boba Guys has teamed up with the downtown Japanese restaurant Bessou. They'll contribute a menu of two onigiri: the BLC (bacon, lettuce, and chili oil) and mushroom (soy-braised shiitake and pickled-ginger rice). There's also a bento featuring Bessou's Moroccan spiced karaage, plus kabocha "potato" salad, sugar snap peas, and watermelon-radish pickles.
12. Eat honey-wheat éclairs and petit gâteau during a mini-dessert crawl in Manhattan.
The former executive pastry chef for Hakkasan USA has branched out on his own with Patisserie Chanson, an upscale dessert bar at 20 West 23rd Street. It will start serving a tasting menu with courses like yuzu-honey meringue come April 6; but if you'd like to make a smaller commitment to your sweet tooth, there's also a café. There, you'll find desserts like a petit gâteau (a chocolate cake with a creamy filling) and celebration cake, afternoon tea, and breads like a cheddar-onion rye, if you're feeling savory. Up in midtown, Brooklyn's ever-popular Bien Cuit has opened a location in Grand Central Terminal, with a slew of new baked goods. There's an apricot and blossom loaf; cookies like ginger muscovado and thyme shortbread; Meyer-lemon danishes; cakes like carrot pound and chocolate rye; and pastries, including honey-wheat éclairs and jam bars.
13. Find out what happens when an American pit master and a French fine-dining chef collaborate on a barbecue menu.
For this year's Le Cochon dinner series, Alain Ducasse's New York bistro, Benoit, will collaborate with Hometown Bar-B-Q for a Francophone take on smoked meats. Every Tuesday in April, there will be four courses of dishes, created by Benoit executive chef Laetitia Rouabah and pit master Billy Durney, including beef consomeé with sliced smoked pork jowl, and St. Louis ribs with French mustard and cornbread madeleines. Dinner is $95, with a $50 wine pairing.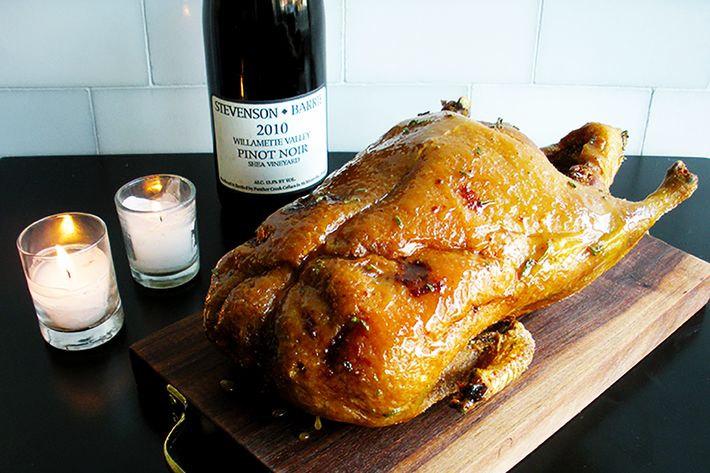 14. Head to Prospect Heights for a whole duck that takes a week to prepare.
Spring is here, whatever that means these days, so maybe you're looking for a way to celebrate? Prospect Heights' Italian-ish restaurant Faun has a dish for you: a Crescent Farms whole duck ($100 gratuity included, for four) that's blanched, then hung to dry-age for six days, and cooked like Peking duck for 60 to 70 minutes. (Literally: The restaurant's oven has a Peking duck setting.) It's finished with a lavender-infused honey glaze, and served with buckwheat pancakes and vegetables, like grilled endive or fennel. That's a pretty luxurious bird.
15. Check out a conference dedicated to ending food waste, featuring chefs like Massimo Bottura and Missy Robbins.
On April 28 and 29, the Institute of Culinary Education and the New School will host the aptly named Zero Waste Food Conference. Chefs including Massimo Bottura, who's trained his focus on the topic; Bill Telepan; and Missy Robbins will lead discussions on topics like "repurposing spaces and materials." Demonstrations and hands-on classes will address issues like wasteful practices in pastry, while Sunday in Brooklyn's Jaime Young will go all in on fermentation. Tickets are $40 to $95, and can be purchased here.
16. Attend an anti-hunger benefit featuring a cast of all-star chefs.
The 28th annual Taste of the Nation will go down on April 24, from 7 p.m. to 9 p.m., at the Financial District's waterfront 180 Maiden Lane property. The event benefits Share Our Strength's No Kid Hungry campaign, with tickets ranging from $250 for general admission to $10,000 for a cabana, and will be chaired by Danny Meyer, Anita Lo, and Bryce Shuman. Food will be provided by restaurants including El Atoradero Brooklyn, Meyer's Marta, Lalito, Atoboy, and many more, while drinks will be served by BlackTail, Sauvage, Finback Brewery, and others.