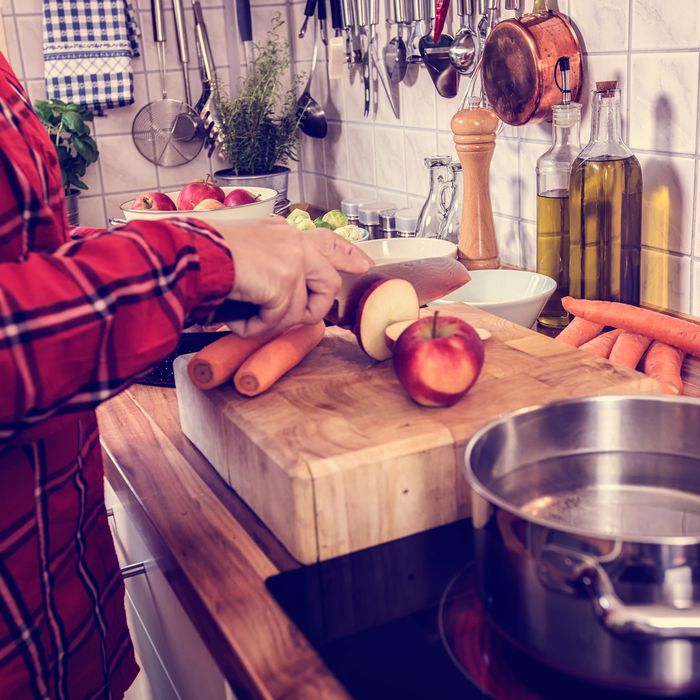 Cooking time!
Photo: gmvozd/Getty Images/iStockphoto
Tomorrow, you have definitely heard, New York will get hit with a little bit of snow. The National Weather Service predicts there could be an accumulation of 20 inches, which would make it one of the heaviest recorded snowfalls in the city's history. If you're lucky enough to work somewhere that affords a snow day, you're probably asking yourself: What do I do besides make hot chocolate and watch the new season of Love on Netflix? The answer: cook something ambitious! Ideally, a recipe that requires minimal ingredients, but a fair amount of time. Grub's advice, shop tonight, then spend tomorrow cooking one of these 14 recipes.
Marco Canora's Gnocchi
Hearth and Brodo chef Marco Canora may now be known as the bone-broth guy, but he built his reputation, in part, on the back of gnocchi. Making them requires only two ingredients, but a serious amount of time, and over on Lucky Peach he lays out the steps. Baking the potatoes for an hour, milling (or ricing) them, carefully spreading the milled potatoes out, incorporating two rounds of flour, and so on until you form a loaf of gnocchi dough that's ready for slicing. It's laborious, yes, but worth it.
Eric W. Bolyard's Buffalo-Chicken Rillettes
These buffalo-chicken rillettes are squarely at the apex of high-low. Just think of them as portable, spreadable buffalo chicken, with the added bonus of schmaltz.
Fuchsia Dunlop's General Tso's Chicken
General Tso's chicken is one of the world's great dishes and a takeout classic, but don't be that person ordering delivery during a historically bad blizzard. Instead, make it yourself. Fuchsia Dunlop's excellent recipe is based on the version originally created by the late chef Peng Chang-Kuei, who invented it in Taiwan as an homage to his native Hunan, and later brought it to New York.
Roy Choi's Cheesy Ramen
Okay, this isn't exactly a project … unless you are the laziest cook alive. But, it's really just classic snow-day cuisine. All you have to do is make some instant ramen, drop an egg into the broth after it's done cooking, and then add butter, American cheese, and sesame seeds once it's in the serving bowl. It's deliciously lazy.
J. Kenji López-Alt's Detroit Pizza
The thing about making pizza at home is that, for most people, you can't really do it justice, owing to ovens that just don't get hot enough. But Detroit-style pizza, which became a hot thing last year with the opening of Emmy Squared, doesn't require as hot of an oven. The Food Lab author delves into how to do it at home, so you can have the cheesiest post-sledding dinner tomorrow night.
Stella Parks' Milk Duds
As Stella Parks points out, milk duds are the ultimate in movie-theater snacks. (No disputing, case closed.) Considering the odds are that you'll be watching movies tonight, you have a really great excuse to make her homemade version, which will give you 50 pieces of the candy that you definitely, totally won't all eat in one sitting.
Marcella Hazan's Osso Buco
Few dishes are as comforting as osso buco, the Milanese veal-shank braise, and it's likely one of the only ways you can convince nearby friends to brave the storm to hang out with you. Turn to the master Marcella Hazan, who will never do you wrong, and get a couple bottles of Nebbiolo.
Mark Bittman's Banana Bread
You can also get nostalgic with Mark Bittman's time-tested recipe for banana bread, which he's been making with overripe bananas for half a century, and which he promises is the "best banana bread you've ever had."
Helen You's Pork-and-Chive Dumplings
Helen You is the dumpling queen of New York. Her lamb xiao long bao are without compare in New York, but don't sleep on her more traditional pork-and-chive jiaozi. Throw a dumpling party with this recipe, taken from The Dumpling Galaxy cookbook, which will guide you through making dough (fortified with egg white) and the uncomplicated but delicious filling.
Anna Stockwell's Coffee Coffee Coffee Cake
If you're committing to a baking project, then go hard. Why make coffee cake when you can make a triple-coffee cake (with instant espresso, brewed coffee, and a coffee liqueur) and a chocolate espresso? There is no legitimate reason.
Emily Stephenson's Kubaneh
If all you know about Jewish baking is challah and babka, it's time to make the Yemenite bread kubaneh. Tomorrow is the perfect occasion: This recipe takes almost half a day, but not much of your attention, and it's lengthy bake time will help keep your house warm.
Richard Olney's Chicken Gratin
Adapted by Food52's Kristen Miglore, this recipe calls for browning chicken in butter, which is then used to toast breadcrumbs, and then covering it in cream, egg yolks, lemon, Gruyère, and a white-wine reduction before roasting. It's a luxurious bird, but what else are days like this for?
Liz Prueitt's Rice Krispies
Maybe you have kids. Maybe you just want to feel like a kid. Whatever, rice krispies are awesome. Tartine's Liz Prueitt makes hers with brown rice, coconut oil, and a healthy dose of peanut butter. (It's also gluten-free if that's of concern.)
Sam Sifton's Mississippi Roast
The New York Times version of the viral recipe is slightly more high-brow, if replacing dried ranch-dressing mix for the homemade stuff counts as that, but it maintains the original's appeal. Take advantage of your time at home, and let that chuck roast simmer away in your slow cooker.