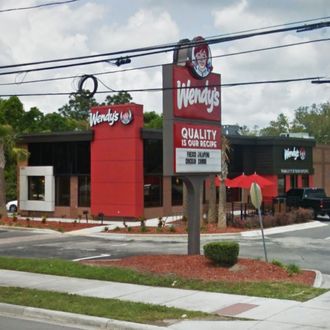 The location in question.
An Orlando Wendy's had to fire an employee this week after a state trooper sent the local news a picture of a receipt baring a conspicuous racial slur. The trooper, who's black, says he was getting dinner Tuesday night when his eye caught the receipt sitting next to the register, forcing him to do a double take. He says he looked at the name printed on top, said sort of rhetorically, "I didn't just see that," and then snapped a photo. WKMG went with the description of "a form of the 'N' word."
The trooper's "certain" he wasn't the only customer who saw it, though if it's any weird consolation, he adds that the employee at the register was "very cordial," and even thanked him for his service. "That really shocked me because I thought for sure that if this is sitting here for an hour or however long it was, how is he going to treat me?" he said.
The franchisee issued a statement that says: "While this receipt wasn't directed toward anyone in particular, we take this very seriously and find the language to be offensive and not in line with our values. This was a terrible judgment call by one of our employees." Ya think?