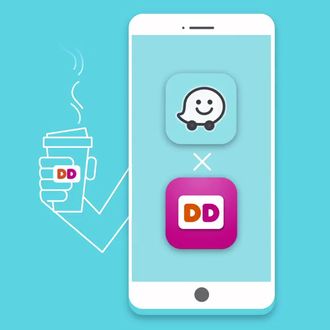 The companies say it's a brilliant move because both brands involve "ritualistic behavior."
Waze users can now order their morning Munchkins directly from the navigation app, then slip into the next Dunkin' Donuts to pick them up on their morning commute. The feature, which rolls out today, is the first partnership between Waze and a merchant of any kind. It allows drivers to buy Dunkin' coffee and food ahead of time without using the DD Perks app — though, confusingly, they still need to be a registered user of it. Assuming the test goes well, Waze says it'll add additional "order ahead" options, so its estimated 50 million users can get pizza, fill a prescription, or even demand an entire grocery-list's worth of supermarket items. "It could be almost anything that a driver could order ahead and have ready for pickup," Waze's head of North American business partnerships explains.
People can place their Dunkin' order with one tap in the Waze app, but, in one minor annoyance, they do have to open the DD Perks app initially to tell Waze which items to select during road orders.
From then on out, it all sounds super convenient, at least for the people certain this two-app job must be consolidated into one. Naturally, Waze also explains in its announcement that the "order ahead" part applies equally to before you leave your parking spot. It's maybe worth mentioning that Google owns Waze, so perhaps this is step one toward a future where riders in autonomous vehicles scroll their phones ordering whatever they want — but for now, drivers might heed Waze's advice, buzzkill or not, especially if they're already so desperate for coffee that they're ordering a Dunkin' Coolatta.